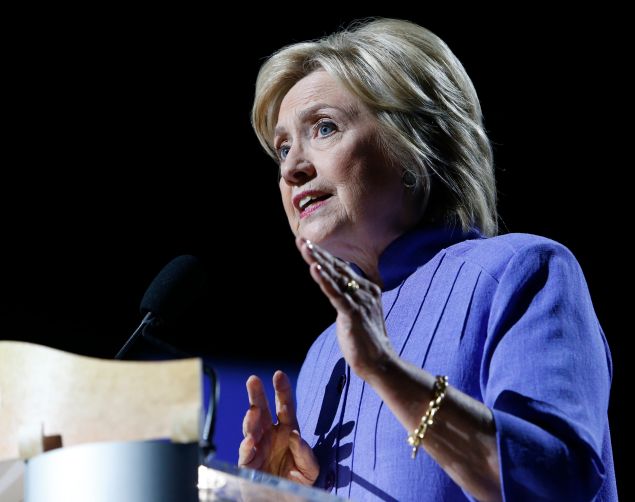 It has been 168 days since Democratic presidential nominee Hillary Clinton first claimed she would "look into" releasing her speech transcripts to Wall Street firms.
Any candidate running for president should be expected to deliver their record with transparency. For Clinton—who has repeatedly promised to "rein in Wall Street" despite her strong ties to the financial industry—fully disclosing her relationship with these firms includes letting voters know what she said behind closed doors.
After Clinton left the State Department, Goldman Sachs paid her $225,000 per speech for the three speeches to the firm. Clinton also gave five other speeches to big banks, including Bank of America and JP Morgan. All three firms settled with the government for their roles in inciting the 2008 financial crisis.
Clinton holds the sole rights to the transcripts of her speeches, which are shrouded in secrecy. "Her staff has limited photographs and at times even confiscated cell phones," reported CNN in April 2016. "Attendees of some Clinton speeches complained vocally on social media that they were told to turn their phones off—no photos, no live tweeting."
Clinton's apprehension to release her speech transcripts only raises further suspicions that they contain information which would contradict the image her campaign is trying to convey. Clinton clearly prefers the backlash from not releasing her transcripts over the negative publicity she would receive if she did make them public.
Bernie Sanders exposed many of the flaws in Clinton's Wall Street reform proposals. While Sen. Elizabeth Warren and Sen. John McCain proposed a bipartisan bill in 2015 to reintroduce a modern day version of the Glass-Steagall Act, so far only Republicans have included reenacting the bill into their party platform. In 2008, many of Clinton's largest campaign contributions were made by employees of leading financial firms, including JP Morgan, Citigroup and Goldman Sachs, among several others. In 2016, some of her top donors include hedge fund billionaires George Soros and James Simons, who have given her millions of dollars so far this election.
Shortly after Hillary Clinton became Secretary of State, she helped UBS settle with the IRS and avert criminal charges. In exchange, UBS paid Bill Clinton $1.5 million in speaking fees. Since 2000, the Clinton Foundation has received between $1 million and $5 million in donations from Goldman Sachs, Barclays and the Citi Foundation; between $500,000 and $1 million from Bank of America Foundation, Citigroup, HSBC and UBS, and several other donations from other large banks.
Despite all the money the Clintons have received from the financial industry, Clinton has affirmed none of the donations or fees influenced her politically.
"Anybody who knows me, who thinks they can influence me, name anything they've influenced me on. Just name one thing," Clinton said during a CNN presidential forum in New Hampshire this past February.
A January 2016 report by the Boston Globe into Hillary Clinton's relationship with Wall Street while she served as Senator of New York characterized her role as Laissez-Faire. "She took a mostly hands-off approach to Wall Street regulation," wrote Annie Linskey. "With banks enjoying a new era of deregulation that her husband helped create, a neutralized Clinton represented a win for the financial services industry and its perpetual effort to free itself from Washington's hand."
Since the 2008 economic recession, voters have grown increasingly weary of Wall Street's unregulated influence on the economy. In order to diminish voters' anxieties about Wall Street's influence on Hillary Clinton, she should stop evading democratic norms and finally release her speech transcripts to the public.