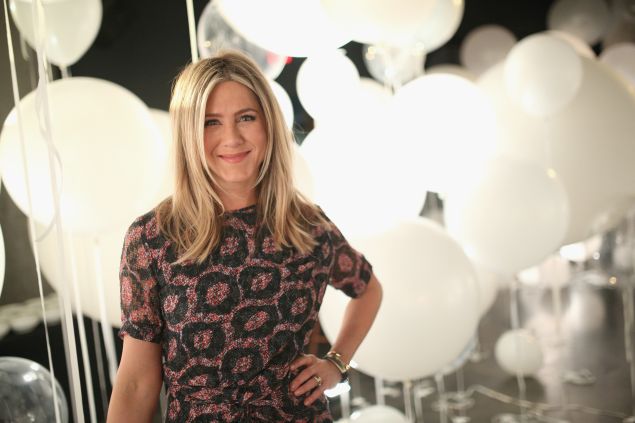 #CelebrityLivesMatter
I'm with Jennifer Aniston. I totally support celebrities who want to be famous, yet live in anonymity when it suits them. And I realize this will trickle down and benefit me in the long run. Every time a paparazzo doesn't get a shot of Jen sunbathing in the backyard of her Beverly Hills mansion, I am one step closer to not being body shamed because I'm not 25 and my skin can no longer be described as dewy.
I would actually love for the stalkerazzi to stop taking pix of Ms. A. and her ilk. In fact, this might lead to non-tabloids no longer putting the famed on the cover of their publications. This, perhaps, might end the desire for companies to ink celebrity endorsement deals, as well. With stars not in our faces every five minutes, perhaps the cachet of buying something from one of their eponymous handbag or clothing lines or cookbook opuses will find its demise as well.
I'm not just in—I have already begun to do my part. I ignore those who pay publicists to get them to be recognized, yet have their privacy respected. Here, I'll prove it to you.
I don't know who half the movie stars are anymore, nor do I care. I am asking constantly of my 21-year-old son Luke and 18-year-old daughter Meg, "Who is that?" And I enjoy my ignorance. Looking back, I can't believe all the time I wasted reading/talking about the lives of people who have nothing to do with mine, and who could care less if I got married, divorced, had a baby—or even got arrested.
I reside in the same neighborhood as back-in-the-news-with-a-new-movie Woody Allen, and I see him often. The first time was many years ago with Mia Farrow. I literally bumped into them and was about to say excuse me, but was caught off guard by the looks on their faces that resembled scared rabbits. I guess they assumed I was going to have some fan freakout and they were bracing themselves. I was so bemused by the aforementioned expressions that I forgot my manners and just walked away.
More recently, I was coming out of a store on Madison just as he and Soon-Yi walked by. But I was more interested in the throngs of patrons who rushed from the coffee shop on the corner to "subtly" follow the couple down the block; some running ahead to take selfies that would have Woody and his wife in the background. I went the opposite direction.
Julianne Moore's daughter goes to school around the corner from my house. I see her in our local diner, at Starbucks and sometimes we simply pass on the street on her way to, I don't know, a parent teacher conference? She smiled at me once. I looked away. I don't want to encourage that kind of behavior.
In middle school, Meg was in the same religion program as Kelly Ripa's son. The popular talk show host would wait in her car instead of sitting in the church's common area with the other moms. I can't blame her. There would no doubt be someone who, unlike me, would want to strike up a conversation about Live!, whether she was still in touch with Regis, or something that had been written about her in the gossip columns. Yes, even in sophisticated, aloof NYC this kind of thing happens. I know because…
When Meg was in Pre-K, she took a gymnastics class with Robert De Niro's son. Bobby D. came once for pick up—a little too early much to his chagrin—and found himself surrounded by star struck parents, of which I was not one, making up excuses to talk to him: "Boy, your son can sure do a handstand." I almost felt sorry for Raging Bull as this clearly made him so uncomfortable that he called his wife and/or caregiver every two minutes asking only one question, "Where are you?"
With age, I've come to understand that I am a bit of an egomaniac myself—or perhaps just more accepting of the tendencies of being an only child—who likes to be the center of attention. That just can't happen when you're friends with, hanging out around, or even simply in the company of one who is famous.
I have nothing against those whose theme song is, "I want to live forever, baby remember my name." But, like Aniston, I too am fed up. My beef, however, is with those who would do anything to be considered "A-list" then complain about the downside (as though there is not supposed to be any)—then add insult to injury by justifying their champagne problems as part of a bigger conversation that effects us all.
I realize that jumping on my "ignore them till they go away" bandwagon might be hard for some. But celebrities will always have a place in our society—made of wax—at Madame Tussauds.
Lorraine Duffy Merkl is the author of FAT CHICK and BACK TO WORK SHE GOES.