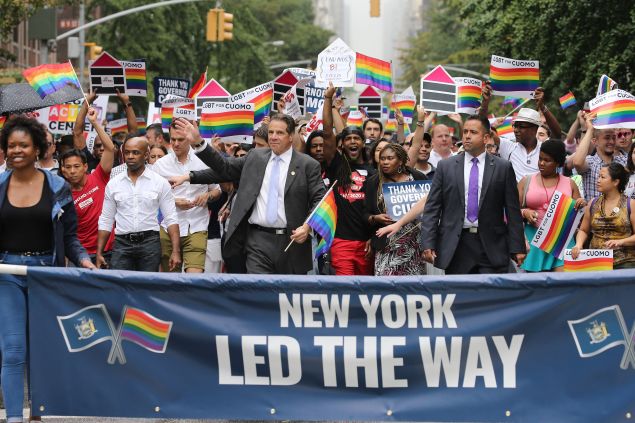 Donald Trump's announcement of Indiana Gov. Mike Pence as his running mate triggered an instant counterblast from Hillary Clinton's campaign—with surrogates pounding the new vice presidential contender's 12-year tenure in the House of Representatives and his four years in the governor's mansion.
"It seems to me that his choice of former Congressman Pence to be his running mate is a clear doubling down on the divisive rhetoric," said South Carolina Congressman James Clyburn in a press call, noting he served alongside Pence on the Hill. "A Trump-Pence administration would be catastrophic for the country. It would set us back as a nation."
Gay rights advocates aligned with the former first lady attacked Pence's opposition to allowing gays and lesbians to serve in the military, and his votes against federal measures that extended hate crimes statutes to cover them. They also assailed him for his support signing the Religious Freedom Restoration Act, a bill that barred any action by a government entity that would "substantially burden a person's exercise of religion."
Since the bill's definition of a person included businesses, social clubs and nonprofits, many interpreted it as an underhanded way of legalizing discrimination against lesbians, gays, transsexuals and other gender non-conformists.
"[Mike Pence] is the face of anti-LGBTQ hate in America. Mike Pence is the face of discrimination in America. And now he's the face of the GOP ticket," Chad Griffin, President of the Human Rights Campaign. "The Trump-Pence ticket is the greatest threat the LGBT community has ever faced in a presidential election."
But for New Yorkers, the news may have provoked a flashback to last spring, when the Empire and Hoosier states seemed briefly like hostile international powers, not provinces of the same nation. Because when the Indiana General Assembly passed the Religious Freedom Restoration Act late last March, and Pence signed it three days later, New York officials lashed out bitterly.
"What Indiana has done is an absolute disgrace," declared City Council Speaker Melissa Mark-Viverito. "Governor Pence and the state legislature should definitely be ashamed. These laws are mean-spirited and run counter against our country's values, values of inclusion and values of progress."
Four gay Democratic state lawmakers went even further—calling on Gov. Andrew Cuomo to formally block New Yorkers from taking state-subsidized trips to Indiana unless the "abhorrent and alarming" law changed. They noted that Washington State and Connecticut had already made similar moves.
"These provisions make clear that Indiana businesses are permitted by law to discriminate on the basis of sexual orientation or gender identity or expression in matters including housing, employment, and access to public accommodations," wrote Manhattan State Senator Brad Hoylman, Manhattan Assemblywoman Deborah Glick, Staten Island Assemblyman Matthew Titone and Manhattan Assemblyman Daniel O'Donnell. "Employees of the State of New York should not be placed in a situation where they are required to travel to a state where they face legalized discrimination. Likewise, New York State taxpayers should not be footing the bill for such travel. We urge you to bar state-funded travel to Indiana, thereby sending a strong message that New York will not stand for legalized discrimination and injustice against LGBT people."
Not two hours later, Cuomo issued an executive order doing just that.
"Today, I direct all agencies, departments, boards and commissions to immediately review all requests for state funded or state sponsored travel to the State of Indiana and to bar any such publicly funded travel that is not essential to the enforcement of state law or public health and safety," the New York governor wrote, noting the gay rights movement's history in the state. "New York State has been, and will continue to be, a leader in ensuring that all LGBT persons enjoy full and equal civil rights. With this action, we stand by our LBGT family members, friends and colleagues to ensure that their rights are respected."
Hoylman, whose office circulated the letter, told the Observer in an interview that he was "not surprised" with Cuomo's haste in severing diplomatic ties with Indiana. He argued that the move was more than symbolic, but was part of a continuing campaign to ostracize entities and agencies that deny equal treatment to non-straights.
"I think the LGBT community frankly is sick and tired of promoting so many businesses as consumers, and we have power in numbers that we should use to our advantage," the Upper East Side legislator said. "Inflicting economic harm, I think, is part of the strategy. It's certainly justifiable when you're denying people employment, housing, protections in other civil liberties."
Not everybody agreed at the time. Ed Cox, chairman of the New York State Republican Party, accused Cuomo of looking to burnish his image with his party's base. He noted the Democratic governor was scheduled to soon visit communist Cuba, where human rights are routinely violated.
"Now that Andrew Cuomo has banned travel to Indiana, he can cancel his upcoming trip to Cuba, where gay marriage is illegal, political dissidents are imprisoned and tortured, and the Castro regime is on the US State Sponsors of Terrorism list," Cox said in a statement sent to the Observer. "Or he can admit that both moves are political stunts meant to bolster his national profile with no grounding in reality or substance."
It's not clear how much economic harm the travel ban ever actually inflicted. Pence—who once claimed to be "proud" of the law he signed and who had insisted it was not discriminatory—buckled quickly under pressure from interests both inside and outside his state. He called the controversy "a great misunderstanding" and quickly approved new language in act that explicitly barred businesses and other organizations from denying service to LGBT consumers.
Cuomo rescinded his travel ban just five days after announcing it.
The vast number of private and public entities that embargoed Indiana in reaction to the Religious Freedom Restoration Act cost the state some $60 million in revenue, according to a report by a tourism group. But subsidized travel from New York made up just a infinitesimal amount of that. Sources in Cuomo's office could only point to a handful of State University of New York coaches who canceled trips to the Final Four men's basketball tournament in Indianapolis as cases of state-funded travel his order impacted.
Still, Hoylman proclaimed Cuomo's blockade "wildly successful" when speaking to the Observer.
"The governor panicked, then blinked, then amended the bill he had signed into law," he said. "I think it exposed Governor Pence both as a scoundrel and a hypocrite. After expounding the virtues of the legislation, he quickly amended it when he saw it was going to hurt his state's finances. His state's finances apparently trumps deeply held religious and moral convictions, which I frankly find laughable."
The lawmaker suggested the Queens-born, Manhattan-based Trump had a mostly cosmetic motive for casting Pence as his understudy.
"Clearly, from my vantage point, it seems to be a political payoff to the evangelical far-right wing of the party that may have some suspicions about Trump's New York values," said Hoylman, an early and enthusiastic Clinton supporter.
Neither the Trump campaign nor Pence's personal political team responded to requests for comment
Disclosure: Donald Trump is the father-in-law of Jared Kushner, publisher of Observer Media.