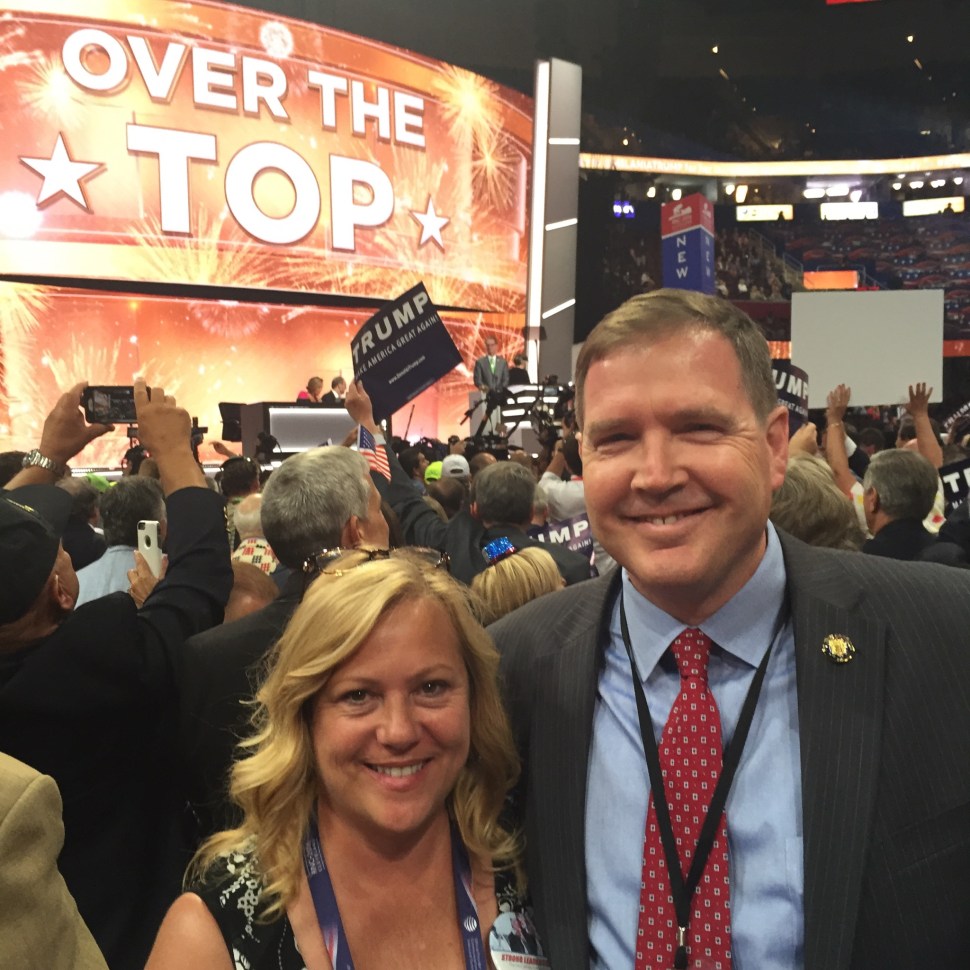 WINNERS
Ivanka Trump
The radiant eldest daughter of Republican presidential nominee Donald Trump gave a majestic microphone performance from the stage at the Republican National Convention on Thursday night. As for her father. at least one post RNC poll shows him treading water.
Kim Guadagno
If Gov. Chris Christie's numbers continue to tank, his robust shout-out at the Republican National Convention to Jon Bramnick as the best Republican leader in the state presumably can serve to boost the fortunes of the acting governor, a 2017 Republican gubernatorial prospect.
Vin Gopal
The Monmouth County Democratic Chairman threw a seaside fundraising bash this week and packed the joint with every significant gubernatorial candidate in the Democratic Party and his/her respective entourage.
Shavonda Sumter
Eying her own run for governor, the assemblywoman from Paterson received a shout-out from U.S. Rep. Bonnie Watson Coleman (D-12) at Gopal's party, who called her a legitimate competitor who will surprise people unconvinced that she will actually run.
Stephen Yellin
The candidate for Berkeley Heights Township Council got all of the answers correct in PolitickerNJ's party conventions pop quiz. Congratulations, Mr. Yellin.
Alyana Alfaro
The PolitickerNJ reporter tirelessly supplied New Jersey readers with the best front line convention hall coverage of this year's RNC.
George Orwell
The late British genius writer who authored Politics and the English Language was a master of economy in expression, and always cautionary about the excesses of language in political rhetoric. It's a good thing that he didn't live to see this.
LOSERS
Cory Booker
Well, he tried. You can almost picture the junior senator putting on his best Gabriel Byrne accent and telling Tim Kaine, "Tell her… tell I tried." He did. He campaigned hard for Hillary Clinton throughout the primary, then swooped into Cleveland with Bat cowl firmly in place to voice his own public outrage over the excesses of the RNC. In the end though, Booker's visions of being Clinton's running mate came apart the same way Christie's red, white and blue veep dreams balustrade collapsed just over one week ago. In the end, Booker's single garment of destiny imagined as a technicolor dream coat appeared woven from the same swamp earth toned cloth as Christie's.
New Jersey
We put up two guys for the second highest office in the land, and the rest of the country ho hummed them both. People beyond our borders aren't as enamored of us as we are of us, we suppose, but that's all right, one of these days, pow, right in the kisser.
Bernie Sanders Progressives
In picking the conservatively inclined Tim Kaine from Virgina for VP, Clinton signaled to the Sanders wing of the party that she really doesn't need them to win in November.
The NJGOP
A divided New Jersey Republican Party showed up in Cleveland in support of Donald J. Trump, with the likes of former governors Tom Kean Sr and Christie Todd Whitman, Senate Minority Leader Tom Kean, Jr, senators Kip Bateman and Jen Beck, Assemblyman Jack Ciattarelli and all the congress people but one opting out of the convention. Christie's on his way out, but his last hurrah – stirring a crowd to chant "lock her up! lock her up! lock her up!" hardly conveyed statesmanlike stature, and was widely panned. We'll see how it plays in New Jersey come November, and the extent to which the presidential contest will impact down ballot. Trump v. Clinton remains close nationally, according to the polls, and so we'll be watching the NJ Republicans' efforts to restore sufficient order in their ranks in time to compete come fall.