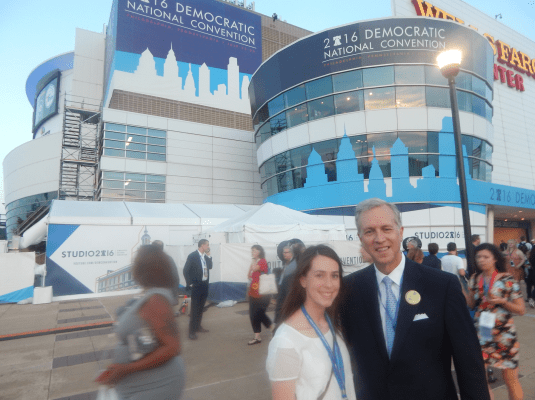 PHILADELPHIA — One of the biggest names on the Democratic shortlist for governor in 2017, the former state chairman for the Bernie Sanders campaign believes that it is time for diehard Sanders supporters to unite behind nominee Hillary Clinton. Assemblyman John Wisniewski (D-19) said Tuesday night that while he thinks outgoing Democratic Chairwoman Debbie Wasserman Schultz could have done more make things right, he trusts the DNC's judgement.
Wisniewski called the DNC's formal apology to Sanders for now-public staff emails an appropriate response. The emails' publication by Wikileaks revealed that DNC staff denigrated Sanders between themselves, and considered ways to discredit his campaign to benefit Clinton.
"There are some in the wake of the Wikileaks revelations that feel that the DNC was not entirely fair," Wisniewski said, adding that its interim chair did the right thing in offering an apology. "To Donna Brazile's credit an apology was issued. That apology should have come from Debbie Wasserman Schultz, but an apology nonetheless."
Wisniewski, however, is not joining in with the "Bernie or Bust" protesters who booed throughout the first night of the convention on Monday. He is confident that Brazile's leadership, and Clinton's, will lead to more transparency within the party.
"We can't relitigate the primary, we can't undo what the DNC had done improperly. We can fix it. We can work on it going forward to make the party stronger, more fair and transparent. I'm convinced that interim chair Brazile is the right person to lead that effort in the beginning. And obviously Secretary Clinton, when she becomes president, will have the opportunity to select a new Democratic National Committee Chair.
"Whoever is behind the leaks is trying to do it in a way that damages the Democratic party in this convention. But to their frustration, our convention has been the exact opposite of the Republican convention. We saw Senator Sanders make the nomination tonight by acclamation, by suspending the rules. That was the most gracious thing Senator Sanders could do as a candidate for President of the United States."
As for his own likely gubernatorial run, Wisniewski said that the presence of rivals like Jersey City Mayor Steve Fulop, Senate President Steve Sweeney (D-3) and former U.S. ambassador to Germany Phil Murphy will simply help Democrats present a united front when they vie to replace Governor Chris Christie during the general election next year.
Murphy, the only candidate to formally announce his campaign so far, has had lawn signs up in Philadelphia during the convention and hosted a delegate breakfast on Monday. That followed a reception on the Battleship New Jersey from Sweeney, with Fulop hosting a breakfast of his own this morning and Wisniewski scheduled to host one tomorrow.
"It's all about networking within our party," Wisniewski said. "We understand in the wake of Chris Christie that we have to communicate our message to the voters about what the future of NJ will look like when Chris Christie's term is over.
"Personally I think we ought to wait until this election is over before we start campaigning for the next one."