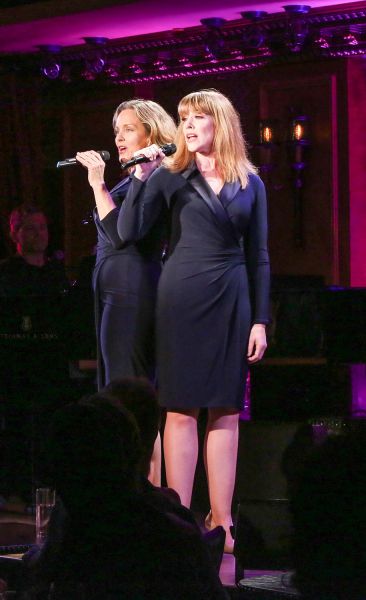 When two gorgeous, multitalented musical wunderkinds named Alice Ripley and Emily Skinner sewed themselves into a single dress to play Siamese twins Violet and Daisy Hilton in the explosive, exciting and critically acclaimed Broadway musical Side Show, they made history. The show only lasted a disappointing 31 previews and 91 performances in 1997, but it developed a rabid cult following. I saw it three times, and I usually can hardly sit through anything once. Well, the show ended despite the vociferous protests of its devoted fans, but conjoined or separated, the two stars still dazzle. (Skinner was a sensation in Billy Elliot and, more recently, American Psycho,and Ripley won a Tony award for Next to Normal.) Now they've reunited—in a cabaret act appropriately called "Unattached!" It's packing them in at Feinstein's/54 Below. Don't even think about missing it.
Their talent is still matched by their beauty, but the act, which soars without the current trend of using unnecessary directors who camouflage naturalism with ossified mechanized movements in the wrong places, is fresh and diversely appealing, too. You get highlights from their careers, cutting to the chase in their opening number, "I Will Never Leave You," the big hit from Side Show (this is one of the few acts I've ever seen that begins with a standing ovation). Instead of following with a letdown, the pace never flags, and the girls treat their audience to one triumph after another—Skinner singing the poignant love song about unrequited love, "I Don't Need a Roof," from her Broadway musical Big Fish; Ripley treating her listeners to "As If We Never Said Goodbye" from Sunset Boulevard; and a rousing, hilariously choreographed "Bosom Buddies" from Mame in which they even spoof each other. There's a "Friendship" medley, blending songs by Stephen Sondheim, Cole Porter, Jule Styne and Henry Mancini. And for younger fans of pop, several selections by Harry Nilsson and Carly Simon lead to a knockout jamboree playing kazoos.
Onstage alone, each one takes a turn stopping the show, and together they turn into Betty Grable and Alice Faye before your astonished eyes, spreading a joy that leaves you charged and cheering. I hope they reunite again, and often.
While you're in an "on the town" mood, another charming, throaty polisher of fine lyrics named Celia Berk is packing them in at the Metropolitan Room celebrating her new CD of songs about New York, singing the kind of offbeat tunes that used to be a staple in Manhattan after midnight. Her beat is rediscovering the gems Mabel Mercer, Sylvia Syms and Blossom Dearie used to sing when the Apple was fun and people caught late shows without fear of life in peril.
She calls herself "a musical truffle hound," turning lost and obscure little take-home tunes into full-bodied essays and making it all sound effortless. "Spring in Manhattan" never sounded so creamy. "I Gotta get Back to New York" (written by Rodgers and Hart for an Al Jolson movie) swings off the charts. "The Party Upstairs" by Ronny Whyte and Francesca Blumenthal is about a New York phenomenon—the noisemakers who keep you awake at night when the rest of the town is asleep. Guided by Jeff Harnar, another singing evergreen on the saloon circuit who turned director for this occasion, Celia Berk's smooth, smoky voice runs the gamut, from Irving Berlin to Carole King, and Kurt Weill's haunting hymn "Lonely House" hasn't sounded this wrenching since June Christy introduced it to jazz audiences in her revolutionary album Something Cool.  
No clichés here, just an array of shifting New York moods, flavors and tempos in diverse songs that wander off the beaten path and hold you close in the arms of artistry.