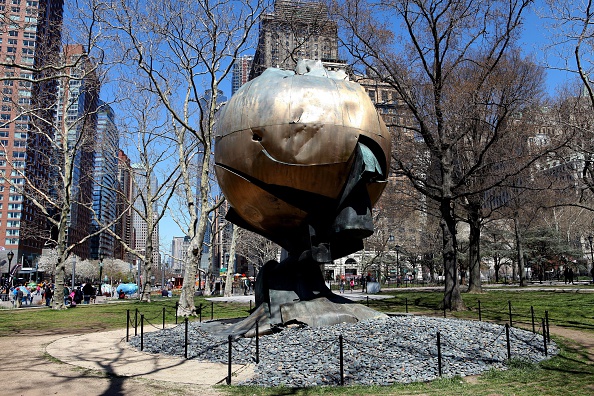 Sphere sculpture damaged during 9/11 to return to World Trade Center site. Fritz Koenig's 25-ton bronze sculpture, titled Sphere for Plaza Fountain, was damaged but not destroyed when the Twin Towers fell on September 11, 2001. For the past 14 years its been on view in Battery Park, but now the Port Authority is moving the piece to Liberty Park where it will overlook the plaza around the National September 11 Memorial and Museum.
Artists open a Poo Museum to showcase all the wonders of feces. A collective of artists who go by the name Eccleston George have opened the National Poo Museum at the Isle of Wight Zoo in Sandown, England. The single gallery exhibit features 20 varieties of animal feces and will go on tour at the end of the summer.
Art by Shepard Fairey and Banksy goes on view in Philly for the DNC. Rock the Vote is mounting an art exhibit titled "Truth to Power" in the City of Brotherly Love through Wednesday which will feature work by the street art stars, artists Ron English and Jeff Soto, and a six-story banner by Keith Haring.
When is it appropriate to call an artist an "outsider?" New Jersey-based artist Kevin Sampson said he was opposed to being called an "outsider artist" during a panel at the American Folk Art Museum last week. "I have been represented by Cavin Morris Gallery for years…My work showed in the Venice Biennale. It's hard enough to be an African-American artist. Now we have to be 'outsiders'?" he said.
Works from the most important collection of Oceanic art are mysteriously inaccessible. Hawaii's Bernice Pauahi Bishop Museum contains a vast collection of works from the Pacific Basin and Oceania, but most of its holdings are now off limits to researchers and the public. And while the Art Newspaper calls attention to the museum's debt load ($7.5 million as of 2014) and diminished staff, a spokesperson for the institution told the paper there were no current plans to sell works to balance the books, so it's unclear when the artifacts will be more accessible, if ever.