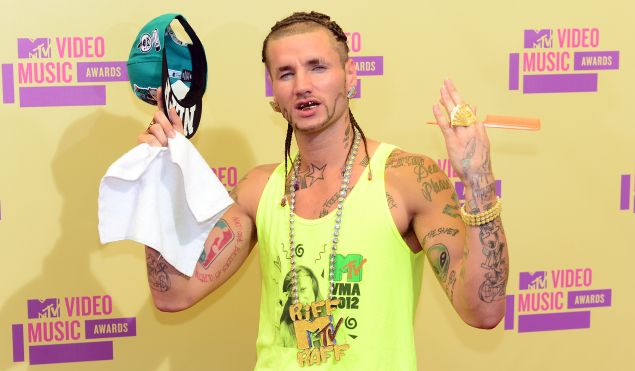 Are we still wondering why the actual writers and creators of music always seem to get fucked out of royalties?
Two weeks ago, the Department of Justice ruled that Publishing Rights Organizations like BMI and ASCAP can each license 100 percent of a song to be used commercially, even if that PRO doesn't represent the whole song. This Forbes story surmises that it will lead to an administrative nightmare for these PROs, along with less collaboration between artists represented by different ones and a slew of other problems. But the big DOJ ruling that's pretty fucked up upholds something called a consent decree, prohibiting songwriters from pulling their catalogs from digital licensing services.
"Record labels and recording artists, who are not bound by the pre-WWII Consent Decrees, already have these rights," writes Brittany Hovak. "This issue is at the root of reports you've probably heard about songwriters getting ridiculously low payouts from digital streaming services, including 'All About That Bass' songwriter Kevin Kadish's claim he made $5,679 from 178 million plays on Spotify."
What does this mean for the rest of us? How does that affect me as a writer, or you as someone with at least a passing interest in media?
Last week I wrote about how the proliferation of "content" in both the music industry and the journalism business is toxic to the process of creation—label someone's work something innocuous and bland like "content" and you render it instantly disposable in our over-saturated culture.
But here's the thing: we don't just see this happening to scabs, whether they're freelance journalists or the writers of the hits you love whose names you don't know, from big faceless coroporations. We also see it happening with big-name musicians, who are hiring regular folks like you and me to produce work that they can harvest.
This brings us to Riff Raff, everyone's favorite EDM rapper (shudder).
In the midst of rapping up his "Peach Panther" tour, Riff Raff put out an open call for people to join his new country band (shudder) in the classiest way possible—an Instagram post: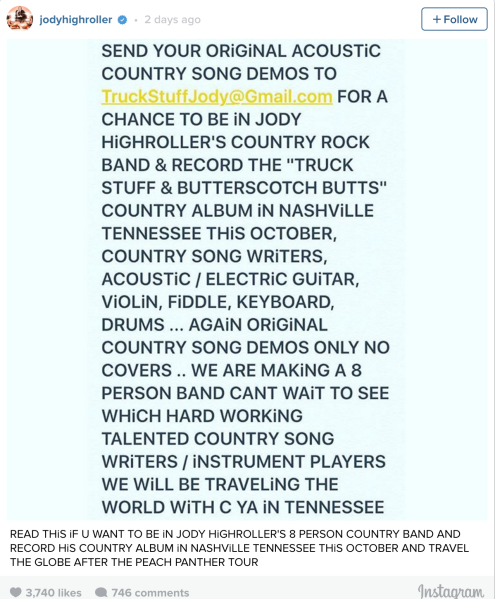 Let's unpack this for a minute.
The opening solicitation is clearly code for "we need writers," and I'm simultaneously amused and horrified to think about that cross-section of listeners who count themselves as fans of both Riff Raff and modern country music. They've got to be out there, though, right? Meth-heads? College kids who own stock in Robitussin? George Zimmerman?
He then reveals the projects title, "Truck Stuff & Butterscotch Butts," which, like most of his recorded output, doesn't seem to take itself too seriously. But then he asks for real musicians to join in the next sentence and it boggles the mind. Implicit in this post is the following admission: 'Though I've been all around the world and am a well-known personality, I don't know of any legitimate musicians who will work with me at the rate I'm offering. Are you into it?'
Riff Raff's tactic offers more proof yet why no one takes him seriously (although colleagues who've seen his performances that consist of him essentially lip-synching bad karaoke over his own tracks didn't need any more proof). How far we have fallen when the seams of artificiality are this visible?
Another solicited attempt by an artist to fans to work for them this week came from our favorite troll, Kanye West.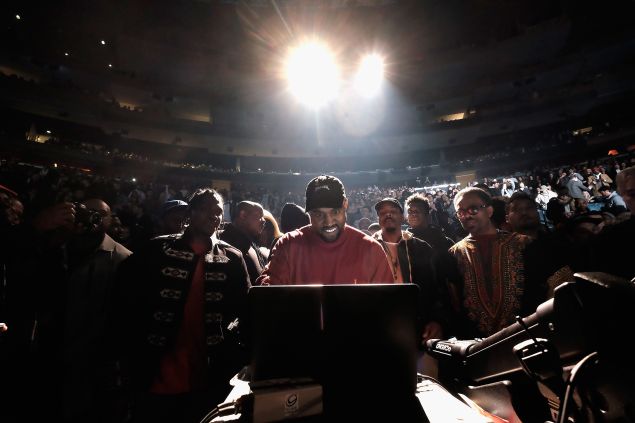 West has inserted himself back into the news cycle several times since I last wrote about him, and while I promised not to feed into it and ever talk about him again, I must finally acquiesce. Like Riff Raff, West announced this week that he too is hiring. In their completely impartial news announcement that Kanye's Adidas brand "Yeezy" is hiring, MTV news wrote that "Even geniuses need a little assistance every once in awhile, and now's your chance to help one out." The positions, they note, range from administrative jobs and behind-the-scenes work, to more creative titles like "Design Director."
If you go out for one of them, you better hope Adidas is the one cutting the checks. Kanye's in debt, remember? Who knows how he paid for those wax figures in that weird fucking video he released last month.
Again, I wonder what logic and incentive Yeezy has for hiring new people into his fold. Not to say that bringing "civilians" (MTV's word) into the fold is a bad thing, or that the creation of new jobs is a bad thing either. But what does it say about Kanye and the culture of his business practices when working for him alone is considered such a fucking honor?
He's not exactly known for treating hired help with dignity, folks. Companies often hire less-experienced people to join their team because they can get them for less money. Is that what's happening here?
In his creative life, we know that Kanye cycles through talented collaborators like shoes. Pitchfork's feature on Kanye's "think tank" approach to writing his songs annotates his history of collaborators quite well, although what you'll really get reading this is the sense that, though individual performers' talents and distinctions are often used to give a track a sense of uniqueness, these performers quickly vanish into obscurity.
[youtube https://www.youtube.com/watch?v=3mEuIWUbFO8&w=560&h=315]
We should all be concerned for Chance the Rapper, who debuted his neo-gospel hip-hop vibe on "Ultralight Beam," the opening track to Kanye's The Life of Pablo. Chance would release his awesome new record Coloring Book months later, largely focusing on that sound and production. And why shouldn't he have? It was his. Kanye just appropriated it. Like "content."
Had Chance released Coloring Book before Pablo, the credit due for that sonic highlight would have fully belonged to him. But Kanye got it first, and as such, will earn the respect associated with composing the song. That's no way to nurture, and it's no way to give back to an emerging talent when you're in already held in a position of esteem.
All of this is to say, you can't crowdsource creativity. Well, you can, but if you don't pour back in to nurturing and supporting the career of the artist who's fresh ideas and talent you're appropriating, you're not an artist yourself—you're a businessman.
Maybe there's a way to be both. I look at what Kendrick Lamar and the Top Dawg Entertainment folks are doing, how they're bringing friends and creative brothers into the fold, but that involves creating a community around your collaborators and not a revolving door.
When musicians crowdsource creativity, they often turn that collaboration into "content," disposable chewing gum that loses its flavor in minutes. Let us have the courage to call bullshit on these practices, and hope that those of us who truly create meaningful work know who our real friends are.