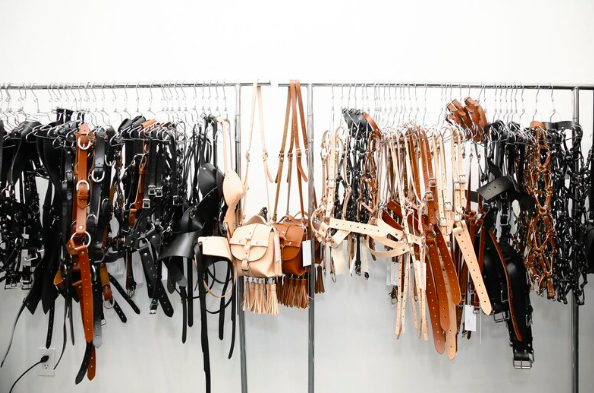 When it comes to wearing leather, I suppose you could say I'm on the modest side. I may have one pair of leather boots, perhaps a belt and, yes, I have been known to rock a pair of leather pants (OK a really good looking pleather pair from H&M that everyone thinks is real, so it's basically the same), but most of the time, I leave leather to the cowboys, bikers and bartenders at Coyote Ugly-type bars.
So you can imagine I was a little intimidated when I walked into Zana Bayne pop-up shop at 171 Elizabeth Street. The artisanal leather line, which has collaborated with Beyoncé for the last four years and was behind that signature leather bra in Lemonade, is best known for their harnesses, chokers, bullet bras and bags. Fans include FKA Twiggs, Debbie Harry, Madonna and, of course, Queen Bey.
Though there is definitely a bit of an S&M look to the designs, I was immediately calmed and assured by both Bayne and her design partner Todd Pendu that I too could wear leather, despite the fact that I had walked in with a giant Kate Spade bag in tow. Thank goodness it wasn't the one with bows on it.
But leather in the summer? Images of that Friends episode when Ross, in an attempt to be cool in the new year, wears a pair of leather pants and sweats through them come to mind. However, Bayne's leather harnesses are like a great statement necklace or vest, except they won't make you any hotter and are definitely a conversation starter. You can just throw them on top of a simple t-shirt and jeans and they transform your entire look, said Bayne. I tried one on and actually felt like I could pull this look off, without feeling like a dude ranch reject.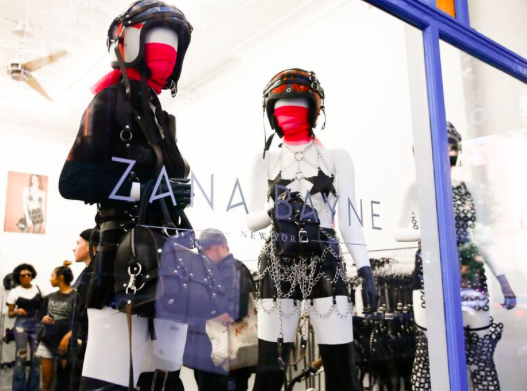 "You can wear it with something really dressy or really simple, but it kind of changes whatever you're wearing," said Pendu. The line even featured models wearing the harnesses on the beach for their spring 2015 line. Move over rash guards: it's all about the harness on the beach this summer. I wore one of the more simple light tan harnesses, but some of the others almost have a corset-like, bustier look to them, except there will be no rib crunching or excruciating pain here.
If a harness is still not for you, the handbags, which are heavy on leather and metal hardware, are truly gorgeous. "Bags have been great for us because they've been a really successful way for people to be introduced to our brand. It's a way to wear a piece of art everyday. Even something like a bag can really express personality," said Bayne.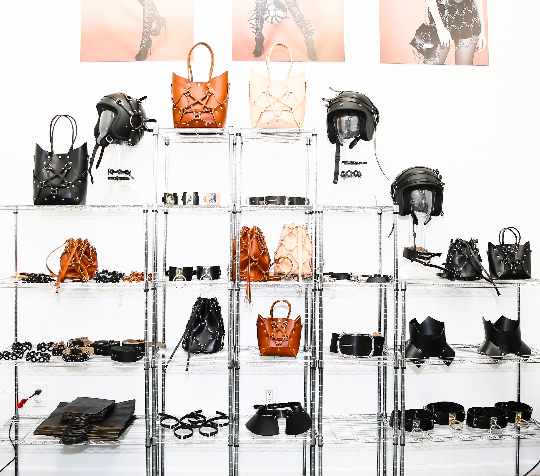 Pendu says their target buyer isn't a certain age, but is more of a personality type. "It's for people who like to express themselves and feel the need to seek out brands that help them do that," he said. Zana Bayne definitely attracts the rock n' roll crowd, but he says it's also just for people who really love leather. The collection in the pop-up centers on the "Highway Girl" and the freedom of the open road. "You could see this girl anywhere. You could see her in L.A., you could see her in New York," said Pendu.
Stock up on your leathers before the pop-up closes on July 24th.