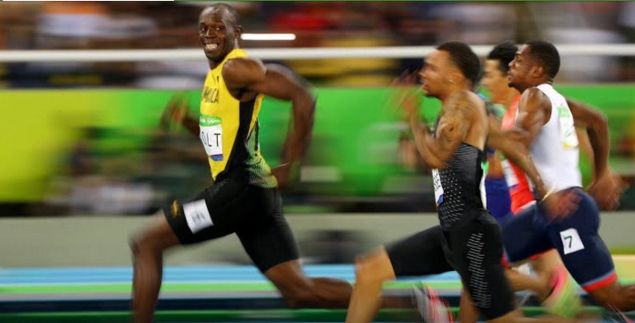 Usain Bolt proved once again last night that he is the world's best sprinter, winning the Olympic 100-meter dash with a time of 9.81 seconds. He became the first male or female sprinter to win the gold medal in the 100 meters three times (2008,2012, 2016). Following the race, an image of the Jamaican smiling for the camera as he crossed the finish line quickly went viral.
There was just one problem: the photo by Getty Images' Cameron Spencer was actually taken at the men's semifinal  for the 100 meters earlier in the day, which Bolt also won with a time of 9.86 seconds.
The chronology didn't matter to Twitter users, however—they've spent the last 12 hours gleefully creating memes from Spencer's iconic image,  which they dubbed "Smiling Usain Bolt":
Spencer, who has shot Bolt at all three Olympics in which he has competed, called Bolt "an entertainer" who "surprises me every time that he goes on the track." He also told the Observer that getting the shot seen round the world was just a matter of being in the right place at the right time.
"When shooting the world's fastest man you always need to be on your toes and ready," he said in an email. "I decided to take a risk and shoot a pan at a slow shutter speed, knowing he would coast past his competitors around the 70 meter mark. He makes it look easy, almost playing with his competitors."
Bolt's banner day of racing was so exciting that it caused a terminal at John F. Kennedy International Airport to shut down—an initial report of gunfire at JFK turned out to be people "clapping and banging" after the sprinter won his gold medal.