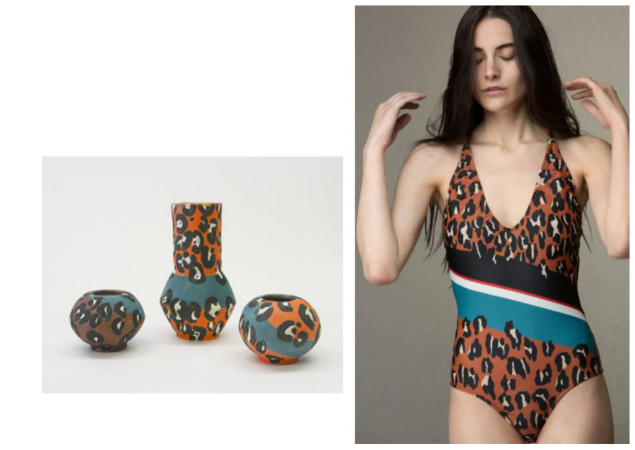 Fashion designers are often quizzed about the source of inspiration behind their various collections of clothing. Sometimes they whisk out a mood board, covered in fabric or screenshots of Instagrams, to explain their designs. Other times, the designers cite a recent vacation as their starting point.
It isn't often that other creatives use a fashion collection as a focal point, but Bari Ziperstein did just that. After seeing Rachel Comey's designs from the Spring/Summer 2017 season, she felt very inspired.
Ziperstein took to Instagram to get in share with the designer her impulse to reinterpret a leopard print swimsuit, a metal-accented t-shirt dress and voluminous, bright pants. "I've always been a die-hard fan of Rachel's aesthetic," Ziperstein said. "But when I learned of her background in sculpture I immediately knew she would identify with my take on the similarities between prints finding their way onto ceramics and the very fabric that forms the foundation of her clothing and swimwear."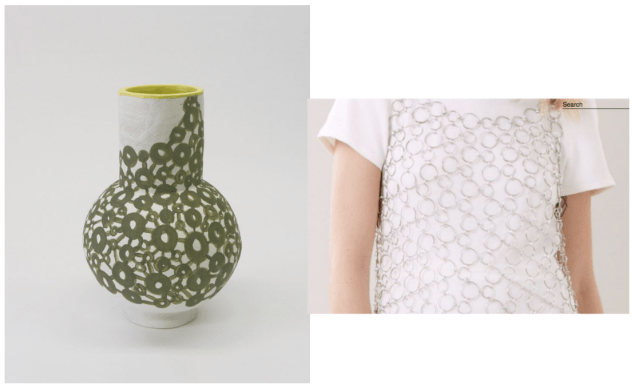 The resulting ceramic range features a variety of short and tall geometric vases in bright pops of color, a literal reinterpretation of a leopard print and interconnecting lines and circles spanning across a bulbous vessel.
Now, all 11 of these pieces are being carried at Comey's Los Angeles store, ranging from $250 to $650. Finally, even your bedroom can be clad in Comey's cool girl creations.