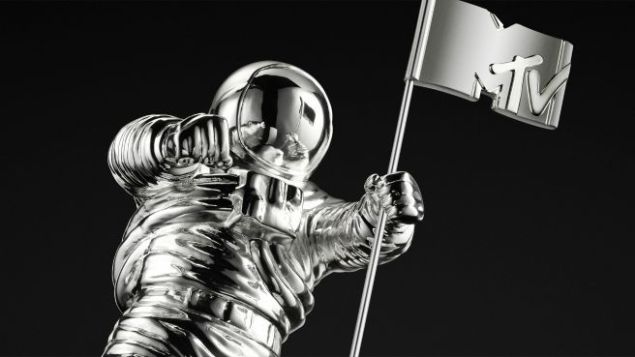 It's that time of the year, everybody, when MTV presents its annual evidence that music videos still matter and definitely, definitely are not just sinkholes into which production companies throw thousands upon thousands of dollars, enough money to feed literally several impoverished cities but instead went towards Justin Bieber strapping a Go-Pro to his head and riding the actual Declaration of Independence down a water slide lined with Crisco into a pool filled with stolen diamonds.
On the other hand haha wait, look, the statues are shaped like astronauts.
Seeing as I live in New York, however, I spend almost zero time driving, which means I have limited access to a radio. And when I do, I'm catching up on podcasts, under the conditions of the oath I swore in my own blood when I moved to this city. What I'm saying is, I've heard very little of these songs. REGARDLESS, that didn't stop me from predicting these bad boys last year, and it didn't stop me from predicting it 100 percent correct*, either. To be fair, I just control-C'd the name Taylor Swift into every category, but that's on the voters more than it's on me.
With that said, let's predict the winners for the 2016 MTV Video Music Awards!
Video of the Year
Adele – "Hello"
Beyoncé – "Formation"
Drake – "Hotline Bling"
Justin Bieber – "Sorry"
Kanye West – "Famous"
If you take the name of the Adele song and combined it with the name of the Bieber song you pretty much get the name of the song Adele is definitely writing right now. Actually, "Hello, sorry" is pretty much every song Adele has written in the past couple of years. Woman has voice that could melt a steel beam, though, so I'm pulling for Adele. Although, I do have a Twitter, so I'm vaguely aware of the election that took place to crown Beyonce as Bae Queen of the Yas-iverse (I wrote in my own name because you never know, right?). So, as a safety precaution for both me and my loved ones, WINNER: Beyoncé, forever and always.
Best Female Video
Adele – "Hello"
Beyoncé – "Hold Up"
Sia – "Cheap Thrills"
Ariana Grande – "Into You"
Rihanna ft. Drake – "Work" (short version)
Is there anything that exemplifies MTV in 2016 more than the fact they made absolutely dame sure to point out it was nominating the (short version) of Rihanna's video? As if MTV's core viewers would see (long version) and O.D. in unison on Red Bulls and their roommates Adderall in an attempt to even process watching the (long version) of a music video? Like, motherf*ckers, Lemonade was a full-length movie and it still caused the U.S. Sanitation Department to go out of business the day it premiered, because the entire country simultaneously lost its shit.
Or maybe there's some time-limit or whatever. I don't know. Don't keep repeatedly inviting noted-piece-of-actual-garbage Chris Brown to attend and then try and overwhelm me with your "guidelines", MTV. WINNER: Rihanna ft. Drake, "Work" (Vine version)
Best Male Video
Drake – "Hotline Bling"
Bryson Tiller – "Don't"
Calvin Harris ft. Rihanna – "This Is What You Came For"
Kanye West – "Famous"
The Weeknd – "Can't Feel My Face"
Okay, just backing up, I should take this space to admit to the world and whatever deity you believe in that I've never actually seen Lemonade. Whatever, Best Male Video, WINNER Drake for that funny little dance and somehow convincing the world he isn't from Canada. Cool.
But fuck these guys, I feel like I really should've seen Lemonade, right? I mean my only exposure is a couple of GIFS of Beyonce swinging a baseball bat and a car exploding (and I'm still not sure if Beyonce swinging the baseball bat caused the car to explode?). Whatever snippets of actual music I've heard have always been top notch, plus I really did try and watch it one time and was super impressed with how intense it was. Like, I couldn't stop thinking "Wow, Jay-Z, you REALLY messed up" until 40 minutes in I realized I was just watching a rerun of "Battle of the Bastards." So, again, I'm sorry.
Wait, no, Donald Trump totally did Drake's funny little dance on SNL. That's awful. New WINNER: The Weeknd, with the song about cocaine your kids won't stop singing.
Best Collaboration 
Beyoncé ft. Kendrick Lamar – "Freedom"
Fifth Harmony ft. Ty Dolla $ign – "Work From Home"
Ariana Grande ft. Lil Wayne – "Let Me Love You"
Calvin Harris ft. Rihanna – "This Is What You Came For"
Rihanna ft. Drake – "Work" (short version)
Man, I love this category. It's not really about quality, it's just whittling down whatever two artists happened to make a song together AND shoot a music video for it. It's like asking your coworkers who is eating the BEST COLLABORATION, and like one guy with a peanut butter and jelly sandwich raises his hand. That's what we're voting for here. That's what we're voting for here, people. We're voting for the living, breathing personification of a peanut butter and jelly sandwich. WINNER: Fifth Harmony featuring Ty Dolla Dollarsignign.
Best Hip Hop Video
Drake – "Hotline Bling"
Desiigner – "Panda"
Bryson Tiller – "Don't"
Chance The Rapper ft. Saba – "Angels"
2 Chainz – "Watch Out"
As long as we're combining song titles, my vote is for whatever alternate dimension exists in which "Panda, Don't…Watch Out!" is nominated for Best Hip Hop Video. Oh man. Someone get that panda bear out of trouble. They're almost extinct, you know. WINNER: Bryson Tiller, for daring to have a country music name in the world of hip hop.
Best Pop Video
Adele – "Hello"
Beyoncé – "Formation"
Justin Bieber – "Sorry"
Alessia Cara – "Wild Things"
Ariana Grande – "Into You"
I want so badly on a deep, deep level for a song with the lyric "When he fuck me good I take his ass to Red Lobster" to win a Pop Music award, just to prove popular music still has some semblance of guts. The world needs that on its most elemental level. Compare every word in "Formation" to Adele getting mad the dude she broke up with has his phone on silent (there's a time difference in California, Adele!). Or Justin Bieber asking if it's cool that he regrets that time he pissed in that janitor's bucket and got a bunch of DUIs, or Ariana Grande I assume singing the mating call of the Keebler Elves. At least Alessia Cara is self-aware enough to basically be named "I Couldn't Care Less." WINNER: Beyoncé.
Best Rock Video
All Time Low – "Missing You"
Coldplay – "Adventure Of A Lifetime"
Fall Out Boy ft. Demi Lovato – "Irresistible"
twenty one pilots – "Heathens"
Panic! At The Disco – "Victorious"
Quick joke! How many pilots does it take to make music that doesn't make me want to jerk my steering wheel into the closest oak tree? Apparently more than 21! Take it away, monkey! No, but seriously, one time I saw twenty one pilots at the Firefly music festival, where Tyler Joseph climbed the stage's support beams and, because I was a dangerous level of high, I thought that was the coolest thing I've ever seen. Turns out this band is way less cool outside the confines of a 95 degree Delaware forest filled with drugs. This also applies to every other thing.
So that leaves us with…a legitimately hilarious group of contenders who wouldn't know what rock-and-roll was if the actual boulder from Raiders of the Lost Ark ran over their neon green tour bus. If this was a TV show, I'd say leading off with a band called All Time Low was a little too on-the-nose. Then there's the band who dares, DARES to put an exclamation point not at the end but after the first word, a song featuring Demi Lovato. The biggest rock stars here are Coldplay, and Chris Martin managed to pull off the most awkward white man moves on a night that also featured Peyton Manning running.
WINNER: Hopefully "The VMAs" (short version).
(*rounded up from 0 percent)