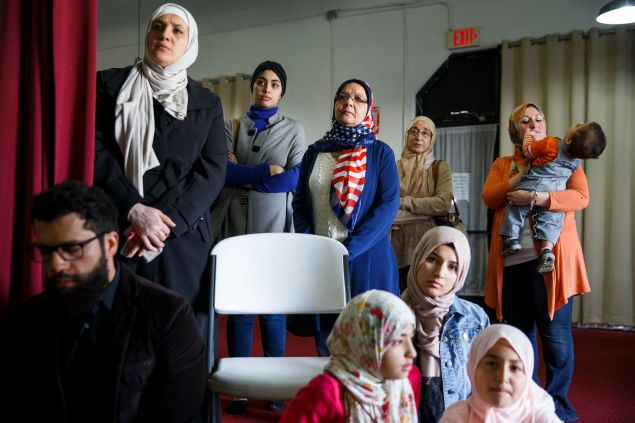 Mental health researchers—many of them Muslim—warn that an increasing number of America's 3.3 million Muslims are suffering trauma because of Donald Trump's anti-Muslim rhetoric.
This campaign season has brought an unprecedented level of anti-Muslim rhetoric into presidential politics, including Trump's call for a ban on all Muslims traveling to the United States. Most recently, Trump questioned whether Islam, and her husband Khzir Khan, forbade Ghazala Khan from speaking at the Democratic National Convention about her son, Army Capt. Humayun Khan, who died serving in the Iraq War.
"There's a lot of fear," said Dr. Wahiba Abu-Ras, an associate professor of social work at Adelphi University who is studying the mental health of American Muslims. She shared preliminary results of her ongoing research with the Observer, and although the sample size of her survey is small—around 200 participants so far—the results merit concern. Eighty-nine percent of participants reported that Islamophobia during the 2016 presidential election caused "some" or "extreme" negative impact on them and their families. More than half of participants (57 percent) described their experiences as "extremely stressful" and 31 percent reported their experiences as "somewhat stressful;" six out of ten said their experiences were worse in the past month.
Bias in the past had been less overt, noted Dr. Farha Abbasi, an assistant professor of psychiatry at Michigan State University and the managing editor of the Journal of Muslim Mental Health. "Up until now it was microaggressions," said Dr. Abbasi, referring to the term for small acts of bias and casual degradation minority groups often experience. "But honestly, they aren't microaggressions anymore," Dr. Abbasi said. "They are 'macroaggressions.' "
Assaults, mosque attacks and anti-Muslim verbal tirades have replaced the less malicious discrimination of the past, Dr. Abbasi said. A Georgetown study released this spring found there were 53 total attacks on American Muslims, mosques, Islamic schools and Muslim homes in December 2015, compared to just two attacks nine months earlier.
The effects of chronic stress on health, including mental health, are well documented. Recent research has shown that stress can affect learning and memory, alter the structure of the brain, and increase the chances of developing mental illness.
The researchers note that the American Muslim community often find it difficult to seek help for mental illness. Immigrants, who comprise 63 percent of the American Muslim population, are less likely to navigate the American health care system. Many Muslim immigrants also hail from from war-torn countries themselves, such as Syria, Iraq or Afghanistan, and more likely than the average American to have suffered from trauma. In addition, experts point out that many Muslim and immigrant communities stigmatize mental illness.
This election season has also produced increased bullying in schools, which can lead to mental health problems later in life. According to a Southern Poverty Law Center report, more than one-third of teachers surveyed observed an increase in anti-Muslim or anti-immigrant sentiment since the campaign began. The report's author, Maureen Costello, found that teachers she surveyed worry that a decade of anti-bullying efforts has been "undone" over the course of a single presidential campaign.
"When teachers try to remind kids of how they are supposed to behave, they've been told, 'Well wait, it's okay for a president, why can't I do it?' " Costello said. And it's not just students. Recent reports indicate some teachers are bullying their Muslim students. "They are being bullied not just by peers, but by people supposed to protect them," said Afaf Nasher of the New York chapter of the Council on American-Islamic Relations, a Muslim American civil rights group. "That tends to be the most heartbreaking."
For Muslim mental health experts, these issues aren't just academic pursuits. They can be deeply personal. Even Dr. Abbasi, who says she is not particularly religious and doesn't wear a hijab, said she is more concerned than ever: "I've been here 16 years and I've never been as scared as I am now; I'm not scared of Trump—I'm scared of the 48 percent of the people following him."