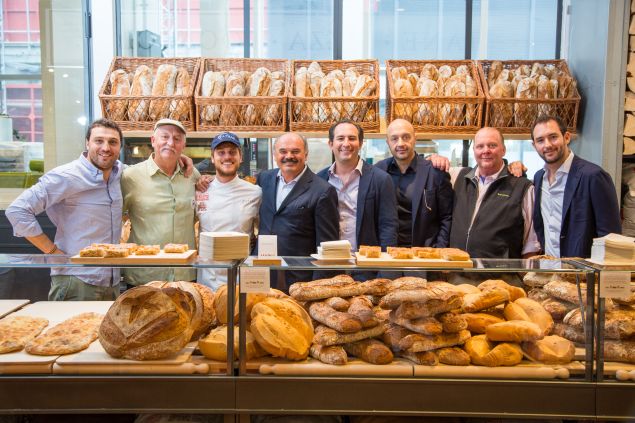 To the joy of foodies everywhere, the gourmand mecca known as Eataly is opening its second New York location, at 4 World Trade Center.
The food emporium is offering some much needed sustenance to the relatively bare food landscape in the area, and is set to officially open next week, on August 11th. But Observer got a sneak peek into the 48,000-square-foot space, which takes up the entire third floor of the building.
Before we embarked on the official tour, we made the rounds to test out all of the mouthwatering samples offered. You know, for the sake of #journalism. After tasting mini parfaits, composed of Maple Hill Creamery Greek yogurt, homemade granola, and Fabbri Amerena cherries, we headed towards the pizza alla pala per calzione, also known as Roman-style pizza topped with smoked salmon, robiola, red onion and capers.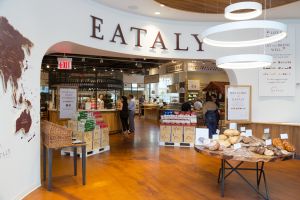 We passed by the salumi e formaggi stations and then the La Macelleria butcher counter, before spotting La Gatrononmia, which offers snacks and plates on the go, with three almost comically large open caviar tins situated under the glass counter. Fittingly, a pile of truffles is housed under the same counter. A number of displays focus on playful items, like chocolate candied-orange peel cigars, and the marketplace offers all the necessary cooking essentials and accessories—spatulas and so on, as well as a number of food-themed coffee table books. They also have the most recent version  Zagat, of course.
The Italian marketplace is the result of Eataly chief executive Nicola Farinetti once again teaming up with food dream team Mario Batali, Joe Bastianich and Lidia Bastianich–like all Eataly outposts, the Fidi locale is focused around one theme.
"This Eataly is dedicated to bread," Eataly managing partner Adam Saper told us as we started on our food tour. Indeed, the entrance to the marketplace is pretty much an ode to bread, with every type you could imagine perfectly perched on tables. "Bread unites people—every single culture and people has a bread," he continued. "In this structure, we are making bread on a wood-burning oven, and partnering on having an international bread every month, starting with a local bakery." When Eataly opens to the public next week, there will be a focus on New York staples, like bagels, which will be arriving fresh from Kossar's Bagels and Bialys, starting in September.
We sampled the breakfast sandwich—an incredible scrambled eggs on ciabatta creation—at the Panini station, and, of course, there's the pizza, made fresh in one of three wood-burning ovens. "In this building of modernity, to have a wood-burning oven in contrast is so incredible," he said, as we munched on a delicious slice, accompanied by pieces of imported buffalo mozzarella. Speaking of mozzarella–there's an entire "mozzarella lab," which offers freshly made cheese all day long, though Bastiniach made sure to confirm that the samples were fresh and still warm before we tasted them (they were).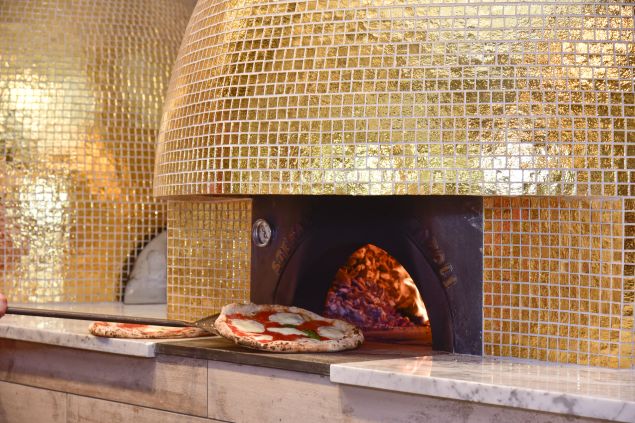 The location also has a "Foodiversità," also known as the free "food university," is open to all who visit Eataly, where members of the staff offer live demonstrations and tastings around the table—at the time we passed by, hand-made pasta was being rolled amongst wooden contraptions. The food university will offer classes throughout the day, and for now, advance notice or payment is not required.
The Fidi location bears a few differences from New York's original Eataly space in Flatiron, many changes of which are intended to cater to the expected clientele, including those working in the area who may want to head inside to grab a breakfast treat. There's also a salad bar, though we found ourselves less interested in that particular area.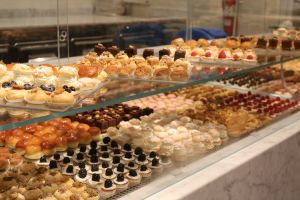 "We have a lot more office workers here," Bastianich pointed out as he guided us through the marketplace, noting new additions like this space's aptly named Juice Bar, for fresh juices and smoothies, and additional coffee spots, including an espresso bar towards the front that turns into a wine bar later in the afternoon. "We have a bigger emphasis on breakfast here," he added. New eateries include Orto & Mare, which focuses on vegetables and seafood as well as featuring an extensive breakfast menu—a first for Eataly, and perfect for those working in the neighborhood who want to head over for an early breakfast meeting.
Il Pesce seafood restaurant, a mainstay in the Flatiron location, is also in Fidi, though it features a more "diverse" menu including seafood pastas. Restaurants La Pizza & La Pasta and La Piazza are also opening in the new space, though this La Pizza & La Pasta has a prosciutto cutter right in the center of the dining room. To the uninitiated, that means a man literally slices prosciutto in the middle of the restaurant.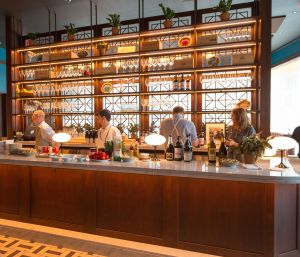 "This is our southern Italian restaurant," Saper said as we approached the elegant bar of Osteria della Pace, headed by chef Riccardo Orfino, which has a slightly more formal atmosphere. "This is still a casual restaurant, though this is the one area where you will be able to book tables, and we'll also be able to do private dining," Saper assured us, as we sipped on glasses of sparkling rosé wine, waiting for the plates of perfectly al dente tomato-based pasta, which was only one of the many we tried that day, including a lovely rigatoni.
And of course, the grand finale was dessert time in this food wonderland. There's the heavenly chocolate-focused area, as well as seemingly endless trays of delectable pastries, ranging from miniature chocolate cakes to raspberry tarts. Our personal favorite was the gelato, where there was a pistachio or cream milk option, topped with a decadent, warm chocolate hazelnut poured from a fountain.
For those sitting on the edge of their seats, anxiously awaiting the official opening, mark your calendars for August 11th—the doors of 101 Liberty Street will open promptly at 12:00 pm. We recommend getting there on the early side, not only to beat the lines, but because the first 100 customers to arrive will be given certificates for a complimentary tasting in September.