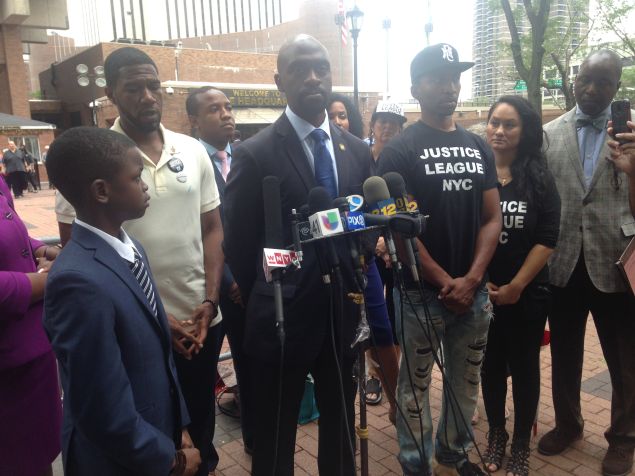 After a rough police encounter in which Bronx Assemblyman Michael Blake said he was slammed into a gate by an officer after trying to inquire about an incident in the area, he says he wants answers from Police Commissioner Bill Bratton—in the form of a public apology and a "face-to-face conversation."
Blake, who discussed the encounter with the New York Times, attended the Gouverneur Morris Houses' annual Family Day event and several other events on Saturday afternoon. He was on his way back to Morris Houses when he noticed a woman in handcuffs standing next to an officer.
Blake said he went to go speak with residents nearby, and walked over to two officers who he said immediately recognized him. Then, he said he heard a commotion behind him and ran over to the scene so he could figure out what happened.
Within two seconds, he said he was grabbed by an officer—whose last name he said was Perez—in a bear-hug, and tossed into the gate to his left, where two other officers were standing. He was finally let go, he said, because the other two officers recognized him and told Perez to let him go.
Ahead of Bratton's scheduled appearance at the Bronx County Courthouse this afternoon, Blake said that he would "hope to hear an apology."
"When I leave from here, I'm turning around, I'm going to 1PP and I am demanding and I'm saying I want Commissioner Bratton to have a face-to-face conversation with me," Blake said.
He also said he had direct conversations with Mayor Bill de Blasio yesterday, as well as with Commanding Officer Jerry O'Sullivan and the Bronx chief, all of whom expressed their concerns and apologized for the incidents. They were not however knowledgeable about the facts of the situation, Blake said.
The assemblyman says he wants to know why more than 30 officers were dispatched to the housing complex to deal with the incident he had inquired about, and expressed concerns about the officer not knowing who he was despite his involvement in the community.
He also wants information about how the NYPD determines whether an excessive use of force was used, about how neighborhood coordination officers and others are trained, and about how he can seek a "penalty, challenges, recourse" against the officer.
In response to reports that he allegedly touched the officer before the encounter occurred, Blake was enraged.
"I reject the assertions of anyone trying to say that I was aggressive. Don't slander my name, don't disrespect my name," he said. "Don't ever disrespect anyone that is speaking out for justice because help me to understand: if I was so aggressive, why would the officers have allowed me to leave in the first place?"
Councilwoman Vanessa Gibson, chairwoman of the City Council's Public Safety Committee; Assemblyman Victor Pichardo; State Senator Gustavo Rivera; Donna Lieberman of the New York Civil Liberties Union; also spoke in support of the assemblyman.
This is not the first time that assemblyman has spoken out against the NYPD.
In April 2015, Blake and State Senator Gustavo Rivera, along with liberal activist Groups, blasted the police for shoving and arresting activists in demonstrations seeking to express solidarity with protests in Baltimore, Md. over the mysterious death of black civilian Freddie Gray while in police custody.
And some Council members are trying to push forward legislation that would address encounters such as the one Blake had with the police.
Councilman Ritchie Torres and Councilman Antonio Reynoso are trying to get their colleagues to join them in a revolt against Speaker Melissa Mark-Viverito to pass the two-part Right to Know Act, which would require officers to identify themselves and provide a business card in any encounters that do not result in an arrest or summons.
Another bill, the Right to Record Act, whose prime sponsors are Councilman Jumaane Williams and Councilwoman Helen Rosenthal, would prohibit police officers or peace officers from preventing the recording of their activities unless the recording obstructs governmental administration.
Blake's encounter hit close to home for Williams and Kirsten John Foy of Al Sharpton's National Action Network, who previously served as director of intergovernmental affairs for then Public Advocate Bill de Blasio.  The pair were arrested during the West Indian Day Parade in 2011 for what they perceived to be an unwarranted arrest.
"So don't sit here and try to dissect the differences," Williams said. "Just understand that we look at the people this happened to happens to every single day and if we were not elected officials, we would be statistics or worse."
The heightened spotlight on the issue of police brutality comes on the heels of the recent deaths of African-American men at the hands of the police and the fatal shootings of police officers in Louisiana, Minnesota and Texas.