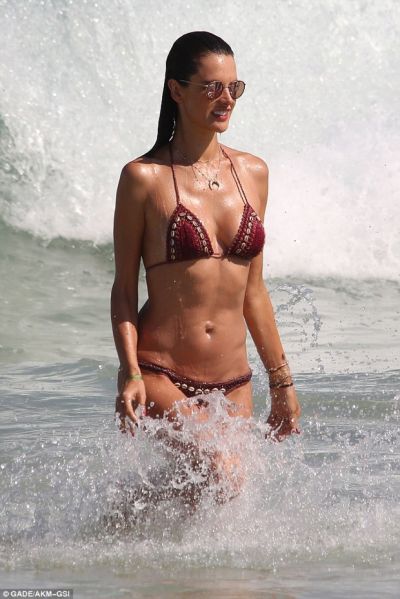 Correct us if we're wrong, but only a supermodel can prove to the rest of humanity that puka shells are actually kind of cool. Please, don't jump to the conclusion that we are condoning puka shell necklaces. Just hear us out.
Alessandra Ambrosio, the Brazilian bombshell who is spending time in Rio because of the Olympics, has also found the time to hit the beach in her home country. Her dip in the ocean involved a cool crochet bikini, adorned with cowrie shells. These curled exoskeletons are part of the puka shell family, but not in the evolutionary sense. Rather, both shells were strung into a choker necklace one too many times in the late '90s and early '00s.
Ambrosio's particular bikini, a creation from the brand She Made Me, is a handmade swimsuit inspired by artisans in the Banjara tribes in Northern India. It features dip-dyed tassels and many, many cowrie shells. She Made Me is a brand that's making it ok to wear shells on your bikinis, as the Australian-based brand has nailed the style. Often woven onto a crochet bikini, they offer '70s inspired pieces that are delivered in a thoroughly modern silhouette. The addition of the cowrie is sometimes subtle, but in Ambrosio's case, it's certainly not.
While we encourage indulging in a chic choker necklace as a nod to the '90s, let's leave the puka necklaces as a piece of the past. Instead, wear your shells on a sexy swimsuit.