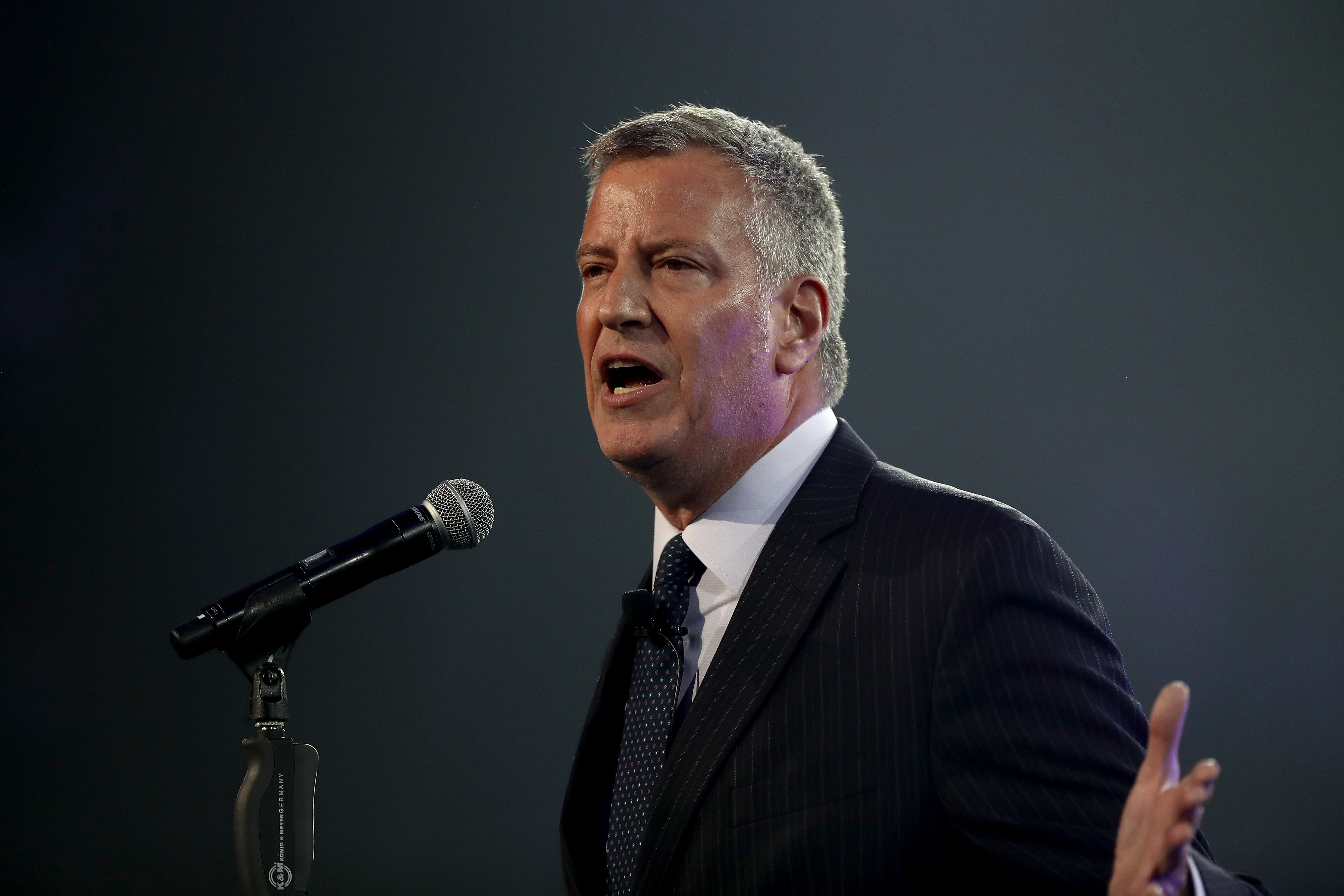 Mayor Bill de Blasio said today he now has "no contact" with a one-time fundraiser and lobbyist embroiled in one of the scandals surrounding his administration—saying those inquiries had prompted him to shift his strategy for dealing with lobbyists.
"I just have very, very, very little contact with lobbyists," de Blasio told reporters today, during an unrelated press conference in the Bronx.
The lobbyist in question was James Capalino, whose emails with the mayor made news after being obtained by NY1 and the New York Post this week. Capalino lobbied the city to lift a deed restriction on Rivington House, a former AIDS hospice on the Lower East Side, though the deed was not granted until the property was sold to another company that Capalino did not work for. Still, when the deed was eventually lifted—in exchange for $16 million and paving the way for its owner to flip it to a luxury condo developer for a huge profit—the city used language identical to Capalino's request.
The e-mails showed Capalino reaching out to de Blasio directly. When asked today by NY1 reporter Courtney Gross about Capalino directly emailing him, de Blasio interjected: "He used to."
"I have not been in touch with Mr. Capalino," de Blasio elaborated. "He, going into the mayoralty, was someone that I respected and was a friend, someone I had talked to a lot over the years, but I do not have contact with him anymore."
They mayor declined to say when their contact ceased, but said he made the decision to cut it off "because of the atmosphere we're in and the ongoing investigations."
But despite curtailing his contact with lobbyists, de Blasio said he didn't think he had done anything wrong by being in touch with them closely before.
"Of course not. I think everything was appropriate but again, we're in a particular atmosphere, I understand that people are looking at that. So I think it's just smarter not to," de Blasio told the Observer at the press conference.
He went on to say his administration was "a very, very careful, scrupulous group of people," even though he'd just finished up taking a question about why his fundraising team had asked one of his appointees to the Water Board, Joseph Finnerty, to host a fundraiser for the mayor's 2017 re-election bid—something that violates city rules and led to Finnerty's resignation. (The mayor said it was an "honest mistake.")
"We are very careful about everything we do," de Blasio said. "We've had conversations, I've had conversations with lobbyists. It doesn't mean they're going to get what they want. I've been very clear about that—it doesn't matter if somebody is a friend, it doesn't matter if somebody is a supporter." 
Still, it seems he won't be having those conversations anymore.
"I think in this atmosphere, it's absolutely sensible to have next to nothing to do with them," de Blasio said.
A spokesman for Capalino's lobbying firm said it communicates with City Hall on a daily basis.
"As would be expected with the largest government relations practice in New York City, our team of professionals communicates with officials at City Hall and city agencies on a daily basis—thoughtfully, responsibly and respectfully —as we advocate for our clients," the spokesman said. "Our firm has never relied on direct interaction with any of the five mayors who have held office since the firm was founded more than 30 years ago."
Update with comment from a spokesman for Capalino and Company.