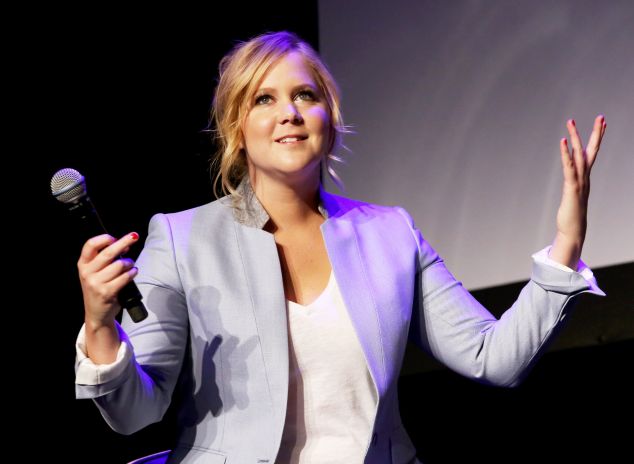 This week Amy Schumer released The Girl With the Lower Back Tattoo, a collection of personal essays. In one of the book's most talked about sections, called "The Worst Night of My Life," she writes about being raped by her high school boyfriend, and urges other women who have been sexually assaulted to share their stories.
Schumer has been hailed as a "feminist icon" for using her comedy to highlight social issues like rape, but many women find this ironic considering that Kurt Metzger, one of the writers on her Comedy Central show Inside Amy Schumer, is infamous for harassing women online, and even admitted to choking a former girlfriend. Even worse, whenever someone asks Schumer about this on Twitter, she immediately blocks them.
Metzger, whose Twitter bio identifies him as a "proud cuck and rape apologist," first felt the Internet's ire in 2011 (long before his Schumer gig) when he mocked Rebecca Watson. Watson, a well-known atheist who goes by "Skepchick" online, recorded a vlog in which she recounted being propositioned by a man at the World Atheist Convention. Fellow atheist Richard Dawkins then wrote a blog post called "Dear Muslima," in which he told Watson to grow up and stop complaining because she didn't have it as bad as women in Muslim countries.
Taking up Dawkins' mantle, Metzger posted a satirical response to Watson on Facebook, in which he wrote that "Asking a woman out in an elevator is a form of rape…One time I was in an elevator and someone looked at me, I mean DIRECTLY at me and I didn't have my rape whistle so I had to just endure the assault. It's been two months since then and I can't even look at a pair of glasses without crying."
That wasn't Metzger's only troll, however—his next target was writer Sady Doyle. In 2013 Doyle wrote a blog post criticizing a comedian named Sam Morril, who made rape jokes in his act. Metzger, a friend of Morril's, then invited Doyle on his podcast.
"I was told by other people in the stand-up community that he was planning something nasty, so I thanked him for the invite and turned him down," Doyle told the Observer in an email.
Metzger wouldn't quit, however—according to Doyle, he posted on Facebook that she was "too weak" to go on the podcast and that she "hated free speech." When Doyle responded, Metzger actually claimed that she wasn't a real person. He created a (now deleted) fake Facebook page for "her" and Photoshopped images of Doyle's face with a penis on top of it. Other anonymous Twitter commenters also posted rape threats against her.
The worst part of the story was yet to come, however. Around the same time, Metzger commented on a Facebook post about Rihanna's assault allegations against Chris Brown, writing that he himself had choked a former lover "because she was insane." He admitted the assault was "definitely criminally (sic)."
Metzger has driven other women off social media entirely. Last year he harassed Vice writer Claudia C. (who went by @literalporn on Twitter) because she tweeted in all caps. Metzger called her "dumbass" and "princess silly brain," and said she was only mad because "a white man didn't tip you for anal." Claudia C. then deleted her Twitter account.
The most recent Metzger controversy occurred just last week, after New York's Upright Citizens Brigade Comedy Club, among other venues, banned comedian Aaron Glaser from performing after multiple women accused him of rape.
Metzger responded with another Facebook screed, in which he wrote that "ALL women are as reliable as my bible! A book that, much like a women (sic), is incapable of lying!" He claimed that police don't ask for evidence in rape cases because that would be like "re-raping the victim's good hole," and also referred to the people who defend rape victims as "an unthinking herd of mewling progressive cattle."
You'd think this laundry list of online abuse and accusations would raise alarms for Schumer, whose comedy routinely tackles womens' issues. Indeed, Doyle (the only woman directly harassed by Metzger to respond to the Observer) tweeted at Schumer to let her know that one of her writers had committed an act of domestic violence and harassed women online.
Rather than taking the allegation seriously, however, Schumer blocked Doyle on Twitter.
"I was at the end of my rope, because he really would not leave me alone," Doyle said. "But that was the response I got."
"This guy keeps attacking women in really vile, openly sexist ways, and she keeps giving him money."- Sady Doyle
Doyle admitted that Schumer's defensiveness was understandable to a certain extent.
"I bet Schumer gets a ton of violent, abusive crap online herself," she said. "I understand 'block on sight' as a way to deal with any hostility. And, to an extent, that's her right."
But given the seriousness of the accusations against Metzger, Doyle also said Schumer was shirking a responsibility.
"This guy keeps attacking women in really vile, openly sexist ways, and she keeps giving him money, and she has never even spoken about what relationship that choice bears to her supposedly feminist politics," Doyle said. "'If she's building a brand on this stuff, you would think that obligates her to back it up by doing things like, I don't know, not continually giving money and career support to a guy who insults and attacks rape victims. It's not clear that she even sees why this particular bit of criticism is well-founded."
Doyle is not alone—even women who have casually asked Schumer about her connection to Metzger on Twitter have gotten the cold shoulder from the comic. The latest is writer Liz Arcury, who tweeted at Schumer last night:
Less than three hours later, Arcury posted a follow-up:
Arcury told the Observer that Schumer was misusing
"Amy has an incredible platform to raise women up and speak out against rape culture and misogyny," she said in an email. "It is such a disappointment to see that she is not only staying silent on the matter, but taking the aggressive action of blocking my fellow feminists and I who dare to question why she continues to work with him."
Metzger and Schumer could not be reached for comment.
UPDATE:  On Wednesday night, Schumer addressed the situation in a series of tweets—it appears Metzger no longer works for Inside Amy Schumer, and indeed the show is going on hiatus:
Schumer did not, however,  explain why she blocked people who asked her about the controversy.