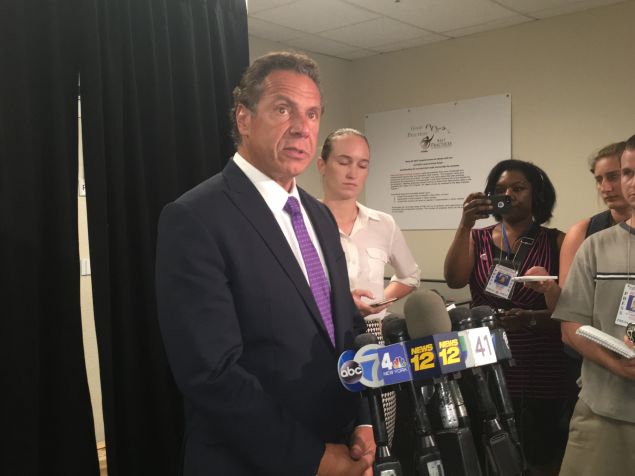 Gov. Andrew Cuomo insisted today that Comptroller Thomas DiNapoli's background as a state assemblyman invalidated his critical audits of the governor's economic development programs—but not his oversight of the state homeless shelter system, a job Cuomo himself assigned the longtime pol.
The governor escalated yet another feud with yet another fellow Democrat after an unrelated press conference in the Bronx this afternoon. Responding to a series of unflattering summertime analyses of his signature programs, Cuomo bashed DiNapoli's two-decade tenure representing parts of Nassau County in the Assembly and argued that history discredited the comptroller's assessments.
"The comptroller is not just the comptroller. The comptroller was an assemblyman for many, many years. And that New York State Assembly, first of all, passed numerous economic development plans, for many, many years," he said. "For an assemblyman to now critique economic development programs in upstate New York—what did you do? What bills did you vote on? And how did you allow this situation to develop?"
The governor did not specifically attack any particular proposals the comptroller voted on in Albany but insisted the Assembly had been "part of the problem" and had "basically abandoned upstate New York."
Cuomo's slap at DiNapoli was a reaction to the comptroller's findings earlier this month that the New York Power Authority, which was supposed to dispense power to struggling nonprofits and entrepreneurs at discounted rates under the governor's Recharge NY program, had made numerous errors when assessing applicants' eligibility. This meant noncompliant entities got cheap electricity from the state anyway, while groups that qualified for the program were barred from participating.
The governor appoints the power authority's entire board.
That audit followed the comptroller's July takedown of the Empire State Development Corporation, another Cuomo-controlled public-private venture, and its Excelsior jobs program. DiNapoli found that the development corporation had repeatedly handed out large tax breaks to companies without obtaining the necessary documentation to corroborate their eligibility or productivity.
The governor insisted those findings were "only as good as" DiNapoli's personal viewpoints and his record as a legislator.
"What you're getting in an audit is that person's opinion, right?" the governor said. "Sometimes I agree, sometimes I disagree, because it is only an opinion."
But Cuomo balked when the Observer suggested he was undermining his own case for having the comptroller review New York's homeless shelter system, a task he gave DiNapoli in his State of the State address in January.
"You get in some audits the person's opinion, right? 'I think this about economic development,' " the governor said. "Some audits are pure quantifications: Count how many people are in a homeless shelter. Go 'one, two, three.'
"We have, literally, a quantification on inspection protocol. So when an audit is based primarily on quantification and numbers, all you did is go count. That's one thing. When it's an audit based on your subjective opinion, 'let me tell you what I think about finances in this country and finances in this state and economic development,' now it's your opinion. And now that's subject to debate."
The comptroller's audits of Recharge NY and the Excelsior program were, in fact, based on numbers and hard data his office obtained from the NYPA and ESDC, from the businesses they worked with, and on eligibility requirements Cuomo's own initiatives established. A DiNapoli spokeswoman refused to respond to the governor's personal attacks.
"The reports completed by our professional auditors speak loudly for themselves," said Jennifer Freedman, communications director for the comptroller.
Besides his highly publicized tug-of-war with Mayor Bill de Blasio, Cuomo has also spatted with Assembly Speaker Carl Heastie and with numerous other state legislators from his own party. During his first term, he repeatedly clashed with state Attorney General Eric Schneiderman, though the two Dems have appear to have reconciled somewhat in recent years.
There was one Democrat today that Cuomo lavished praise on today: Bronx Borough President Ruben Diaz Jr., whom the governor hailed as a champion of economic revitalization in one of the state's poorest provinces. Diaz, as it happens, is also a former assemblyman.
Analysts have long speculated that DiNapoli, who won re-election by the widest margin of any statewide Democrat in 2014, might challenge the governor for his job in the 2018 primary.
Updated to include comment from DiNapoli's office.