Barely an evening of New York dinner table chatter can go by these days without talk of another defection to Los Angeles. Forest fires and water shortages are little deterrent, it seems, in the face of L.A.'s cheaper rents, booming creative class, and, not least, more relaxed "outdoorsy" way of life. Could it be that the stressors of navigating our urban jungle have finally reached saturation point?
A 2012 study cited health and money concerns as the key drivers behind New Yorkers reporting higher levels of stress than the national average. Time spent in nature, meanwhile, is widely recognized as an effective antidote—Frederick Law Olmsted, the landscape architect who designed Central Park, reminded us in 1865 that "the occasional contemplation of natural scenes of an impressive character…is favorable to the health and vigor of men and especially to the health and vigor of their intellect."
And if throwing in the towel and decamping to the left coast seems like somewhat of an extreme solution (three hours on the Hampton Jitney to spend your Saturday sandwiched between Snapchatting millennials on a sliver of beach being an impoverished substitute), then savvy city-dwellers are finding novel ways to bring a little green healing to the Gotham grind.
Enter "forest bathing," the Japanese art of Shinrin-yoku, new to the spa menu at the Mayflower Grace in Washington, Connecticut, and a fast track to inner Zen for time-strapped New Yorkers. Essentially a guided, meditative walk among the trees, the term was coined by the Japanese Ministry of Agriculture, Forestry and Fisheries in 1982, after several studies showed marked health benefits from "making contact with and taking in the atmosphere of the forest."
This is largely due to the presence of phytoncides—substances emitted by trees and other plants to protect themselves from harmful insects and germs. In humans, the effects of breathing these included decreased stress hormone activity and improved immunity for up to 30 days. Meanwhile, Japanese studies showed the wider benefits of Shinrin-yoku to be increased vigor, attentiveness, friendliness and self-confidence, along with decreased scores for hostility, boredom, depression, anger and fatigue.
Shinrin-yoku also reduced the concentration of cortisol, reduced blood pressure and pulse rate and stabilized autonomic nervous activity, with tests showing decreased symptoms of headache, backache and muscle tension. Which all makes the simple act of taking a stroll in the forest read not unlike a prescription specifically designed to address so many of our modern city ills.
Forest baths at the Mayflower Grace are led by local yoga and meditation coach Megan Lutz, who guides participants to be fully mindful during the experience. Her instructions, as we set off at an ambling pace on a trail leading into the trees of the nearby Hidden Valley, were to fully engage all five senses.
"Feel the texture of this bark"; "Listen to the water trickling between these rocks"; "Watch the way the light filters through the trees"; "Stick out your tongue and see if you can taste the pines." These softly spoken invocations were a reminder to slow down and become fully immersed in the profound and fragrant quiet that is unique to deep forests, inviting a physical sensation of calm akin to the desired aftermath of a successful meditation session.
The good news is that 63 percent of New York State and about 60 percent of Connecticut is forested. And of course, you don't need a guide to turn your weekend hike into a Shinrin-yoku session—it's essentially just a walk in the woods but with intention (and your phone on airplane mode). Perhaps the best news of all, against the backdrop of those killer New York City rents? The DIY version is free.
Three More Ways To Find Green Healing In And Around The City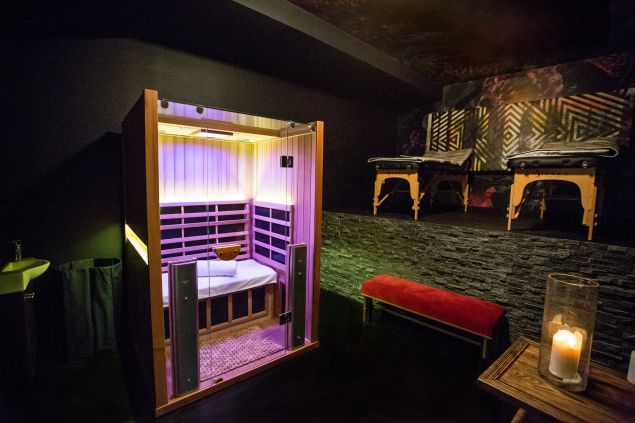 A private infrared sauna session at this new Bowery spa promises similar health benefits to Shinrin-yoku—reduced cortisol levels, increased serotonin, improved cell health, pain relief—as well as seven times more detoxification than a regular sauna. Located beneath hip vegan café and botanical dispensary The Alchemist's Kitchen, the space itself is a soothing antidote to the bustle of lower Manhattan. While secreted in your own private, darkened, wood-clad sauna booth, it's easy to close your eyes and be transported to a tropical jungle somewhere far, far away.
Greenpoint wellness center Maha Rose opened their upstate outpost this spring with a weekly roster of workshops, classes and weekend-long retreats. Located just a short drive from Woodstock, in Hurley, N.Y., overnight accommodation is in rustic barns and outhouses or camping in tents supplied by the proprietor. Upcoming retreats include a Reiki 2 training weekend and Massage for Lovers, while Prismatic Plants, a day-long introduction to natural dying techniques using plants and healing herbs, will take place September 3.
Confused about what water is best for your health? The simple answer is water harvested directly from source—a natural spring, of which there are 57 in New York State, according to online service Find a Spring. Natural spring water is one of the least contaminated substances available to humans, since it remains entirely untouched by environmental pollutants until it bubbles up above ground—unlike bottled spring water, which has been shown to contain traces of up to 24,500 chemicals. Water builds our blood, our lymph, our intra-cellular and our cerebral spinal fluid, and the higher the quality of the water we drink, the healthier our bodies. So stock up on glass bottles, find a local spring and make a day trip of it.