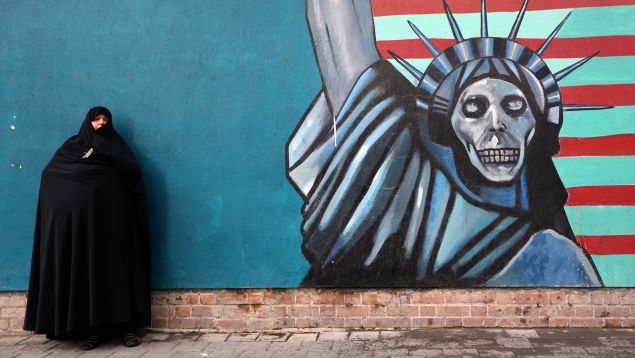 The State Department admitted recently that a plane laden with $400 million in cash—settlement of a weapons deal from the shah era, the administration insists, and not ransom—wasn't transferred to Iranians until after American hostages had taken off from Tehran. The timing was structured just in case the Iranians would "play games," press secretary John Kirby noted, and holding the money until after the release was just maintaining "maximum leverage."
But America's leverage when it comes to retrieving hostages in Iran was shattered a long time ago.
Five U.S. hostages were released in January as seven Iranians convicted of sanctions violations and illegal procurement for the regime were released from U.S. custody. Rep. Brad Sherman warned at the time of the swap that "America paid a big price" as Iran got to send the message "we are still holding two American hostages after this deal, and if those aren't enough, we'll seize more."
Iran, Sherman stressed, was "now able to inspire their network of terrorists and their network of illegal military procurement folks" like never before.
Iran seized U.S. businessman Siamak Namazi in October; Iranian media said he wasn't included in the hostage swap because his seizure was "not political." His elderly father, former provincial governor and UNICEF official Baquer Namazi, was arrested in February.
And whereas Iran continues seizing American victims of opportunity, such as dual citizens visiting relatives in the country, the Islamic Republic appears to have shockingly lured a U.S. resident for capture with the State Department's assistance.
Nizar Zakka, secretary-general of the Washington-based IJMA3 group, is a U.S.-educated Lebanese citizen and permanent U.S. resident who lobbies for information technology throughout the Middle East in his D.C. role. Last September, Zakka was invited by Iran's Vice President for Women and Family Affairs to attend a conference on women's entrepreneurship. Zakka went to Iran and spoke at the conference. He was taken as he headed toward the airport on Sept. 18.
Soon afterward, Iran's state media said Zakka was detained because of "multiple close ties to the U.S. military and intelligence communities." IJMA3 said Zakka has been suffering "physical and psychological pressure by his captors in an attempt to extract confessions out of him" in advance of his trial for espionage.
An April letter from friends and supporters, including Bush-era Assistant Army Secretary John Paul Woodley, Jr., to Secretary of State John Kerry disturbingly notes that Zakka was in Iran "with the knowledge and approval of the U.S. State Department, and his trip was funded with grants from your agency." And Zakka is mired in a horrible limbo: the Lebanese government doesn't want to take up their citizen's case because he was working with the U.S., and the State Department has made clear that they don't provide consular services to people who are only legal permanent residents.
As if Iran wasn't emboldened enough to seize these men before Implementation Day, after sanctions were lifted and the nuclear deal went into effect, their hostage-taking continued with last month's arrest of U.S. citizen Robin Shahini, a San Diego grad student visiting his Alzheimer's-afflicted mother. His worst crime, from Tehran's vantage point, appears to have been social media postings supporting human rights in Iran and his intention to get a master's degree in homeland security.
White House Press Secretary Josh Earnest said Aug. 3 that they've "found that it is not helpful" to name those seized by Iran, "so let me just say that we have continuing, longstanding concerns with Iran's treatment of American citizens in Iran." (The family of Marine veteran Amir Hekmati, taken in 2011 and released in the January swap, pleaded with President Obama to just say his name in public; it took nearly four years until the president did.) They say they're working on the case of Bob Levinson, America's longest-held hostage who was kidnapped on Iran's Kish Island in 2007 and was not included in the prisoner swap.
Thus begins anew the cruel "Groundhog Day" suffered by the last batch of hostages: the administration will claim that it's working through the proper channels—they're working on it, they're concerned, they're giving it due attention.
But what happens when you've ceded all of your leverage? Iran has a wish list of concessions they're checking twice, like those pesky ballistic missile sanctions or basically anything that impedes the Islamic Republic's economic or military ascension. "Americans want to take everything & give nothing," reads a recent bait Tweet from Ayatollah Khamenei, eager for the administration to again prove him wrong and give a lot. "Talks with US on regional issues is a lethal poison & they cannot be trusted in any issue."
The fate of the current hostages will either be punted to the next administration—all along, though, we'll be told that they're expressing their "concerns" to Tehran—or freed with an eleventh-hour, lame-duck concession. If there's another diplomatic track the administration deems more important, like forging a legacy nuclear agreement, hostages stay on the back burner, as families of past captives know all too well. On a rolling basis, the cycle will begin anew with more Americans seized.
What has U.S. policy toward Iran wrought? Iran has received the bright green light to take more American hostages, and it didn't even take pallets of cash on a tarmac to come to this.
Bridget Johnson is a fellow with the Haym Salomon Center. A veteran journalist, is a contributor at NPR and serves as D.C. bureau chief for PJ Media.