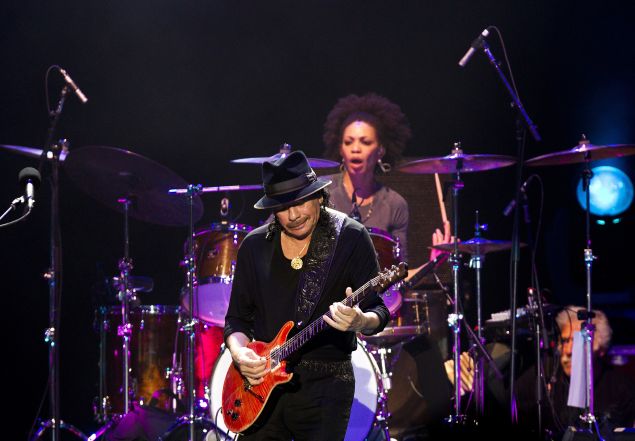 Before a crowd of nearly 50,000 fans at HaYarkon Park in Tel-Aviv Saturday night, legendary rock star Carlos Santana took his message of love and peace to Israel, offering up a performance worthy of a Hall of Fame guitar virtuoso. As Santana and his multi-talented band were jamming with the Jews, I was chowing down on crow, knowing that I owed Mr. Santana an apology.
I should have known better. Having investigated and written about anti-Israel propaganda and the Boycott, Divestment and Sanctions movement for nearly a decade, I know that facts and truth have no part in their narrative. For many years, the BDS movement lied about a legitimate scheduling conflict to falsely depict Santana as an example of music stars endorsing the BDS movement and refusing to perform in Israel. Begun after the Latin musician cancelled a 2010 show in Israel, the BDS propagandists spun the truth so effectively that their lie became a commonly accepted fact.
And I fell for it.
In a May, 2014 editorial for The New York Post, "Rocking out in Israel despite the hate," I took Santana to task for being one of the "big nay-sayers" supporting boycotts against the Jewish state. The article focused on BDS poster child Roger Waters, formerly of Pink Floyd fame. The has-been rocker's "anti-Semitic rhetoric is full-bore, as he claims Israel is a 'racist apartheid regime' that practices 'ethnic cleansing' and compares Jews to Nazi collaborators."
I put Carlos Santana in the same category as Waters, a man the Simon Wiesenthal Center described as an "open hater of Jews" and the Anti-Defamation League said was "perverted by his own narrow-minded bigotry."
My erroneous outing of Santana as a bigot wasn't limited to one article. With the BDS movement and Waters regularly spewing disdain for Jews, Santana's name would often be mentioned as one of the few notable musicians boycotting the Jewish state.  Along with Elvis Costello, Stevie Wonder and Brian Eno, his name was usually mentioned as part of a big joke—BDS failing to have any impact.
Look at the summer concert lineup in Israel over the past few years and you'll see the biggest names in all genres of music. The Rolling Stones, Elton John, Bon Jovi, Lady Gaga, Beyoncé, Justin Timberlake and Katy Perry are just a few examples of the star power performing in Israel in recent years.
Bon Jovi's performance last October in Israel, just like Santana's over the weekend, was another example of BDS propaganda proven false. Years earlier, publications such as the UK Independent propped up the anti-Israel smear campaign with claims the New Jersey rocker supported BDS even though six months prior that report, Jon Bon Jovi explicitly told the BBC he wanted to play Israel.
This outright lie about the band's October 2015 performance was a clear red flag demonstrating that the BDS movement's capacity for propagating disinformation knows no bounds. But that is no excuse. I should have asked by now, is Carlos Santana a BDS'er?
BDS is a subject I deal with almost every day. As president of a nonprofit news and public policy group that defends Western values, I'm painfully aware of the hypocrisy and anti-Semitism that comprise the movement. Progressive organizations singling out the Jewish state for boycott—while they ignore the atrocities Israel's neighbors commit against gays, women and religious minorities—is the 21st century definition of anti-Semitism. As a Jew and a father, this movement and its agenda that would harm my children because they were born Jews, will at times, admittedly, affect my judgment.
But this isn't Carlos Santana.
If it's any consolation, Mr. Santana, the big loser in all this has been me.
I happen to be a huge fan. I first saw a live performance of Santana in 1992. I bought his 1987 album "Freedom" the day it was released. I believe I was the only one. But just like Pink Floyd, I stopped listening to the music of Roger Waters when I learned he was a supporter of BDS. I shut off the heavenly sounds of Santana when he made the list of bigots. Waters proved me right a hundred times over.
As for Santana, I was a fool to believe the lies.
Paul Miller is President and Executive Director of the Haym Salomon Center. Follow @pauliespoint