For Mayor Bill de Blasio, something always seems to get in the way.
Take his trip to Philadelphia for the Democratic National Convention. As he tried to talk national politics—an area where he regards himself as a practiced old hand—he was hit with questions about an obscure scandal back home. In what seemed to be a moment of frustration, he sarcastically deemed the loss of an AIDS hospice to condo developers as "bigger than Watergate," yielding headlines deeming it as such.
Later that day, he spoke at the convention. But after infuriating Clinton World by withholding for months his endorsement of Hillary Clinton, whose 2000 Senate campaign he managed, de Blasio wound up with a pitiful 5:30 p.m. time slot, delivering a ho-hum speech to a half-empty arena. There was no introducing himself or his progressive agenda—which he once thought was so worthy of a national stage he launched an organization around it—to the country at large.
There were other problems. He was supposed to speak to his state's Democratic delegation at a breakfast, only for Gov. Andrew Cuomo, the Lucy to his Charlie Brown, to filibuster so long the mayor left without saying a word to arrive on time at another engagement. He told a WNYC reporter who interviewed him in Philadelphia that talk of Bill Bratton resigning from the NYPD was simply a "hypothetical"; a mere week later, the commissioner abruptly announced he was stepping down. Two of his most likely challengers in 2017 ate steak together not far from the New York delegation hotel, so of course their breaking bread made The Wall Street Journal.
And de Blasio, who sat down with the Observer in the midst of this string of bad headlines, seemed perplexed as ever about why anyone wanted to talk about that stuff.
"I think we should be talking about people's message and what it means and what's effective and what the people are hearing and not hearing and what they need to hear. I mean, that's what we should be talking about, not about what time slot," said de Blasio, who looked as exhausted as every other survivor of the endurance competition that is a political convention.
But in his disbelief, de Blasio seemed to hit on what's been his problem—an inability to get that message out. The mayor's allies point to his record: he created universal pre-kindergarten, a program that people scoffed at as impossible to implement, saves parents tens of thousands of dollars a year in childcare and gets kids learning earlier. The city's economy is booming. Crime is lower than ever and many fewer black men are subject to being stopped and frisked on their way home. But as one Democratic political observer put it, if you guessed what his approval ratings were based on his press coverage, he ought to be around 4 percent instead of 42 percent—"he just gets the shit beaten out of him."
Before he was mayor or public advocate or city councilman, de Blasio was a political operative himself—and the knock on him when he ran for office was that he was a political animal who wouldn't be able to manage the city. It turns out the city is running just fine, and de Blasio is a political operative who seems to have a Bill-de-Blasio-shaped blind spot.
"He becomes mayor and the irony is he's probably the worst at PR and politics," the Democratic observer said, citing his decisions to fight against horse carriages and Uber, his ill-fated quest to be the progressive leader of the Democratic party, and his early struggles with punctuality that became cemented in the public mind. "Whoever is mayor is going to get attacked all the time, but these are unforced errors."
On top of those unforced errors, the mayor faces some very real problems over which he has absolutely no control: the multitude of criminal and ethical investigations swirling around his administration, his campaign and his non-profit-fundraising groups.
Yet, it's still unlikely that any of that will keep him from a second term. After all, elections are about choices. And conversations with several people for this story circled back to the old adage: you need somebody to beat somebody. And it's not enough to have somebody who can capitalize on the swaths of the city who don't like de Blasio—you need somebody who would be able to cut into his base (Democratic and African-American voters)—where his approval remains high.
"Is it impossible? No," said Rev. Al Sharpton, the civil rights leader who has not officially backed the mayor for re-election, of a challenge. "But is it a steep mountain to climb? Yeah."
And City Hall is confident things like the mayor's rough week at the DNC simply won't matter to voters come 2017.
"I don't think it was bad for the mayor. I don't think that people really give a rip who spoke at what time," Phil Walzak, a senior adviser to the mayor, told the Observer. "I think he gave a really nice speech. I think he connected with a lot of Democratic leaders from the state and the nation. I think he demonstrated strong support for the future president of the United States."
And the mayor has plenty of time to shift the conversation and talk about his record and his plans for the future, and has shown some recent ability to get out of his own way: Bratton's surprise departure could have been a nightmare for the mayor, but his administration managed to roll it out well and control the narrative.
But the fact that a primary challenge is being seriously discussed at all—among the top names bandied around are Comptroller Scott Stringer and Bronx Borough President Rubén Díaz Jr., who shared that not-so-furtive dinner in Philly—is not exactly a great sign for an incumbent mayor who won by a 49 percent margin.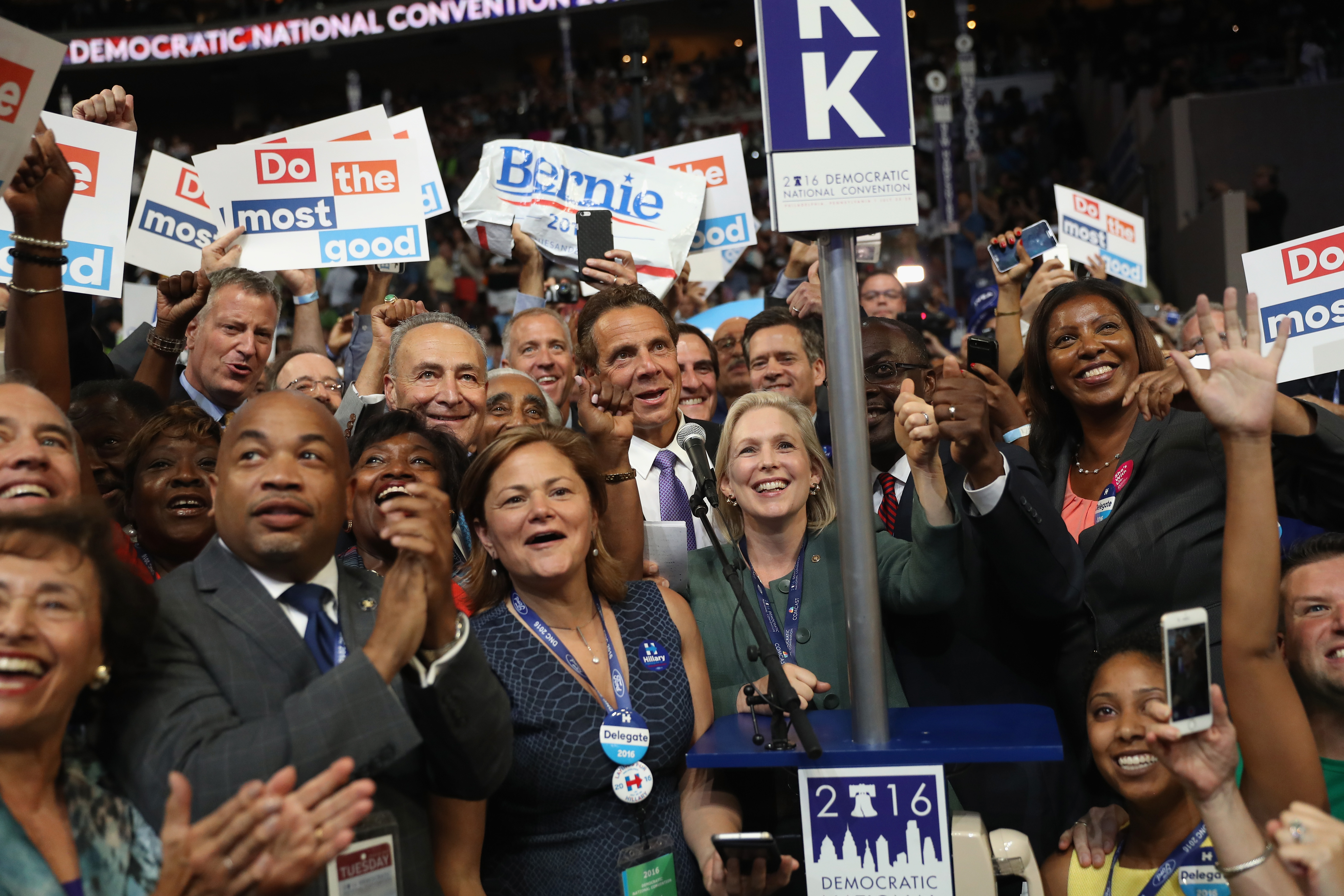 At the start of 2016, it seemed that the mayor might have turned a corner. He was about a year removed from the clear low point of his administration: the assassination of two police officers and the resulting backlash from cops who literally turned their backs on him. In January and February, two polls showed his approval rating inching up. In March, he got his proposal to re-zone swaths of the city in support of his ambitious affordable housing plan through the City Council—managing to turn things around after underestimating the power of criticism from community boards and local advocates.
But just as de Blasio was about to set off on his victory lap, the first stories emerged about the city lifting a deed restriction on the AIDS hospice, Rivington House, which was then flipped to a luxury condo developer. It was a debacle for the Affordable Housing Mayor, and spurred several investigations, including a criminal probe.
"It's just headlines and laughable stuff so people can get into the paper," Bill Hyers said. "But at the end of the day there's going to be absolutely nothing there."
And that was just the beginning. In a span of just a few months, de Blasio suddenly found himself at the center of a staggering number of criminal, ethical or oversight investigations, some of them intertwined with one another. There have been several investigations into Rivington; others into donations he urged people to make to flip the State Senate to Democratic; into money he raised for his nonprofit the Campaign for One New York from people with business before the city; a state probe into whether that group conducted improper lobbying; looks into his dealings with NYCLASS, an animal rights group that wants to ban horse-drawn carriages and spent heavily against his primary election opponent; into his connections to two businessmen at the center of a massive NYPD scandal; and most recently into the closure of Long Island College Hospital, a local facility de Blasio vowed to save but which was eventually sold for condo development. Some of those issues are being investigated by more than one entity at a time. Several have fallen under the purview of U.S. Attorney Preet Bharara, who made a case many politicians were skeptical of stick to former Assembly Speaker Sheldon Silver, and who has vowed he's after executives next.
There have been no criminal charges or indictments in the mayor's orbit, though the NYPD investigation has led to charges against several police officials. But even if they lead to nothing, the investigations have swirled around the mayor like a bad summer storm, hanging over his head and obstructing the horizon.
"We feel very comfortable that our people have acted appropriately and legally, done nothing wrong," Walzak said. "We want to cooperate. We feel if we do those things, then these things will run their natural course. And we feel that the outcome will be one that verifies that our people have been doing things properly and legally."
Bill Hyers, who ran the mayor's 2013 campaign and is one of the outside consultants the mayor has sought to deem an "agent of the city" to avoid making their communications public, was more blunt.
"It's just headlines and laughable stuff so people can get into the paper," Hyers said. "But at the end of the day there's going to be absolutely nothing there."
While that may turn out to be true, the details of the allegations have already been leaked to media outlets, snowballing into stories that can't be unwritten or unread.
And while you need somebody to beat somebody, it's also much easier to run against a crook than against someone with whom you have policy disagreements (especially when the city's in good shape). That's evident in the lines of attack already being laid out by Bradley Tusk, who's run campaigns for everyone from Michael Bloomberg to Uber and is now heading "NYC Deserves Better," an anti-de Blasio bid in search of a candidate.
"There are three lines of attack against him," Tusk said in a telephone interview. "One is he's corrupt, two is he's lazy and three is he's inept. And they all happen to be true."
But who will step up to take advantage? Stringer and Díaz Jr. have each played coy, and each would have to give up their gigs as comptroller and borough president, respectively. The only frequently named potential contender who wouldn't is Congressman Hakeem Jeffries, who has repeatedly distanced himself from the idea of running in the last year and has a bright future in Washington. But Tusk—who has polled sitting elected officials against the mayor—argued that you don't necessarily need one to beat him. To that end, he's also polled Shaun Donovan, who served as a housing official for Michael Bloomberg before joining the Obama administration.
"Sometimes, when you run against someone else at the right time and you're the only one there, the voters will reward you because they can't stand the incumbent," Tusk said.
To that end, Tusk is looking to round up support for that Candidate Anybody from what he sees as disaffected swaths of de Blasio's base. He recently held an event with black clergy members who criticized the mayor as not having done enough on the criminal justice reform front.
"The investigations have weakened the mayor and because of that some Council members are more emboldened to challenge him on certain issues because they know he won't punch down at them," a Council source said.
Whether de Blasio is vulnerable there depends on whom you ask. When he loses Bratton next month, he'll be losing a powerful symbol for safer city streets—but he'll also lose a liability with liberals who were routinely chagrined by Bratton's comments on everything from rap music to Black Lives Matter. But criminal justice reform advocates still want to see more from the mayor—who presides over an NYPD that has yet to discipline officers in the killings of several black men, including Eric Garner and Ramarley Graham—and one advocate told the Observer to expect more direct involvement in the campaign.
And it seems that the mayor's problems have given some of his critics a little bit more courage. While he's not yet had to veto a single bill, there's talk of insurrection in the City Council over issues like the Right to Know Act, a police reform measure de Blasio (and the Council speaker) have opposed.
"The investigations have weakened the mayor and because of that some Council members are more emboldened to challenge him on certain issues because they know he won't punch down at them," a Council source said.
Among those council members who challenge the mayor often is Rory Lancman, a Queens Democrat who bristled at being described as a critic of the mayor's but has sparred with him over everything from a proposal to ban chokeholds to parks policies. In outlining the mayor's struggles, he hit on two areas: frustration in communities of color over police reform and the perception that the mayor is a poor manager.
"I think those two areas present a lot of political vulnerability for the mayor and it wasn't a good summer for him on those counts," Lancman said.
They're similar to the liabilities listed by Tusk, and any primary challenger would likely have to cobble together a constituency built around them—a big tent of people to de Blasio's left on policing and people who think he's not showing up to work early enough. Still, Lancman argued any of the big-name potential candidates could give de Blasio "a real run for his money."
Sharpton, by contrast, argued that the mayor's record on criminal justice reform would be an asset, not a liability.
"I think in this era where criminal justice reform is the national cry, and we're in the midst of that, he's one of the only mayors, certainly a big-city mayor, that can say, 'I've done criminal justice reform with bringing down stop and frisk,' " Sharpton said.
But Lancman, who represents a majority-minority district, said with "stone-cold certainty" that the African-American community was dissatisfied with police reform, arguing the criminal justice system still falls overwhelmingly on the backs of people of color.
"That's the nerve that Bill de Blasio touched when he ran for office," Lancman said. "Stop and frisk was just kind of the current manifestation of that policy—but look at broken windows, and how broken windows are policed: 91 percent, 91 percent of the people arrested for misdemeanors in New York City are black and Latino."
It remains to be seen who could emerge to be a better messenger for police reform than de Blasio. Jeffries might seem the most likely contender, but is also now seen as the least likely to actually run.
"I've talked to Hakeem, who has been a member of National Action Network; he doesn't seem like he's really gonna run," Sharpton said. "I've talked to Rubén, he seems undecided. I don't know that Scott Stringer pulls the trigger."
Walzak argued much of what the mayor has done is not intended to appeal only to his base—universal pre-K, lower crime and affordable housing are all core parts of de Blasio's agenda that apply broadly to New Yorkers. So while they'll play to the base, they'll look to appeal more widely, too.
"We're not satisfied living in our narrow lane of support, because we actually feel like we've got a record a lot of people would like if they had a chance to dig into it, and our mission then is to really emphatically tell that story, especially over the next 15 months or so," he said.
That will involve having the mayor interact directly with people—shaking hands at parades, visiting police precincts with his next commissioner, James O'Neill, a career cop promoted from the chief of department position, speaking to hundreds of people at a time in churches, mosques and synagogues. This week de Blasio managed to lengthen a good news cycle about test scores by holding a press conference about finishing an under-construction city school early; he kissed babies at a press conference for legislation about breast feeding; he chided New Yorkers to hydrate at a briefing on dangerously hot temperatures. He acted, generally, like a mayor—a benefit that comes with being the incumbent.
"Anyone can jump into this race if they want. But they better really be prepared to share some ideas and a vision that resonates with people and lifts people up," Walzak said. "And then not just that, but then the ability to actually get it done. One of the things we're proud of when we look at how we tell the mayor's story is: there's a lot there. It's been a very busy two and a half years."
If the mayor can keep getting things done, he will likely stay in good shape. But there's still plenty—the seven investigations, an angry Council, a feisty 2017 challenger and, of course, de Blasio himself—that can get in his way.