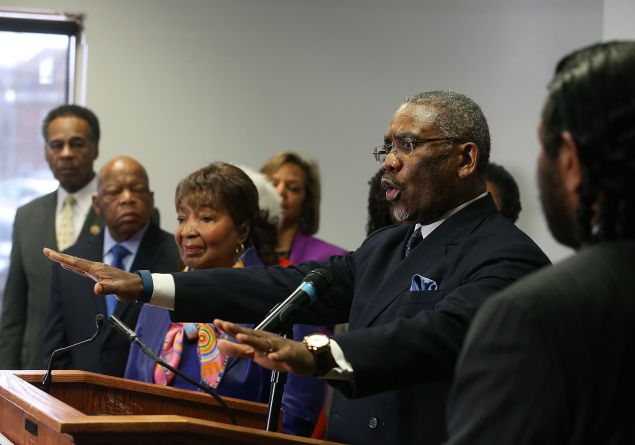 Queens Congressman Gregory Meeks trashed Donald Trump's recent calls for black voters to support him over Hillary Clinton—and claimed that those overtures are really coded messages directed at white nationalists.
Meeks, a Democrat who chairs the Congressional Black Caucus's Political Action Committee, was referring to claims the GOP nominee has made at rallies this week that liberal policies have led to poverty, unemployment and crime in African-American neighborhoods. The congressman, speaking on a press call with several other Clinton-backers, noted that Trump made these statements while speaking to overwhelmingly white crowds—but that the brash businessman has declined invitations to address black groups like the National Association for the Advancement of Colored People and the Urban League.
"I believe that the reason why he's talking before those audiences, he's trying to appeal to their stereotyping of black people: that they're unemployed, that they're not—he knows the audience he's trying to reach out to. So he's not really even trying to reach out to African-Americans," said Meeks, noting Trump's support from prominent racists like ex-Ku Klux Klan leader David Duke. "He's trying to appeal to David Dukes of the world, and some of the racists of the world, with what they already conceive as stereotypical types for African-Americans."
"[He's] trying to appeal to the worst of those, white supreme-ists and others, who he has been catering to the campaign, to try to help them with their turnout," Meeks continued.
Joining the congressman on the call were other top New York Clinton surrogates: Brooklyn Congresswoman Yvette Clarke, Council Speaker Melissa Mark-Viverito and Public Advocate Letitia James. Meeks insisted New Yorkers have a special perspective on Trump, given the 1973 federal lawsuit against his family's company for refusing to rent to blacks and the full-page ad he paid for in 1989 calling for the execution of the accused rapists in the Central Park jogger case (who were later exonerated).
He also alluded to the national controversy the Queens-born real estate mogul provoked by claiming President Barack Obama is not a natural-born U.S. citizen and thus is ineligible for his office.
"Trump has repeatedly shown himself to be a bigot, who repeatedly kowtows to the priorities of white supreme-sts and right wing extremists," said Meeks. "You look at his history, his discriminatory housing policies and perpetual racist lies about our community, and what he did in regards to our president and, you know, with reference to his birth certificate, and clearly his relationship and his relationship with white supremists, Donald Trump has shown the African-American community that he has no concern for our well-being whatsoever."
The Trump campaign did not immediately respond to requests for comment. Recent polls have shown the flagging candidate attracting historically low numbers of black voters—as little as zero or one percent in some states.
The candidate has repeatedly drawn criticism for failing to distance himself from prominent racists, taking days to renounce Duke's support, retweeting an image of fraudulent statistics on black crime rates fabricated by neo-Nazis and briefly putting a prominent white nationalists on his convention delegate slate.
He has spent the past week trying to improve his standing with minorities, arguing that Democrats have failed them.
"What do you have to lose?" Trump has declared at campaign stops in Ohio and North Carolina.
The Congressional Black Caucus PAC officially backed Clinton in February. In New York political circles, Meeks—who represents a mixed-income, predominantly African-American area of Southeast Queens—is known for both his strong support of Obama's Trans Pacific Partnership trade deal, and for the as-yet  fruitless ethics probes into some of his financial dealings.
Disclosure: Donald Trump is the father-in-law of Jared Kushner, the publisher of Observer Media.