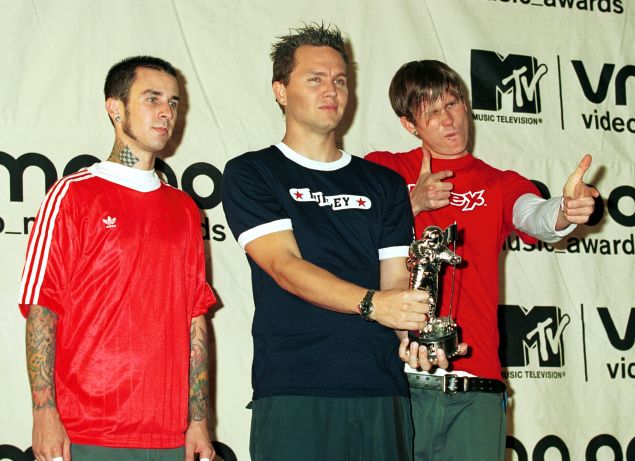 Blink-182 first disbanded in 2005, the year I graduated high school, and the timing couldn't have been more apropos.
The indefinite hiatus of a rawk band that's requisite merchandising became synonymous with the alternative stores at Simon Mall like Hot Topic and Pac Sun (back when it was still called Pacific Sunwear, natch!) was not known to me at the time, though, as my testicles had already descended by the time their fourth album, Take Off Your Pants and Jacket, was released in 2001.
Then, three months after that album's release, the World Trade Center was attacked and our nation's priorities changed (never mind the odd inclusion of an airplane on the cover of an album with "jack it" in the title). That was when I first realized that major labels have always fed the youth regurgitated, saccharine-dusted genre nuggets well after that genre has anything relevant to say.
After I'd started picking up the British music rag NME at Barnes & Noble to learn about new music, I soon felt duped for even forking over any money to a band I could see so clearly was hustling me. Blink "sounds like all that sanitised, castrated, shrink-wrapped 'new wave' crap that the major U.S. record companies pumped out circa 1981 in their belated attempt to jump on the 'punk' bandwagon," wrote Steven Wells. " 'It's way more punk rock than our previous records!' gibbers Blink's Tom Delonge. Well we'll be the judge of that, sonny, so sit down, suck yer Sunny D and shut the fuck up."
That review was enough for me to realize that this, in fact was growing up—no longer feeling amused by Blink-182.
I still had fond memories of the merchandising, sure—alternative web store Interpunk.com had unique Blink patches and merch from the band's pre-Enema of the State popularity, which effectively rendered you cool and in the know to kids who had never heard the better pop-punk bands of the time. (Even the asinine NOFX embraced a sense of infantilism decidedly anti-corporate and hence had a pulse behind it that was was more than self-aggrandizing. 1997's So Long and Thanks for All the Shoes, for example, alluded to K-holes and a grandparent's senility.)
And I still loved the teen comedies of the day that featured the band's music—Bubble Boy was an awkwardly entertaining road romp that featured Blink's breakthrough hit, "Dammit" on the soundtrack three times, Can't Hardly Wait, too, and American Pie even featured the dudes themselves, staring at a computer while they livestream Jason Biggs pre-ejaculating in front the foreign exchange student played by Shannon Elizabeth, the film's literal moment of climax. Even the pet monkey, inexplicably hanging alongside them during their cameo, covered his eyes.
Those comedies have aged better than Blink-182's music. I'll return to them occasionally when they surface on-demand, but Blink-182 remains an awkward phase. That's why, when they broke up in 2005, I couldn't care less.
Four years later, in 2009, the band would reunite. That was the year I graduated college, but it was also the year that our economy collapsed, and the more I think about it, the less it seems like a coincidence.
How Blink-182 exists in any form, touring around and playing arenas in 2016, is not only mystifying, it's troubling. They're living proof that nostalgia has outlived the middle class, and relevance can take a back seat to memories of a simpler time, when puka shell necklaces temporarily replaced chokers as the angsty teen's neckwear accessory of choice and life was simple.
But once you hit 40 and still travel around playing power chords in front of giant flaming signs that say "FUCK", the joke's on you.
We've seen the hell they've spawned in bands like Sum 41 and Fall Out Boy, vying for prime slots on the Van's Warped Tour and convincing a generation of emotionally-stunted man-children that their energy-drink crash somehow passes for legitimate angst. I personally blame Blink-182 for the Warped Tour epidemic of late, where emo bandleaders repeatedly get busted for soliciting underage sex from their teenage fans.
NOFX brought a juvenile irreverence to Warped Tour first, but Fat Mike was also the first one to stop a show and call out harassment or similar chauvinist bullshit if he saw it happening in the pit (although, as we've reported in the past, even Fat Mike has been guilty of the same misogynistic stage banter he once decried).
Compared to that band, Blink-182 were nihilists in arrested development. Stripping male lewdness of any anti-authoritarian cred, they paved the way for new levels of immaturity that turned what were once punk gestures of pointed, political disgust into charming, forgivable SoCal skaterboi affectations. If punk was already dead, they dug it out of the ground and had sex with the corpse.
What seemingly can't be killed, though, is the vampiric SoCal mall-punk brand Blink-182 propelled to international levels of saturation. Blink-182's seventh album, California, was released in July to resounding commercial acclaim.
"California sounds like what Blink-182 probably should sound like in 2016: upbeat, hooky and, above anything else, a total blast," writes pop-punk/emo mainstay Alternative Press, a publication that's almost singlehandedly responsible for spinning the post-Blink culture of studded-belt-wearing Instagram aficionados as substantive, independent artists.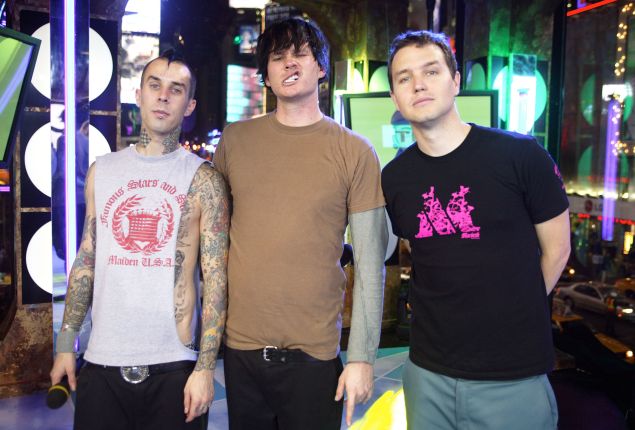 Who are the kids that still cough up money for the packaged ephemera of this easy-breezy, California lifestyle? Are they living in gated communities like Palos Verdes Estates, screaming at their stay-at-home dads for not understanding them while their publicist mothers rush back from the food court with cold Orange Julius? Are they hanging on the rim of some drained swimming pool, learning to grind, hoping that the older kids who they gave all their money to actually return from the weed dispensary instead of just bailing and ripping them off? Have they ever even had to think about rationing water?
I suspect not. The current success of Blink-182, largely bolstered by a music industry for whom nostalgia and throwbacks are the same sure-bet that movie studios bank on when they remake and butcher a classic, is still a cash-grab ruse.
I concede that to many ears my age, Blink-182 are that classic, not remade so much as reborn. But to mine, they still remain a time-and-place oddity, a regrettable footnote on the path to maturity, responsible for spawning an entire generation of unapologetically heart-on-sleeve, vapid, adolescent shlockheads.
Many of us have matured since then, but to those for whom Blink's growing pains are still timely, the rhetorical recitation of "what's my age again?" remains devoid of any irony. May the nostalgic fumes of Blink-182 disappear quicker than the bubbles from a Red Bull, and leave our bladders twice as fast.