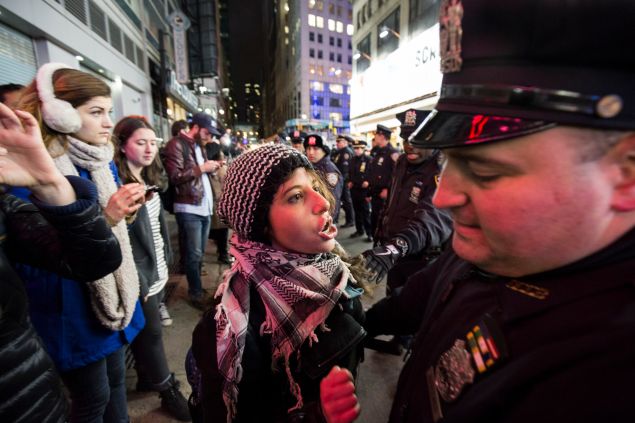 A new state bill would make it a hate crime to use physical force on a police officer—and its chief sponsor argued the past two years of Black Lives Matter demonstrations have made cops a target for violence.
Assemblyman Ronald Castorina, a Staten Island Republican, will debut a "Blue Lives Matter" bill tomorrow with his GOP colleagues. The measure would extend existing hate crime statutes—which currently only apply to attacks based on race, sexual orientation, religious affiliation and national origin—to cops as a class.
In an interview with the Observer, Castorina highlighted the recent assassinations of cops in Baton Rouge and Dallas, as well as the killings of NYPD officers Wenjian Liu and Rafael Ramos in 2014, as evidence police have become victimized as a profession. He also cited instances of violence against law enforcement at demonstrations, such as the assault on two officers patrolling a protest on the Brooklyn Bridge two years ago.
"It's based on this climate in this country right now where police officers are being abused and they're being disrespected, and we're seeing they have a target on their back, in Louisiana and in Dallas," he said. "You can envision this happening at a protest, where somebody might throw a rock or a bottle or a punch."
New York state law presently upgrades any offense deemed a hate crime to the next level of severity. Castorina's bill would thus turn assault on an on-duty cop from a Class C felony to a Class B Felony, and cases of aggravated assault on a police officer—where the attacker intends to cause serious harm—from a Class B felony to Class A.
This would mean much harsher sentencing for offenders, who already face anywhere from three-and-a-half to 30 years in prison. Louisiana has already enacted its own Blue Lives Matter bill, and Texas is considering a similar measure.
Councilman Joseph Borelli, another Republican from Staten Island, will introduce a resolution in support of the bill at the local level.
"I think that because people are motivated just because somebody is wearing a badge, that would qualify it as a hate crime," he argued. "Because we're New York City, and because the NYPD is the most iconic police department in the world, it puts an extra bulls-eye on our officers."
Ismaaiyl Brinsley, who killed Liu and Ramos, traveled from Baltimore to Brooklyn to commit his crime—an act of revenge, he claimed, for the deaths of Eric Garner on Staten Island and Michael Brown in Ferguson at the hands of police.
Both measures could have a hard time getting traction in their respective legislative bodies, which are both completely dominated by Democrats. But Castorina remained optimistic about his bill's prospects of becoming law.
"There are many conservative Democrats I'm sure would feel this is a worthwhile cause," he said.