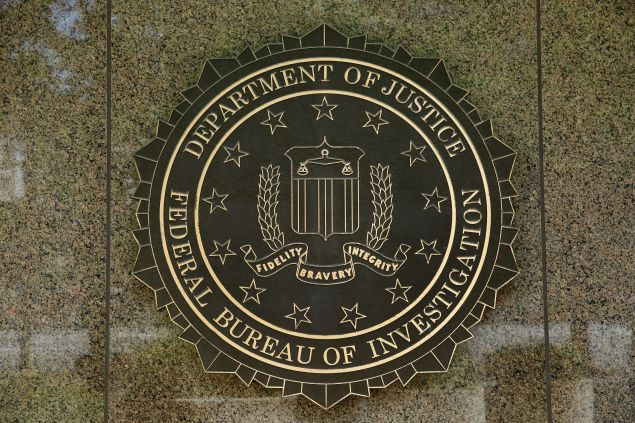 Today the Department of Justice revealed that a longtime employee of the Federal Bureau of Investigation has been charged with espionage on behalf of China, his homeland. Kun Shan Chun, who was employed by the FBI since 1997, was arrested back in March of this year and has already pleaded guilty to his betrayal.
Chun, who went by "Joey," worked for nearly two decades as an electronics technician with the FBI's huge New York field office, where ten percent of the Bureau is assigned. He held Top Secret security clearances since 1998. Part of his job, as one of the legions of technical personnel who support the FBI's storied special agents, included accessing classified information. It seems safe to assume that was what Chun was sharing with Beijing.
Chun admitted that, from 2011 to 2016, he passed sensitive information to a Chinese official whom he knew to be a government representative, i.e. a spy. Among the classified information he passed included the identity and travel plans of an FBI agent, an internal organizational chart, plus photos taken by Chun of documents in a restricted area related to surveillance technology.
As a Chinese mole inside the FBI, he systematically concealed his secret ties to Beijing, including a meeting with a Chinese spy in an unnamed European country. It's normal spycraft to meet high-value agents like moles inside hostile intelligence services far from the United States, where the chances of being detected are high, rather in third countries in Europe.
It's apparent that the Bureau got wise to Chun's disloyalty and—in another example of standard counterintelligence work—last summer arranged clandestine meetings with the suspected mole. Chun suggested to this person, who was in reality an undercover FBI agent, that he should introduce him to some of his Chinese contacts.
The FBI had no stomach for a messy spy scandal coupled with the inevitable claims of 'racial profiling.'
A native of Guangdong, the 46-year-old Chun immigrated to the United States in 1980, as a boy, and was naturalized five years later. The mole's exact motivation for betrayal is not fully clear, but a hint that it was at least partly pecuniary is offered by a comment Chun made to the undercover FBI agent, namely that he expected a "cut" of any payment his new friend received for providing information to the Chinese government. As usual for Beijing, they also paid their mole with prostitutes and hotel stays.
The Department of Justice accepted the accused's plea of acting as an unregistered agent of Beijing, a charge which can carry a prison term of up to 10 years, although it's expected that Chun will serve only a fraction of that. Since he was initially charged with four counts, including making false statements, it's interesting that DOJ isn't seeking to put the mole on trial for espionage.
Since the government's evidence against Chun looks airtight—including damning testimony he gave to the undercover FBI agent about his secret ties to China—it seems likely that the Feds don't want a trial which would require the Bureau to explain in detail what their mole gave to Beijing.
It can't be said that the FBI, which is already reeling from its dismal performance in the Hillary Clinton EmailGate scandal, looks good in any of this. Moles happen—they're part of the SpyWar—but the rising pattern of betrayal by Chinese immigrants indicates that the Bureau got hit badly by a longtime employee who managed to act as Beijing's mole for a half-decade.
It's not the first time the FBI's been duped by Chinese spies, and the Chun scandal looks every bit as serious for our national security as the depressing case of Edward Lin, the U.S. Navy lieutenant commander possessing very high security clearances who was arrested last year on a raft of charges including espionage for China. The immigrant Lin, too, was fooled by an undercover FBI agent, leading to his arrest.
As I explained in this column, rising Chinese espionage presents a serious problem for the United States because it's so heavily ethnic in character. Beijing expects its nationals overseas—whom we want to view as patriotic immigrants and naturalized Americans—to serve as their spies abroad, and some of them are quite willing to do so, particularly if China sweetens the pot with financial incentives. This seems to have been the case with Chun.
We don't yet know the full extent of the security damage wrought by Joey Chun on his adopted homeland, and the FBI isn't eager to tell us, but given his position, including Top Secret access, and long length of employment, it should be assumed to be serious. Any mole is dangerous, even if he's just a technical support worker rather than a professional intelligence officer. As demonstrated disastrously by Edward Snowden—a mere IT contractor, hardly the "spy" he claimed to be—anybody with Top Secret access can betray on a grand scale, no matter what his job title may be.
The FBI, like all of our intelligence agencies, employs numerous naturalized immigrants, some in very sensitive positions. In many cases, for instance language support, immigrants are invaluable to our intelligence efforts. However, immigrants also pose counterintelligence risks, particularly when they come from countries that actively seek to recruit their nationals abroad as spies. China is far from the only country to do this, but it heads that list, as the Chun case demonstrates yet again.
Political correctness is a factor too, and nobody wants to be accused of ethnic bias—or worse "racial profiling"—over molehunts. As with counterterrorism in the age of Obama, it's worse for your counterespionage career to be accused of racism than to miss the mole right in your midst.
Yet the simple fact is that Chinese spies in America are overwhelmingly likely to have personal ties to China, and are frequently immigrants themselves. This reality is unpalatable in our politically correct age, despite being known to every counterintelligence professional in Washington.
That the FBI allowed Chun to be arrested may be a positive sign, however, since I personally know of previous examples where suspected Chinese moles inside our Intelligence Community were allowed to resign, never to face charges of any kind. In one notorious case a few years back, a Chinese-American mole was uncovered in an FBI field office, indeed caught red-handed. But the employee was allowed to quit and walk away, scot free, since the FBI had no stomach for a messy spy scandal coupled with the inevitable claims of "racial profiling" that follow the arrest of any Asian-American suspected of spying for Beijing.
That Chun now faces a few years of prison may be an indication that, at last, our government is getting tough about the rising problem of Chinese espionage against the United States, which is a good thing. Let's see how the Department of Justice handles the next accused Chinese mole, who's sure to come along sooner rather than later.
John Schindler is a security expert and former National Security Agency analyst and counterintelligence officer. A specialist in espionage and terrorism, he's also been a Navy officer and a War College professor. He's published four books and is on Twitter at @20committee.