Toward the end of the 1980s, Jay McInerney spotted Ronald Perelman on Fifth Avenue. Flanked by bodyguards, the billionaire businessman was standing next to a homeless person. That scene, the kind of prototypical New York study in stark contrasts, gave McInerney the seed of an idea for the novel that became Brightness Falls, the writer recalled recently. 
"I thought I would love to write a book that had both of those characters in it, but I needed something to hold it together," McInerney told the Observer on a recent afternoon. "And that turned out to be Russell and Corinne, who I had written about in my first short story after Bright Lights, Big City."
Published in 1992, Brightness Falls focused on Russell and Corrine Calloway, a yuppie golden couple navigating marriage and ambitions literary and financial, and their similarly clever circle during the boom times leading up to the stock market crash of 1987.
In his 2006 novel, The Good Life, McInerney revisited the Calloways. The couple had grown up and moved downtown to a loft in Tribeca, where they were raising twins and still living well, albeit with the somewhat precarious finances of the creative class. The book takes place in 2001 and deals with the aftermath of September 11. Volunteering at Ground Zero, Corrinne falls for an attractive investment banker but ultimately goes home to her editor husband.
But the Calloways' story does not end there. In McInerney's latest novel, Bright, Precious Days, which comes out August 2, McInerney checks back in on the characters he first created more than two decades ago.
The year is 2008. Russell and Corrine are now 50. Hope and change and the foreclosure crisis are in the air. Luke, the attractive if thinly fleshed out investment banker from The Good Life, is now a former investment banker, back to woo Corrine with passion and private planes. The twins are in middle school, and the family has outgrown their rented loft. Of course, age hasn't brought that many changes to the fictional couple: Nights are still filled with dinner parties and book parties and gala benefits and meals at The Odeon.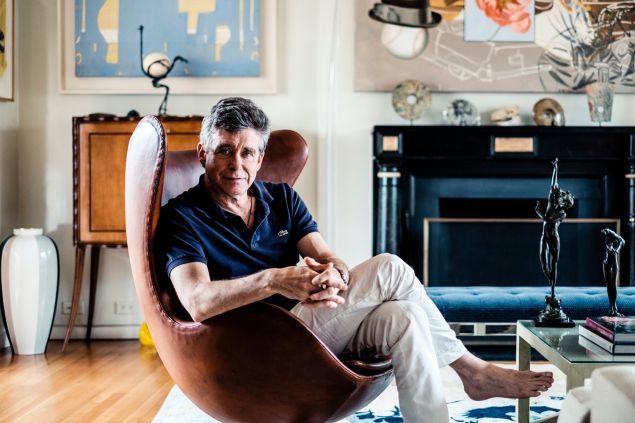 "I felt pretty comfortable with my understanding of these people. They are aging at the exact same rate as me and my friends," McInerney said. "But I certainly didn't imagine I would be writing about them 22 years later. When I wrote that first book, my role models were still Dylan Thomas and Scott Fitzgerald and people who died when they were in their 40s, so I just wasn't thinking very far ahead."
Like the other installments in the Calloway saga, a lot of the latest book focuses on the business of literature. The publishing house where Russell works as an editor is, like the rest of the industry, in a constant precarious state. Russell (once again) finds himself publishing an edgy young writer on the cusp of success and a drug problem. Another writer's heavily promoted book about being held hostage unravels, causing a scandal for Russell a la James Frey.
The character of Russell Calloway serves as a stand-in for the author, a way to explore an alternate life, one with less money and slightly less glamor, if not less literary pretension.
"If I hadn't been a novelist, I probably would have been an editor. Russell is like the road not taken for me. And he's a slightly more representative figure than a novelist who had a wildly successful first novel and doesn't have a very normal life," McInerney said with a laugh, gesturing around the Greenwich Village penthouse where he lives with his fourth wife, Anne Hearst.
As for his interest in writing about the road not taken, McInerney explained that he was also fascinated by exploring a long marriage, complete with betrayals and resentment.
"I've been married four times, and I'm obviously not very good at it. Or else I have a short attention span. Or else you could say I am really optimistic and romantic, because I keep doing it," he said. "From a storytelling point of view, there's no story if everyone behaves themselves. But I also think passion is difficult to sustain, and the distant object of desire always shines more brightly than what you already possess."
If there is one word that McInerney gravitates toward, it's "bright."
At 61, McInerney, boyish in white pants and a navy Lacoste polo, is still most identified with the success of his first book, Bright Lights, Big City. Written in second person, the prose has a Bolivian marching powder-infused rhythm that made it a quintessential novel of its time and made its author into a de facto leader of a literary brat pack that included Bret Easton Ellis and Tama Janowitz. McInerney followed up Bright Lights with Ransom and then Story of My Life, a similarly drug-fused novel, told from the point of view of a 20-year-old party girl. (Incidentally, that character was inspired by Rielle Hunter, a one-time girlfriend who went on to make headlines during the 2008 election by having an affair with presidential candidate John Edwards.)
After Story of My Life, McInerney, who says he was reading Balzac and Thackeray at the time, wanted to write a less voice-driven, more expansive book about the culture of a certain class of New Yorkers. And in many ways, he did just that. But while all three books have an edge of satire, they never really lean into it, mostly because McInerney obviously has too much affection for his characters to do more than gently mock them.
"I am totally implicated in some of the stuff I make fun of because it's the world I live in and I participate in it," McInerney said of both his own and Russell's embrace of foodie and oenophile culture. "I am not innocent of all this folly, but I like being able to appreciate it and also make fun of it."
So after three books about the Calloways and their friends, is McInerney done with them? Or will he continue to check in periodically on the characters he created, chronicling an alternate life that is, really, quite similar to his own?
Well, although McInerney said he likes the idea of a neat trilogy, he isn't ruling out revisiting the characters. After all, at the end of the book, he made the Calloways stay together and move to a townhouse in Harlem, leaving the door open for another plot. Besides, the 2016 election, with its wealth and power and bravado and 1980 tabloid characters that originated in New York, seems made for a McInerney novel.
"The '80s do have their revivals," he said, speaking of the "barbarity" of Donald Trump's presidential campaign. "But I'm kind of a creature of the '80s myself. I mean, Duran Duran is touring again. I can't say I missed them, but they're back."