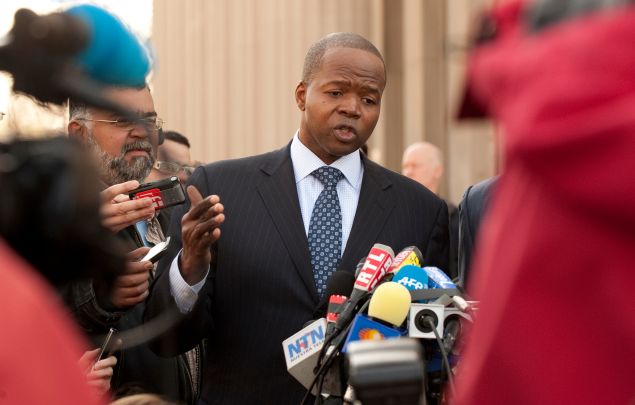 The city's Conflicts of Interest Board slapped Brooklyn District Attorney Ken Thompson with a $15,000 fine after he had members of his security detail use their personal money to buy him lunch—and then reimbursed them with taxpayer cash.
In a public disposition of charges brought by the board, Thompson—who has been district attorney since January 2014 and is up for reelection next year—agreed to pay the fine, according to Michele Weinstat, the board's director of enforcement, who handled the case for the board.
Thompson, who worked for a high-priced private firm before holding public office, admitted to using office funds to pay for his weekday meals from January 2014 through May 2014, totaling $2,043. He repaid that amount in July 2014, according to the board. He also used office funds to pay for his dinner and weekend meals from January 2014 through February 2015, which cost $1,489. He repaid it in August 2015, the board said.
But before using his office's budget for his meals, Thompson had members of his security detail, made up of NYPD officers who are his subordinates, use their own money to pay for the food, to the tune of $1,992—another COIB no-no. Members of the security detail were then reimbursed for their cash advances, sometimes after a delay.
The board said Thompson acknowledged that his conduct breached provisions of the city's conflicts of interest law that ban elected officials and other public servants from using or trying to use their position for financial gain, privilege or other private or personal advantage. It also prohibits them from using their positions for any personal, non-city purpose.
By having his detail pay for the meals personally and be reimbursed, Thompson also entered into a restricted financial relationship with his subordinate employees, the board said.
In a statement provided by his attorney, Michelle Hirshman, Thompson said the charter violation occurred in the early part of his term as district attorney, while he was mainly focused on organizing his office and as new fiscal policies were being carried out.
He said he fully reimbursed the office more than a year ago.
"I accept complete responsibility for this violation and regret that it occurred," Thompson said.
He added that he remains committed to "maintaining the integrity of my office."
"I will continue to work hard to keep the people of Brooklyn safe and to earn their confidence by making the criminal justice system fair and equal for all," he added.
Hirshman said Thompson paid the fine with his personal funds and that he has taken responsibility for his actions.
"The fine was set by the Conflicts of Interest Board," Hirshman told the Observer. "The district attorney respects the Conflicts of Interest Board and accepted responsibility and paid the fine."