Building and Construction Trades Council President Gary LaBarbera and Queens Councilman Jimmy Van Bramer, along with several hundred union workers, blasted a developer—whom LaBarbera called a "piece of shit"—who they say broke a promise to use union workers at its Long Island City construction site. 
According to Van Bramer, Jerry Wolkoff, co-owner of G&M Realty agreed to several community givebacks during the Uniform Land Use Review Procedure process, including a commitment to build and staff the site, the 5Pointz warehouse at 45-46 Davis St. with 100 percent union labor. In exchange the city granted G&M the ability to build 400 additional units—but Van Bramer says Walcoff has since backtracked on the agreement.
LaBarbera, who butted heads with Mayor Bill de Blasio's administration when it said union jobs would undermine the mayor's affordable housing plan, quoted a letter Walcoff wrote to Van Bramer in which he promised to engage contractors which employ individuals represented by labor unions affiliated with the Building and Construction Trades Council. The letter also states that it applies to members of 32BJ operating the building after construction.
"Well he went back on his word, he lied to everyone and that type of developer in my opinion—and I know Jerry—you're a piece of shit," LaBarbera said as workers in attendance screamed "Piece of shit!" in agreement. "I come from the school that when you give your word, that's better than a signed contract."
The developer was to provide 800 good-paying jobs once completed and create roughly 200 full-time jobs, according to the letter LaBarbera read at the rally. He noted that as a result, Walcoff's word and his signature have no value and telling him to go ahead and call his lawyers to sue him but that "this isn't slander."
He further expressed his disdain for the developer.
"This man was in my office, shook my hand and said, 'I give you my word. This will be a union project,'" LaBarbera continued. "Where are you now, Jerry? Where are you now?"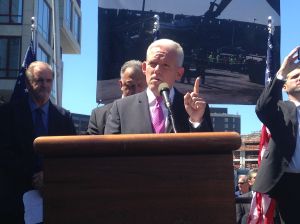 Van Bramer, for his part, said the situation was personal, calling himself "union" to express solidarity with the workers. He noted that his mother, father and stepfather were all in unions and that his father took him to picket lines when he was a little boy.
"So Jerry Wolkoff lied to me, Jerry Wolkoff lied to Gary, Jerry Wolkoff lied to every single New Yorker, every single New Yorker. And let me say this," Van Bramer said, cut off by workers who again yelled "Piece of shit!" in unison.
"So let me just say this: Jerry Wolkoff, I will never believe another word you ever say—never, ever again—nor will I ever approve any project you ever want to build in my district or in this city."
Union leaders and workers from the G&M Realty site were also in attendance. Wolkoff denied being anti-union, and insisted he had only told Van Bramer it was his "intention" to hire union builders.
But, when the bids came in, union contractors wanted $20 million more than their non-union competitors.
"It is my intention do it, it was my intention to do it but none of them would give close to $20 million more. I have a public that I serve, why should they have to pay that much more for an apartment?" he said in an interview with the Observer.