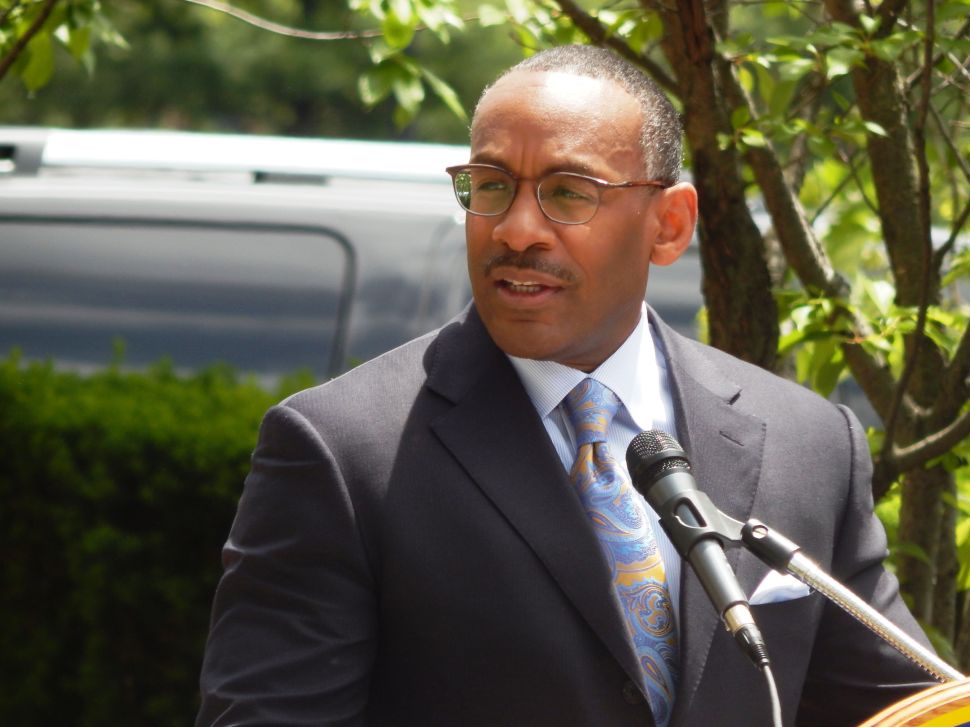 The Democrats are heavily favored to win the New Jersey gubernatorial election in 2017, largely due to the unpopularity of the outgoing Republican Governor Chris Christie.  This is unfortunate for Lieutenant Governor Kim Guadagno, who has all the political and policy skills to be both a superb candidate and governor.  Her chances could dramatically improve, however, if Christie departs early and she becomes the incumbent governor.
Assuming Christie remains in office through the November, 2017 election, the Democratic primary winner will be a prohibitive general election favorite.   In my view, there is a high likelihood that the primary will be decided in Essex County.  The key factor in Essex is likely to be the endorsement of Democratic County Chair, Leroy Jones, Jr.
To put this in perspective, it is essential to evaluate the political assets of the three leading Democratic candidates.
Senate President Steve Sweeney will have a solid South Jersey base, plus the support of the political infrastructure of his lifelong friend, George Norcross.  Despite Sweeney's recent reluctance to put on the 2016 general election ballot the controversial constitutional amendment mandating a state contribution to the pension fund, he retains strong support from New Jersey public and private sector unions.
Due to expected organizational support, Steve Fulop is likely to have a substantial plurality of the vote in Hudson, Bergen, and Passaic Counties.  He also has demonstrated surprising fundraising capacity.
Former U. S. Ambassador to Germany Phil Murphy has no party organizational base to speak of.  He also has the perceived albatross of being the second coming of Jon Corzine, another Goldman-Sachs partner.  His communication skills, however are far superior to those of Corzine, and he has superb advisors to assist in crafting his message and commercials.  Most significantly, his wealth will enable him to easily selffund his campaign.
The last contested Democratic gubernatorial primary in 1997 was decided by the outcome in Essex County, which gave Jim McGreevey a large plurality which enabled him to prevail by a razor thin margin statewide over Rob Andrews.
It was the endorsement of the then Democratic county chair and current Assemblyman Tom Giblin that was the critical factor in McGreevey's Essex County triumph.  I believe that the outcome of the Democratic gubernatorial primary in Essex County in 2017 will ultimately be determined by the endorsement of current County Democratic chair Leroy Jones.
Each of the three leading candidates has significant assets in Essex County.  Steve Sweeney will have the support of County Executive Joe DiVincenzo and what remains of the Steve Adubato North Ward organization.  Steve Fulop will have the support of Newark Mayor Ras Baraka.  Phil Murphy will have the significant suburban support of State Senator and former Acting Governor Dick Codey and former Newark Mayor Sharpe James, whose still remaining on-the-ground network in Newark played a critical role in Ras Baraka's 2014 mayoral victory.
There remains, however, a significant number of undecided political municipal and ethnic constituent organizations who will be waiting to see whom Leroy Jones endorses.  They will likely follow his lead.  And the candidate he endorses will doubtless receive support from defectors from the other two significant candidates.
I have known Leroy Jones since he began his earlier service as a State Assemblyman while I was serving in the Whitman administration.  I confess to being an admirer of Leroy – I have appeared with him in a number of televised political panel shows.  When it comes to the confluence of politics and policy, Leroy is a master at both the state and local level.
He is ideally suited for the role of 2017 Gubernatorial Kingmaker.  I suspect that in the forthcoming gubernatorial campaign, the most overworked person in Essex County will be his secretary who will have to field the flood of incoming phone calls.  Ultimately, Leroy will make a well-considered – and decisive – endorsement.  In Campaign 2017, Leroy Jones, Jr. Is likely to be one of the big winners.
Alan J. Steinberg served as Regional Administrator of Region 2 EPA during the administration of former President George W. Bush and as Executive Director of the New Jersey Meadowlands Commission under former New Jersey Governor Christie Whitman.