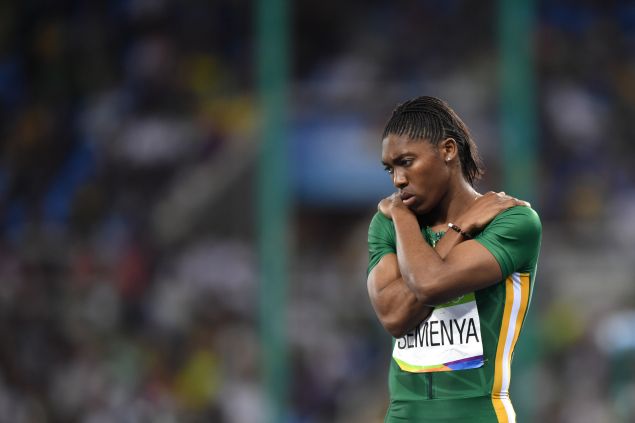 What's fair? Is it fair that Michael Phelps, the greatest swimmer of all time, has flexible ankles and an extraordinary wingspan? Is it fair that Usain Bolt, with his triple double in the 100 and 200 meters—clearly the greatest sprinter ever—has more fast-twitch muscle fibers than almost anybody else? Is it fair that Caster Semenya, the odds-on favorite to win the women's 800 meter finals, naturally has testosterone levels higher than the vast majority of women? Semenya's gender has lead to inevitable questions. What constitutes a female? How can we tell? How much does it matter?
The ancient Greeks avoided this one. Women simply weren't allowed to compete. All married women were barred as spectators. The law dictated that any non-virgin caught at the games would be thrown off a cliff. The daughter of a famous champion boxer, Diagoras of Rhodes, newly widowed, disguised herself as a trainer to watch her son compete. When he won the olive wreath in boxing, she leapt over the fence around the trainers' enclosure which tore open her clothes, and revealed her as a woman. It was so much simpler then. (Out of respect for her distinguished family of Olympic champions, the authorities pardoned her.)
For decades, track and field has sex-tested female athletes to keep competitions fair. Outward anatomy no longer determines gender. As an intersex individual reportedly born without ovaries or a womb, Semenya has internal testes which produce testosterone levels more characteristic of men than women. Semenya burst onto the scene in 2009, dominating the world championships and soundly defeating the world champion at age 18. The International Association of Athletics Federations (IAAF), the governing authority of world track, banned her for 11 months, then allowed Semenya to compete again—on the condition she either undergo surgery or chemical treatments to reduce her testosterone level.
Chromosomes now determine "fairness," but those tests, too, fail to capture the female essence. Claiming testosterone as the characteristic male substance and key natural performance-enhancer, the IAAF issued a new rule in 2011 mandating that a female's testosterone level be less than 10 nanomoles per liter of blood.
After undergoing treatments, Semenya competed in the 2012 Olympics, but her performance level dropped substantially with her reduced testosterone. She managed to win the silver medal, however, losing to a runner who the World Anti-doping Agency later recommended be banned for life. Then last year, Indian sprinter Dutee Chand challenged the testosterone regulation before the highest court in world sport, and won. The court suspended the IAAF's testosterone regulations for two years, demanding the organization justify and clarify its rules.  
Without her testosterone artificially suppressed, Semenya recorded the fastest time in the 800 in the last seven years. And in the finals, Semenya is almost certain to win gold. She seems poised to break the oldest current world record in all of track and field.
In short, Semenya Caster is an athlete in a class by herself.   
We all know that many great athletes are born genetically predisposed toward greatness. A genetic unfairness favors champions from birth. Superior strength, speed, stamina, balance and reflexes seem programmed into athletes' genetic code. Nature almost certainly favors Katie Ledecky and Simone Biles, two of the greatest female athletes today, but I'd rather not know exactly how. I'd rather marvel at and celebrate their great accomplishments and accept them as a product of developed talent, determination, sacrifice and true grit.
Those of us who watched the camera pan in and linger on Semenya before her semi-final saw a chiseled face and huge biceps. During the race, she seemed almost to jog, hanging back in fourth place, then flew past the rest of the field, easily winning her semi-final heat. The performance seemed effortless, much like Usain Bolt who, when competitors start out in the lead, seems to ask himself, "how fast do I need to go?" then effortlessly outdistances the opposition. Usually we celebrate such dominance and suppress any focus on genetic advantages like Bolt's fast twitch muscle fibers. But not here.
Clearly the male/female dichotomy, real and natural, however challenging at the boundaries, greatly enriches sport. We must protect the distinction between man and woman and never allow intersex athletes to destroy it. Whether you believe a person should use a bathroom corresponding to the gender with which s/he self identifies, surely no one would seriously suggest that a male who self-identifies as a female automatically becomes eligible to compete as a woman. Semenya's birth certificate, however, lists her as female, although we can guess whoever filled it out didn't advance much beyond the ancient Greeks in this regard.  
If intersex individuals are disqualified as women, but they are not men, and cannot compete with men either, they should be allowed to compete as themselves. It seems to me fundamentally unfair and a clear violation of human dignity to ban or suppress Semenya from running. We have Olympic Games for the disabled, why not also establish the enabled Olympics as a separate category? If there are too few intersex athletes across the globe, and we cannot provide real international competition, we could temporarily pit these naturally hormonally "privileged" against banished cheats who have chemically-enhanced themselves.
Let's remember: Semenya did not cheat. Leading sport philosopher John Russell, claims no definition can cover the many varieties of cheating. But it seems to me that it's this: A person who cheats deceptively attempts to gain an unfair advantage by violating written and unwritten rules by which s/he has promised to abide. Semenya did not act deceptively. And she never violated the written rules or the ethos of the women's 800.
What irony. We rightly view performance-altering drugs as a fundamental threat to fairness in sports. Yet the IAAF is all too willing to compel Semenya to take performance-altering drugs that diminish, rather than enhance her performance. She was suspended for 11 months, and may yet be banned as a women's athlete because of who she is—not anything she's done.
Ironic, too, that if Semenya does shatter the women's world record for the 800 meters—the single longest unbroken record in track and field, a record set by an athlete who almost certainly doped—she will have probably doomed herself as a female athlete. For while that 800 meter record may stand for the indefinite future, in a few years, she will most likely be compelled either to chemically disable herself, or sit and watch others compete.
"Everybody agrees about one thing," said former runner, now-commentator Craig Masback on NBC right before Caster ran her semi-final the other night. "It's been unfair to Caster Semenya… There's still no consensus from scientists. There's total confusion about what the rules are, or should be. It should also be said a lot of her competitors feel it's unfair to them. By the next Olympics we'll have more clarity."
What if the IAAF's suspended rules change do stick and prevent Semenya from competing? Justice, of course, requires those rules be applied equally to all. All females, intersexed or not, would be prohibited from having a testosterone level near hers. If Semenya then somehow attempted deceptively to switch blood samples, she would have cheated—perhaps justifiably—under new standards equally applicable to all. As philosopher John Rawls noted, however, there's not only justice under the rules. There's also justice of the rules themselves.
So what's the solution, if we can't or won't expand the categories of male or female to three? To me, forcing intersexuals to biologically diminish themselves violates the Olympic spirit and can't be the answer. Do they participate as women? Do we sacrifice the few for the common good? Ban them for who they are?
"You must sacrifice the individual for the group," insisted Chris Fernandez, my savvy research assistant. "If not, countries will start to identify and train their intersex athletes. No doubt the Russians will experiment with and may even succeed in producing them. And gradually you'll see a rise of the intersex athlete breaking records held by otherwise biologically ordinary women."   
I had a middle school math teacher who delighted in torturing us by including as an option on multiple choice exams, "The correct answer cannot be determined with the information supplied." Someday, perhaps, we'll have moral or biological clarity necessary to resolve this dilemma correctly. For now it seems to me, there's only a nagging question: If Caster Semenya breaks the world record in the 800 meter women's final, in all fairness is she the champion?
SEE ALSO: 'SORE SPORT' SOLO HAS A POINT
Robert Blecker, a professor at New York Law School, continues to cover the Olympics for the Observer through a lens of culture and sport.