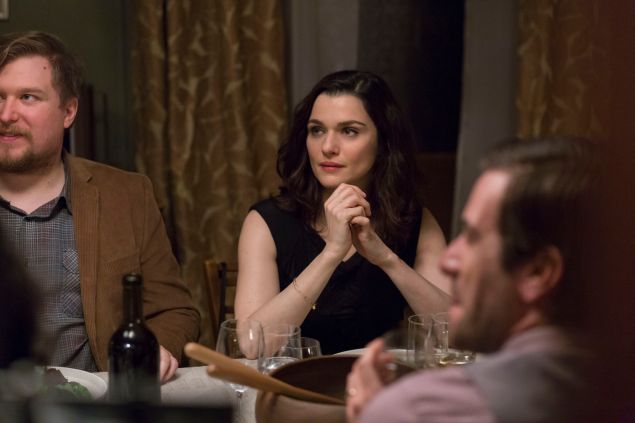 Reliable, versatile and never less than fascinating, Rachel Weisz is working overtime this week. In addition to The Light Between Oceans, she also stars in Complete Unknown, an odd, quirky little commercial gamble about identity confusion that lives up to its title. Directed by the accomplished Joshua Marston, who made the riveting Maria Full of Grace, this one is slick and wonderful to look at but too slight to hold its own weight and too inconsequential to generate much suspense.
---

COMPLETE UNKNOWN ★★
(2/4 stars)

Directed by: Joshua Marston
Written by: Joshua Marston and Julian Sheppard
Starring:  Rachel Weisz, Michael Shannon, Danny Glover and Kathy Bates
Running time: 90 min.

---
Weisz dominates the opening scenes as an enigmatic beauty named Alice who arrives in New York after traveling with a group of botanists in the Australian rain forest recording the sounds of exotic frogs. In a succession of flashbacks, it appears that a hippie scientist is just one of her previous occupations. Among other things, she also worked as a nurse in a trauma unit and a magician's assistant in China who disappeared through a trap door in the floor. Michael Shannon plays Tom, a married man who meets her at a birthday party and becomes suspicious of her outlandish stories, from dissecting leeches in Tasmania to her studies of mosquitoes and screech owls. It turns out that Tom had an affair with her 15 years earlier when she was called Jennifer. Now she is Alice, but she also once spent 18 months as Consuelo. For a while, the viewer is as intrigued by this strange but captivating mystery woman as Tom is, but when he finally unmasks her, the plot blurs and so does any attempt to sustain interest. No conventional thriller emerges and any suggestion of a love story is quickly squelched.
The point, if there is one, is that from time to time everyone wants to be someone else, make a change, adopt a new persona. If you're clever, you can create a different history for yourself as many times as you wish. The idea is intriguing. Unfortunately, the story of a character who is a blank slate requires a better script than the one provided by director Marston and co-writer Julian Sheppard. One whole scene centers on a dinner-table discussion of allergies; another involves Tom deserting his wife without explanation and accompanying Jennifer-Alice-Consuelo through the out-of-focus Manhattan streets in search of adventure. An elderly woman, played by Kathy Bates of all people, falls and sprains her ankle, but when they help her into her apartment, Tom turns out to be very good at charades himself, posing as an osteopath named Tony and treating the woman for rheumatoid arthritis to the dismay of her husband, played by a wasted Danny Glover.
Complete Unknown is about the pitfalls that await people who invent themselves and what happens when the masquerade is over. But to me, it ends up being more about the demeaning compromises that even the most accomplished actors in today's movie business are forced to go through to get work.