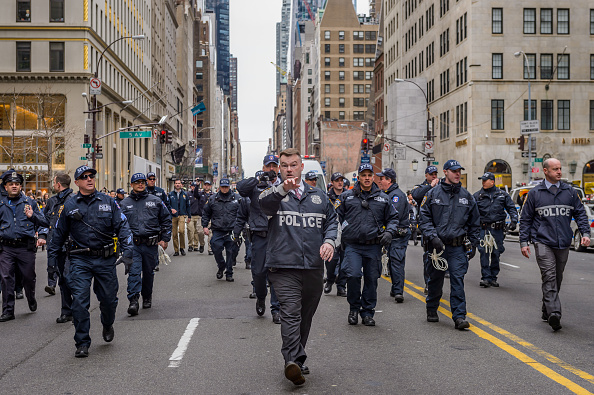 A hotly contested measure that would obligate cops give their name, rank and command during most routine stops now has enough backers it could theoretically override a veto by Mayor Bill de Blasio—if his ally Council Speaker Melissa Mark-Viverito would ever let it get a vote on the City Council floor.
As of Thursday, the Council website showed the bill had the backing of 34 of the body's 51 members, thanks to Brooklyn Councilwoman Darlene Mealy signing on to the legislation this week—meaning it had sufficient support to overrule the mayor's executive authority if all of its supporters remained on board. Mealy did not respond to repeated requests for comment but the proposal's prime sponsor, Bronx Councilman Ritchie Torres, called for the long-stalled legislation to finally get a discussion and consideration.
"I would say when you have a bill that commands a decisive majority in the City Council at a minimum there should be legislative negotiations," he said in a phone interview with the Observer.
The bill is one-half of a controversial package of police reforms jointly known as the Right to Know Act, which Brooklyn Councilman Brad Lander first proposed during the Bloomberg administration, and which Torres and Brooklyn Councilman Antonio Reynoso re-upped in 2014. Both deal with police stops that do not involve a warrant, or do not lead to a summons or arrest.
Torres's bill would require NYPD officers to give out their name, rank and command at the start of such encounters, and to give out a business card with the number of the Civilian Complaint Review Board on it at the end. Reynoso's proposal, seen as the more controversial of the two, would force police to inform civilians of their Constitutional right to refuse to consent to a search. It has only 28 sponsors: a majority, but not enough to supersede the mayor.
Outgoing NYPD Commissioner Bill Bratton slammed both proposals as "unprecedented intrusions" into police work at their only hearing, held in June 2015—and de Blasio vowed to veto them both. But the mayor has been spared the embarrassment and left-wing ire such a veto would likely elicit, as sources revealed to the Observer in January that Mark-Viverito was using her powers as speaker to block the bills from getting a vote.
Then, last month, Mark-Viverito and Bratton announced a deal whereby the speaker would continue to obstruct the Right to Know Act and Bratton would incorporate some elements of the legislation into the NYPD's internal rule book. Under the agreement, which incoming Commissioner James O'Neill has pledged to uphold, the NYPD Patrol Guide will direct cops to give out business cards without the CCRB number and to ask permission to perform a search—but not to notify civilians of their right to say "no."
Reynoso and Torres slammed these changes as toothless and diluted in an email to their colleagues that the Observer obtained.  They insisted that police routinely flout Patrol Guide protocol, and face few consequences since those standards are not legally binding.
But Mark-Viverito has insisted that majority support, even overwhelming majority support, does not mean that a bill gets to become law.
"Every single bill that has 35, 40 sponsors automatically becomes law—that's not the way it works in this legislative body,"  she said in response to a question from the Observer at a press conference earlier this month. "It's not just a stamp saying '35 votes—it becomes law.' That is not a responsible way of legislating or governing."
Her office declined the opportunity to expand on those comments in response to news of the identification bill's growing support. The speaker did say at the time that she was in "discussions" with Right to Know Act supporters, and suggested the bills could get consideration six months to a year after the changes to the Patrol Guide go into effect.
"It's not my place to lecture the speaker on her obligations," Torres said, but suggested the Council could push ahead with the Right to Know Act while the Patrol Guide reforms are going into effect. "I would say, where did we get this notion that that administrative change must be to the exclusion of legislation? I think we're creating a conflict where there need not be one."
But advocates for the twin measures were not so kind to Mark-Viverito.
"The ID bill of the Right to Know Act getting to a veto-proof majority demonstrates the strength of this movement and sentiment for reform – in the Council and throughout our city," said Monifa Bandele, spokeswoman for Communities United for Police Reform, in a statement sent to the Observer. "Our goal has always been to constructively work with the speaker to pass the Right to Know Act—she has a clear choice: support sound policy that a majority of her members, 18 families of New Yorkers killed by the NYPD and hundreds of community groups from across the city endorse, or chart a path that is increasingly antithetical to democracy and allows police abuses to continue."