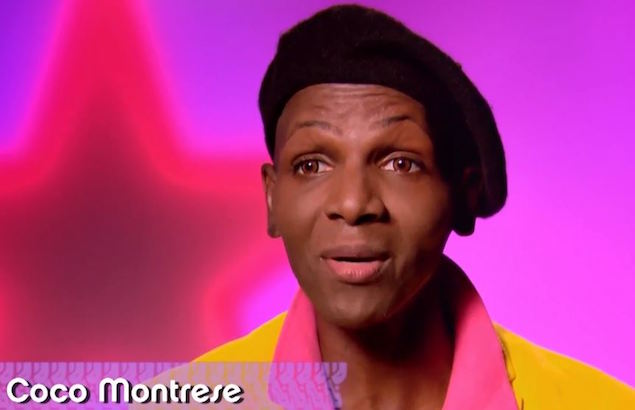 Following every RuPaul's Drag Race All Stars, the Observer gets the scoop from one of the contestants. Next up: Coco Montrese. 
OBSERVER: When you walked into the room, who were you expecting to see?
Coco Montrese: Definitely Alyssa. I wasn't expecting to see Roxxxy. Not that she's not an All Star, I was just surprised. I was happy to see Katya, I was always a big fan of hers. I was very happy to see Ginger, that's my sister. She's freaking crazy, she's so hilarious. That's about it.
Is true that you were a replacement for Laganja?
I don't know anything about that.
In a weird way, was it a good thing you got to lip sync so many times on season five? We never got to see Alaska lip sync.
So when we got the twist this year, they told us that the top girls would lip sync, I thought, I gotta get in the top, so the world can still see me again. Then when we got the other twist, that the top girls are going to be sending us home, I thought, Oh god, are they gonna remember that I hold the lip sync record and go "I don't care what she does, we gotta get her out of here!"? It was as if I can't win to lose in this one.
What was going through your head watching Roxxxy and Tatianna lip sync? The three bottom girls looked like you were at a funeral.
It wasn't like we found love in a hopeless place. It was like we found chaos in a hopeless place. Yeah honestly, when we first walked and we were happy. "You're all All Stars. Yay!" That completely came to an abrupt end. When we were doing the talent show, I wanted to step out of my box and do something I wouldn't normally do. I do Janet Jackson six nights a week . I didn't want to be predictable. It's All Stars so I wanted to take a chance and just give 'em what I got. It didn't pay off for me this time, but I don't regret it.
Normally I have Alyssa in my corner before I go out and she'll say, "Hey, pull it together." But we weren't able to support each other here, none of us were. Since we were eliminating each other, we were wondering what are people going to say about us, how were we going to be perceived. We couldn't motivate each other like we normally do. Alyssa couldn't say like when we do pageants, "Come on, Coco. Snap out of it!"
One of the most touching moments in the show's history was when Alyssa's father came on the screen and apologized for not accepting his son as gay, and you begged Alyssa to forgive him. Can you walk us through that?
That moment I wanted her to make sure she made peace because my father was a pastor, and I wasn't able to. My parents were loving and nurturing to me and I wasn't able to give that back to them. Losing both of my parents at such an early age to cancer, I saw that Alyssa was getting this opportunity and wanted her to accept it. It was very emotional because at the time Alyssa knew what I was going through when we were actually there. My husband was diagnosed with cancer. You never know how much time you have left with the people you love.
If you could read any queen from any season, who would it be?
Acid Betty. She's creative, don't get me wrong. But why the attitude? Let it go! Like Frozen. You should be joking around, bitch!