Conservative pundit Tucker Carlson now serves as editor in chief of The Daily Caller.
Tucker Carlson, the 47-year-old editor in chief of The Daily Caller, is not gun-shy about expressing his opinion of today's journalists: "They're cowards, utterly conventional, trite and stupid," he seethed to the Observer by phone earlier this month, adding "They go to Twitter to figure out what they're supposed to believe."
The pundit, who made his name as the conservative co-host of CNN's Crossfire, also backs up his belief in his company's recruiting practices. "I've never hired anyone who went to journalism school, and I never would. They're boring rich kids with an overabundance of parental money," said Carlson, whose father Richard, a veteran of print and television news, also served as ambassador to the Seychelles under President George H.W. Bush.
Carlson, who moonlights as a weekend co-host of Fox and Friends, started The Daily Caller in 2010 with his college roommate Neil Patel, a former adviser to Vice President Dick Cheney. MSNBC's cancellation of his show Tucker also convinced Carlson to try his hand at online media. "I had no job, a lot of energy and the desire to build something new," he recalled.
What Carlson ultimately built is a rarity in the media world, a news site that has actually turned a profit. The Daily Caller's average monthly pageviews rose from 35 million in 2013 to 109 million so far in 2016, and the company's staff has grown from 18 employees at its launch to 80 people now.
There were some bumps on the road from upstart to one of the web's 50 most read news sites. In 2011, many media watchdogs criticized the The Daily Caller for hiring David Martosko, a PR flack found guilty of driving while intoxicated, as its executive editor (he moved to the Daily Mail in 2013).
Carlson has no regrets about the hire, however.
"I like bizarre, unqualified people if they're interesting," he said.
Indeed, Martosko told the Observer that he valued his experience working at The Daily Caller. "I greatly enjoyed working with Tucker Carlson and his team at The Daily Caller, and I continue to be grateful for the lessons I learned there," he wrote by email. "I wouldn't be where I am today without him."
"The average reporter hasn't seen a gun and doesn't know what end the bullet comes out of."- Tucker Carlson
Carlson also came under fire last year for censoring Daily Caller blogger Mickey Kaus' column critical of Fox's coverage of ISIS and immigration; the editor removed it from the site, leading Kaus to quit.
But Carlson again makes no apologies.
"I have a conflict of interest with Fox News, and I'm honest about that," he said. "I'm not pretending otherwise."
Kaus did not respond to an Observer request for comment.
Some of The Daily Caller's scoops have also stirred controversy; In 2013, the site reported that Senator Robert Menendez of New Jersey had paid two women to have sex with him while he was staying at a campaign donor's home in the Dominican Republic.
Other media outlets attempted to discredit the story, but when the Department of Justice later indicted Menendez on corruption charges, it also turned up "corroborating evidence" for the prostitution charge.
Carlson is glad his staff reported the story early, despite the initial firestorm.
"I didn't want to wait and read it in the Washington Post," he said.
Carlson also pats his own back for covering subjects other media outlets won't touch. For example, the site devotes an entire section to Guns and Gear, which features firearm reviews and commentary.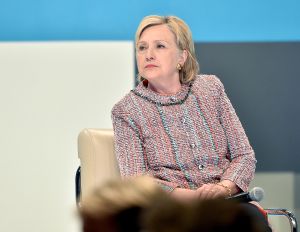 "The average reporter hasn't seen a gun and doesn't know what end the bullet comes out of," Carlson charged. "We cover guns in a straightforward way."
"Center-right news is a very target-rich environment," Vince Coglianese, the site's executive editor, agreed. "It's a reflection that we chase down stories that the mainstream press doesn't."
There have also been plenty of Daily Caller scoops off the gun range. It was the first site to report on Hillary Clinton's July 4 weekend interview with the FBI (the site is part of her press pool, as well as the White House's).
Carlson attributed the site's increased traffic not only to exclusive stories such as the Clinton one, but also to its coverage of the 2016 election—it notably did not endorse any candidates in the presidential primaries.
"The Washington Post decided it was their job to stop Donald Trump, and Breitbart decided it was their job to get Trump elected," Carlson said. "But the thing about primaries is they end—and we're not kingmakers, we're journalists."
"We don't have a loyalty to people or parties," Coglianese added. "We give readers the facts so they can make an assessment on their own."
The Daily Caller recently helped readers assess the Republican and Democratic National Conventions—dozens of reporters analyzed speeches and conducted Facebook Live interviews on the convention floors.
Carlson said the fact that the Daily Caller can provide blanket coverage at such large events shows that the site has a bright future.
"Our strategy is the same as any other news organization: get bigger and get more profitable," he said.