August 19, 2010, Taiwanese technology giant Foxconn held a morale-boosting, costumed "employee rally" after a string of suicides at its Chinese factories turned a spotlight on working conditions.
(Photo: Ed Jones/AFP/Getty Images)
Taiwanese technology giant Foxconn treats its workers like "machines" a Hong Kong based labour group said on May 3, after a survey based on interviews with the firm's workers in mainland China. At least 13 Foxconn employees died in apparent suicides last year, which rights activists blamed on tough working conditions in a case that highlighted the challenges faced by millions of Chinese factory workers.
(Photo: ANTONY DICKSON/AFP/Getty Images)
Terry Gou (L), chairman and CEO of Taiwan's Foxconn Technology group, poses for photographers with humanoid robot 'Pepper' (R), which is jointly developped by Japan's mobile carrier SoftBank and French humanoid robot maker Alderbaran and manufactured by Foxconn, at a showroom of SoftBank in Tokyo, on June 6, 2014.
(Photo: TORU YAMANAKA/AFP/Getty Images)
A group of protestors from SACOM (Students and Scholars Against Corporate Misbehaviour) demonstrate outside the Foxconn annual general meeting (AGM) in Hong Kong on May 18, 2011.
(Photo: MIKE CLARKE/AFP/Getty Images)
October 31, 2012, employees of Taiwanese electronics manufacturer Foxconn at the end of a work day outside the company's compound in Shenzhen.
(Photo: AFP/Getty Images)
An Indian worker sorts defunct keyboards at Ash Recyclers, a government approved e-waste management firm in Bangalore on June 5, 2013, the World Environment Day. India sits on a huge mound of e-waste as annually an estimated 800,000 tons are generated.
(Photo: Manjunath Kiran/AFP/Getty Images)
Greenpeace activists demonstrate against e-waste outside the Hewlett Packard (HP) Beijing headquarters December 7, 2005 in Beijing, China.
(Photo: Natalie Behring/Greenpeace via Getty Images)
Chinese Greenpeace activists set up an e-waste sculpture at the China International High-tech exhibition in an effort to shame the companies attending the expo on May 23, 2005 in Beijing, China.
(Photo: China Photos/Getty Images)
This file photo taken on June 17, 2010 shows a Chinese woman walking past a Foxconn factory sign in an industrial district of Foshan City, in southern China's Guangdong province.
(Photo: STR/AFP/Getty Images)
In a picture taken on May 26, 2010 Chinese workers assemble electronic components at the Taiwanese technology giant Foxconn's factory in Shenzhen. Foxconn on June 2 confirmed the death of another employee but denied he died of exhaustion following a spate of suicides at its Chinese plants.
AFP/Getty Images
Taiwanese electonics giant Foxconn promotes green and energy saving business practice at the CeBIT technology fair on the first day the fair opened to the public on March 4, 2008 in Hanover, Germany.
(Photo: Sean Gallup/Getty Images)
A woman demonstrator unfurls a protest sign reading "Put an end to blood and sweat factories, return to a happy society" while a portrait of Terry Gou, chief of Foxconn, is displayed during a rally outside an exhibition hall in Taipei on June 1, 2010.
(Photo: PATRICK LIN/AFP/Getty Images)
Participants dressed as Foxconn workers take part in a protest against Taiwanese technology giant Foxconn, which manufactures Apple products in mainland China, outside an Apple retail outlet in Hong Kong on May 7, 2011.
(Photo: ANTONY DICKSON/AFP/Getty Images)
In March, Apple released a YouTube video that showed off the company's iPhone recycling robot, Liam. In a little over a minute, the robot extracts an iPhone's pentalobe screws, finds its tiny bits of gold and platinum and takes out the battery's lithium. Then, with the viewer convinced that this robot can disassemble an iPhone with the perfect craftsmanship that is Cupertino's true product, the video transitions to a three-way split screen of amber fields, bubbly water and the leaves of spring.
After seeing Liam in action, one might think Apple would be eager to discuss its green bonafides, but that's not what happened when Sue Williams, the director of a new documentary, reached out to Tim Cook, its CEO. Williams and her team have begun holding screenings of their film, Death By Design, which unpacks the tech industry's history of toxic production and hard-to-re-purpose electronic waste.
While the film indicts the entire electronics industry, Apple's market leading products feature prominently. Williams managed to speak to several current and former workers in Chinese hardware factories, including some of those run by Foxconn (the Taiwanese company makes much of what Apple's designers envision, which has had a bad reputation in the West for the way it treats workers). But when Williams contacted Cupertino so that it could give its side in the project, Apple staff only gave her the runaround.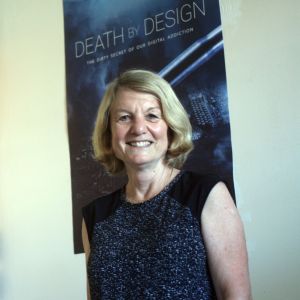 "Some guy called one day and asked a bunch of questions. Like, who were the workers and which factories. Of course, I didn't feel comfortable answering," Williams told the Observer, during an interview in her Manhattan office. "And they didn't get back to me again."
She added, "I think their policy is to say as little as possible."
Through Williams' narrative, we see waste pouring from outfall pipes into fouled rivers. We see vats of chemicals inside factories, leaking acid until managers shoo the cameras away. We meet workers from the original IBM facilities in upstate New York who lost children to cancer apparently caused by local pollution. The movie surveys how producing these products releases toxins into the general population, the waste burden of disposable electronics, the labor of busting all that junk apart and the handful of entrepreneurs attempting to rein the waste in.
'It's an industry where we need to demand transparency'
Williams found several workers willing to testify to the health, safety and environmental shortcomings of their employers. Previously, the director made two Frontline documentaries in China, and she has a strong network of fixers there, who helped her find subjects. Some of those interviewed even dared to take forbidden photos and videos inside the factories. In the film, the Foxconn dorms don't look quite this pristine (though soon, the company won't need so many beds).
For some readers, this may bring Mike Daisey's ill-fated episode of This American Life to mind, the one where he discusses his own investigation of Foxconn. Despite its immense popularity, This American Life retracted the episode a few months later, because Daisey fabricated many parts of the story and resisted fact-checking by the show's staff. Williams saw Daisey perform the story before it aired on the radio. "The poetry of it was true," she said. He made a lot of details up, but his larger point remained valid.
That said, "everything is triple fact-checked in this film," she promised.
The idea for the film originated when Williams learned of the work of Chinese environmental activist and journalist, Ma Jun. Since the early 90s, Jun has been documenting the impact of electronics production on air and water in his home country and, in 1999, authored the book China's Water Crisis. Then, as Williams began to explore the topic, she learned that much of Silicon Valley sits atop concrete-sealed Superfund sites that hold in the soil pollution of tech's first generation, when we still assembled the stuff here.
"What Death By Design is doing is blowing up this myth of heroic entrepreneurship," Williams said. The great founders have changed our lives, but the film depicts the cost of that transformation.
"Nobody wants to look," she lamented, holding out her own iPhone and remarking on its elegance and the many ways it has made life more interesting. "Why would you want to think this thing could be harming anybody?"
It's not a film where she makes any one country or company into the villain, though, since we all paid for the status quo with our dollars and our acquiescence. She said, "I wanted to present this as a problem that concerns us all and that implicates us all."
Death By Design has not yet announced a distributor. It can be seen at limited screenings and festivals, for now.
The film holds up well in a tradition of reporting that dramatizes industry's consequences, one that arguably began with Rachel Carson's book Silent Spring, which told the story of the pesticide industry's campaign of disinformation. Other works have followed where Carson's led, such as Dan Fagin's Tom's River, Jonathan Harr's A Civil Action and Josh Fox's Gaslands. Each of these are award-winning accounts of roughly the same story: the heavy costs a community pays when a new industry arises and tells a public eager to believe it that a modern breakthrough has no downside.
Yet despite all these prior accounts, each time visionaries change how we live, we take their shiny new thing at its reasonable price and issue a collective whisper: "This time is different."
Apple's publicity friendly robot didn't convince Williams that the company had gotten serious about taking responsibility for the full life cycle of its products. "It's an industry where we need to demand transparency, because they do talk a good talk," she said. Meanwhile, her film visits the good guys as well, companies like green computer maker, IAMECO, and reuse enabler, IFIXIT.
"They are showing we can change things," she said, a bit sadly, "but they are so tiny."