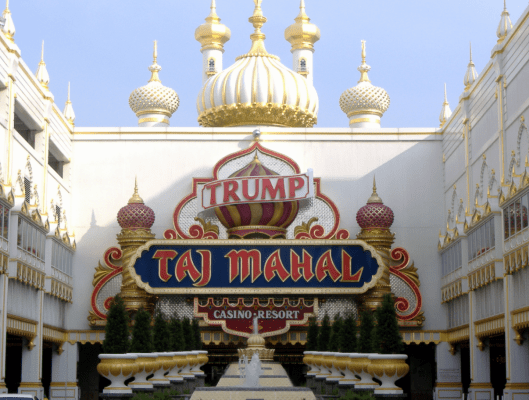 A Democratic challenger to U.S. Representative Frank LoBiondo of New Jersey's  second congressional district is doubling down on his attacks against the longtime incumbent in wake of news that the Trump Taj Mahal casino will close its doors after Labor Day. Cole has taken aim at LoBiondo for accepting campaign donations from Republican presidential nominee and former Taj Mahal owner Donald Trump early and often [links] in his bid for the seat.
Owner Carl Icahn announced this week that he would be shuttering the Taj Mahal following employees' protracted strike over pension and health benefits that he cut after taking the helm earlier this year. The Taj Mahal will be the fifth Atlantic City casino to close since 2014.
"Make no mistake: this is just the latest smoldering ember of Donald Trump's legacy of selfish destruction in Atlantic City," Cole wrote in a statement. "Trump said recently, 'I want Carl Icahn negotiating for me. I want the greatest business-people negotiating my deals, not hacks.' When it comes to taking care of the middle class, Icahn is the hack. Our working class families will not be safe under a Trump presidency."
Cole took a shot at his Republican opponent when he called for changes to the state's approach to helping the beleaguered resort town, which has seen its ratable base shrink by half due to competition from out-of-state casinos in the last decade.
"It's never been more clear that the only way to revive the struggling middle class in South Jersey is a total change of leadership. We need to stop Donald Trump and his political allies Carl Icahn, Chris Christie, and Frank LoBiondo who have all had a hand in bringing about this terrible news."
LoBiondo took to Twitter Wednesday, where he said federal aid and local planning will be crucial in minimizing the economic impact. Reached for comment, LoBiondo' Deputy Chief of Staff Jason Galanes called the jab uncalled for.
"There is a time for politics and a time for coming together as a community. This is the latter."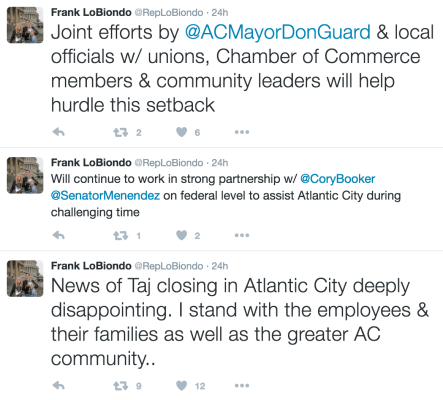 Disclosure: Donald Trump is the father-in-law of Jared Kushner, the publisher of PolitickerNJ and Observer Media.