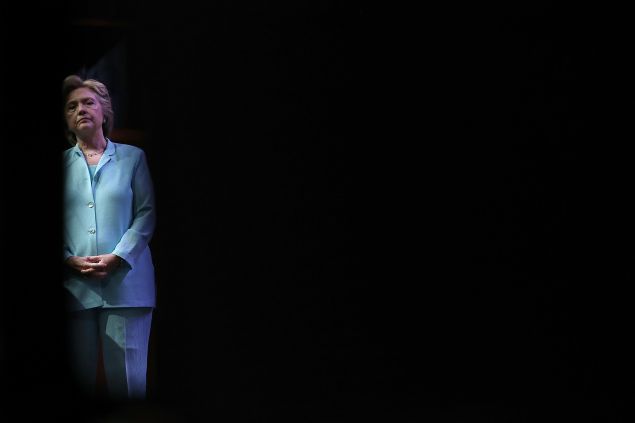 The mega-hack of the Democratic National Committee's emails, as exposed by Wikileaks last month, is one of the most politically consequential cyber-thefts of all time. Its revelations of shady deals have caused bad press for the Democrats in an election year and have led to the resignation of DNC chair Debbie Wasserman Schultz, with three more top DNC officials following suit. More leaks are coming, and some Democrats now fear an "October surprise" designed to finish Hillary Clinton off just before the election.
Whodunit is therefore an important question. The Clinton campaign and the DNC have stated forthrightly that they see a Russian hand behind this dirty operation, with the Kremlin using Wikileaks as their fence for stolen emails. As I detailed in a recent column, that's a very plausible answer that's supported by the facts we know so far.
It's also the conclusion of most American intelligence agencies. Although the criminal incident is under FBI investigation, that Kremlin-linked hackers were behind the cyber-pillaging of the DNC is widely accepted in the Intelligence Community, which has tracked the hackers in question for years.
However, there's been pushback against this theory, including from the Trump campaign, which clearly sees Wikileaks doing their job for them—and they like it. Roger Stone, a longtime Trump intimate and mouthpiece, recently dismissed any Russian involvement in the DNC hack as Clintonian propaganda, while on Twitter Stone hailed Julian Assange, the founder and boss of Wikileaks, as a "hero."
Since Assange was instrumental in the leaking of hundreds of thousands of classified documents stolen from the American government by Bradley (now Chelsea) Manning and Edward Snowden, doing colossal damage to our foreign relationships and our intelligence agencies, it's safe to say that Stone's depiction isn't mainstream in Republican circles.
Snowden has deflected attention from the Russians in the DNC hack, which ought not surprise anyone, since he's been living in Russia for over three years as a guest of that country's intelligence services, and even the Kremlin now admits publicly that Snowden's their agent.
Instead, Snowden fingered the National Security Agency, his former employer, as a suspect behind the DNC hack—which, like everything he says, ought to be viewed skeptically since Ed's a Russian agent. However, possible NSA culpability has been floated by a far more reputable source recently, and it's making waves.
In a recent radio interview, William Binney, a former NSA senior mathematician, stated that disgruntled American spies could be behind the hack of the DNC, adding that NSA is in possession of all of Hillary Clinton's emails, including the more than 30,000 deleted by the Democratic presidential nominee and her staff in the EmailGate scandal.
No matter what happens on November 8, Vladimir Putin seems poised to win.
Let's be clear: Bill Binney is no flake. A well-respected analyst who enjoyed a successful three-decade career at NSA, he resigned in disgust in 2001, believing the agency was wasting billions of dollars and endangering the privacy of American citizens in a failed modernization program called TRAILBLAZER. By the time it was shut down in 2006, TRAILBLAZER cost the American taxpayer billions of dollars while failing to modernize NSA. It was instead a Top Secret boondoggle for defense contractors.
I was serving at NSA at the time and most of Binney's allegations have been proven more or less correct. He became a genuine whistleblower, attempting to raise Congressional awareness of what he viewed as disastrous decisions by NSA leadership. Binney paid a steep price for this, including having his security clearances revoked, causing substantial lost income, while his home was raided by the FBI—which ultimately found no wrongdoing.
This experience seems to have soured Binney, and since Snowden defected to Moscow in mid-2013, he's gotten close to the Snowden-Wikileaks axis, which is under Vladimir Putin's control. He's not as measured as he used to be in his public comments about NSA, and some of Binney's recent jeremiads against his former employer are over-the-top. Nevertheless, he's a career intelligence professional who knows NSA well—unlike Snowden, who was never more than an IT sysadmin—so Binney's claims merit investigation.
It's not difficult to determine why NSA might want to put a halt to Clinton's presidential ambitions. The agency has viewed her with distaste for years, beginning with her antics as the newly appointed Secretary of State in early 2009, when her demands to disregard basic security regulations about her Blackberry raised the ire of the agency's information assurance experts. Some at NSA saw the disaster of EmailGate developing, and were powerless to stop it.
Worse was what transpired in EmailGate, which witnessed Hillary's "unclassified" email including reams of very highly classified information—some of it from NSA. The agency is especially unhappy about what I revealed previously in this column, how Top Secret-plus NSA reports wound up being copied verbatim in "personal" emails sent to Clinton by her friend and factotum, Sid Blumenthal, back in 2011.
Although NSA determined beyond doubt that Blumenthal—who had no position in the Obama administration and did not have active security clearances—somehow got his hands on Top Secret / Special Intelligence NSA assessments only hours after they appeared in classified channels, then retyped them in his personal, unsecured email, which was sent to then-Secretary Clinton.
Some of the information Blumenthal emailed to Hillary's "private" server included GAMMA reporting, which as I explained previously, "is an NSA handling caveat that is applied to extraordinarily sensitive information (for instance, decrypted conversations between top foreign leadership, as this was). GAMMA is properly viewed as a SIGINT Special Access Program, or SAP, several of which from the CIA Clinton compromised in another series of her 'unclassified' emails."
The agency was hopping mad about that compromise of its "crown jewel" information, and they were even more displeased that the FBI decided to punt on prosecuting anybody for that notorious incident. "In wartime, we shoot people for compromising GAMMA," explained an unhappy NSA senior official: "But the FBI was clearly told to look the other way by the White House—so they did."
Thus we have motive for why somebody at NSA might want to sabotage the Clinton campaign by stealing DNC emails—but what about means and opportunity? In a technical sense, it would not be too difficult for NSA to get its hands on Hillary's emails if it wanted to, even the deleted ones in all likelihood. However, that would be a gross violation of a raft of Federal laws and regulations, and I'm certain that no tiny cabal of NSA officials—all of whom are briefed in detail on those laws—would do so without approval from "the top."
Intentionally spying on Americans—collecting their phone calls, emails, texts—is really the only thing you can do at NSA that results in instant firing. Having worked for NSA security, let me assure you that allegations of spying on Americans, although incredibly rare, are acted on immediately. They are taken more seriously by NSA than even allegations of espionage on behalf of a foreign power. Accusations of child molestation by NSA employees result in slightly slower action by agency security than whispers of spying on Americans.
This is deeply at odds with the Moscow-approved image of NSA that's been peddled by Snowden, Assange, and their merry propaganda band, but happens to be the truth. Therefore, while we cannot conclusively rule out the possibility that NSA hacked the DNC and leaked 20,000 purloined emails, such an accusation means that top agency leadership would have been involved—and if that's the case the Obama administration has a far bigger problem on its hands.
Besides, let's apply Occam's Razor here. The case for Russian culpability in the DNC hack, strong from the start, grows stronger by the day. It's become obvious that the Kremlin-linked hacking groups deemed responsible by multiple independent cybersecurity experts, FANCY BEAR and COZY BEAR, made minimal effort to hide their e-tracks. "They wanted experts and policymakers to know that Russia is behind it," explained a leading analyst.
Assange isn't doing a very good job of maintaining his cover either. In a recent interview with Bill Maher, the Wikileaks head was directly challenged by his host about Russian involvement in the DNC operation: "Obviously we know these came from Russia and we also know that you don't like Hillary Clinton, as does not Vladimir Putin. So it looks like you are working with a bad actor to put your thumb on the scale and basically f— with the one person who stands in the way of us being ruled by Donald Trump."
In response to this direct accusation, Assange said… nothing. Well, nothing about Russia. Instead, he tried to paint Maher as pro-Hillary. Then he stated that Wikileaks is trying to hack Donald Trump's tax returns, the ones the Republican nominee refuses to release to the public. Except that a few hours later on Twitter, Wikileaks said that was a "joke" and the organization is not, in fact, trying to get its hands on Trump's financials. If Assange's trying to deter speculation that he and Wikileaks are a Kremlin front, he's doing a terrible job.
To sum up, there's no evidence that NSA had anything to do with the DNC hack, while there's increasing evidence that the Kremlin and its Western pawns did. If NSA, America's most powerful and secretive intelligence agency, had anything to do with this scandal, they should be called out and prosecuted, and I hope the FBI is investigating that possibility, even if only to rule it out.
Right now, the Intelligence Community has the bigger problem of a GOP presidential nominee who possesses deeply troubling ties to Moscow. Hillary Clinton has given Moscow enormous amounts of compromising material—what the Russians term kompromat—with her non-existent email security, while Donald Trump has tight Kremlin ties that are terrifying America's national security establishment. No matter what happens on November 8, Vladimir Putin seems poised to win.
Disclosure: Donald Trump is the father-in-law of Jared Kushner, the publisher of Observer Media.
John Schindler is a security expert and former National Security Agency analyst and counterintelligence officer. A specialist in espionage and terrorism, he's also been a Navy officer and a War College professor. He's published four books and is on Twitter at @20committee.