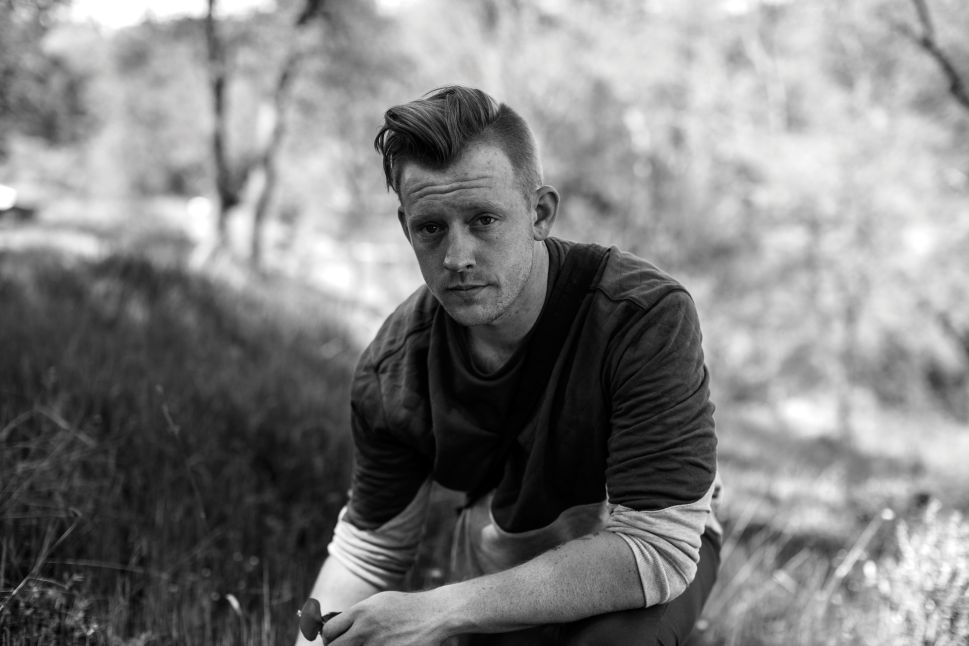 Sitting among the rows of olive trees in Australia's Yarra Valley, Chef Kevin O'Connor ambled from his makeshift kitchen toward our long table covered in white linens. He carried with him an olive oil carrot cake, the final chapter of our afternoon-long luncheon at Boundary Bend Grove that had included Kangaroo-stuffed bao buns paired with a "sweet and sour" sauce made from roasted grapes and pickled shallots, and acorn flour blinis topped with local salmon roe. This nearly-500 acre olive grove located outside of Melbourne is home to Cobram Estate, the Australian powerhouse producer of olive oil with a distinctly old-world image first established by Rob McGavin and Paul Riordan in 1998. Now, a small team, which includes Mr. O'Connor's role as "Chef at Large," is aiming to transform this household staple that supplies 70% of the olive oil consumed in Australia, into an upmarket accoutrement for stateside foodies. 
Though he is just 27-year-old, Chef O'Connor is a logical choice for this lofty, "at large" title given he's a wunderkind of sorts. At 14, he landed his first job in the kitchen of a local wine bar in his native El Dorado Hills, California, 40 minutes outside of Sacramento. "It was pretty fancy for a 14-year-old," he recalled over dinner at Chin Chin in Melbourne. "Then I had my big break in high school when I got hired part-time at Masque, which was started by this chef from Italy named Angelo Auriana. I would get out of school at noon, and would cook all night. That's where I found fine dining, and I realized if you're going to do something, do it proper. I also loved the hierarchy of the kitchen, and I wanted to find my place."
Like many chefs, he's eclectic, and the more time spent with him, the more one learns of his exploits that have guided his discovery of food over the past 13 years. There was his summer spent in the South of France at the age of 19 where he frivolously ogled at topless sunbathers and drove a Triumph Bonneville motorcycle, but also learned the basics of food ethics and local sourcing. "That put a lot in perspective for me," he said of his time living with several local families in small villages. "Even though I was in France, I focused on making modern American dishes, because I wanted to show them that American food is more than cheeseburgers. Ironically, I found that in France, and that's where I found my stride in my own food." 
He moved to downtown Sacramento in 2008 to live in a shared apartment with, oddly enough, a professional salsa dancer named Giana Montoya. He began at Mason's, which was, in his own words, "the coolest restaurant in town," but landed at ELLA under the direction of his now mentor, Chef Kelly McCown. It wasn't until 2009 though, at the age of 20, when Chef O'Connor garnered a fair amount of local buzz when he opened his a pop-up restaurant he called Tree House. "I didn't know it was a pop up, or know what a pop up was for that matter, until a local magazine asked me," he admitted. "I literally had to Google what a pop-up was, but at the time it was just friends from work and industry people. I would tell them to bring a bottle of wine or some ingredients, and if you didn't have anything to bring, you just brought 20 bucks. I eventually asked for less food and more wine and money, but it was still just this little underground food club." 
The unknowing pop-up creator then scored his first executive chef position at Blackbird Kitchen & Bar, also in Sacramento. He was just 23-years-old. "It was madness there," he said. "I was doing some pretty avant grade stuff, but I was 23 and just wanted to do whatever I felt. It was spur of the moment and crazy that they were letting a 23 year old run a restaurant, but I did that for 2 years, and totally burnt out. So I went to Montana and did a lot, I mean a lot of foraging and cooking with wild ingredients outside."
He returned from his Western stint ready to take on the sort of serious kitchen and fine dining experience he first fell in love with, opting for a role at Saison in San Fransisco, one of San Pellegrino's World's Best Restaurants, where he cooked over an open fire to create meals that often cost $1,000 per person. "It was a great experience, but put things in perspective for me," he said. "I realized fine dining isn't where I wanted to be. I like fun techniques and respecting great products, but cooking for 20 people per night who are paying 400 bucks each wasn't my cup of tea. I wanted to be more accessible, and I was sick of the bullshit around fine dining; not just the fact that it was inaccessible but the environment was just cut throat."
He was plucked from a year of freelancing post-Saison by Cobram Estate to produce their first harvest lunch at the brand's stateside grove in Woodland, California. The man spearheading Cobram Estate's U.S. expansion, Daniel Graeff, was wowed by Chef O'Connor's dishes. Among the meal's highlights were barbecued beef cheek with smoked potatoes and brassicas greens, and his first, and now signature, iteration of his olive oil carrot cake.
For Mr. Graeff, Chef O'Connor was one of the first chefs to celebrate the olive oil rather than just sautéing with it or adding it as a topping. "I thought it was just a catering gig," Chef O'Connor said of the meal. "After talking with them, we realized that I get what they're trying to do with the brand and we talked about doing something bigger, but people have food and wine and say some shit and get excited. I decided that I would wait and see what they had to say in a week." Just two days later, the call came that Mr. O'Connor has been chosen for a new role of Chef at Large for Cobram Estate Olive Oil, and in the midst of a breakup, he quit his post at Saddle Rock, an eatery he held partial ownership of, and joined the team. 
Despite his frequent travel, Mr. O'Connor still lives in Sacramento, in a 19th-century mansion owned by a local entrepreneur and longtime champion of his work. His spacious section of the home is complete with a claw-foot bathtub and a solarium. Given these luxuries, and the fact that he is very much a big fish in a small pond of Sacramento, he hasn't had much reason to leave, but it might finally be time for this promising young chef to fly the coop. Our second meeting, this time in New York, also marked his first visit to the city in his 27 years. "After being here for a week, I'm kind of asking myself why I never lived here," he said as we sat in a corner at The Standard East Village's Narcissa. "There's great food everywhere, and I feel like I haven't event scratched the surface. So, most of what I think about New York City now are dreams that I need to make come true very soon."