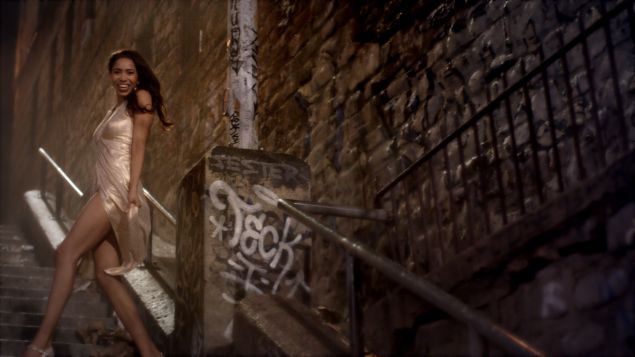 Welcome to our TV Fashion column, where TV Ate My Wardrobe's Emma Fraser discusses the trends in television apparel. This week: Throw on your disco shoes for Netflix's 70s-throwback, The Get Down. 
Just when it looked like the seventies fashion resurgence might be fading away, Baz Luhrmann's new Netflix project The Get Down is here to reignite this style influence flame. Pristine Pumas, red leather, a fur collared denim vest, white suits and an original Diane von Furstenberg wrap dress are a few of the standout garments from the first episode "Where There is Ruin, There is Hope for a Treasure." Spectacle and sparkle is a Baz Luhrmann signature, and the costume moment of this pilot embraces both these qualities as Mylene stands on a trash covered staircase in a jaw-dropping Halston inspired lamé halter neck gown with the highest of leg slits.
The trash instantly fades into the background, and Mylene is backlit like she is on stage with the streetlight providing the perfect star wattage. This is not Mylene's actual introduction, but it is the introduction to the kind of woman she hopes to be; a singing sensation with the outfits to match. Prior to this Mylene has been the more demure of her group of friends reflecting her strict parents' attitude to her wardrobe choices; while her friends where skin-hugging denim and back-baring halters, Mylene pairs a conservative top and knee-length skirt.
Sneaking out and wearing a forbidden outfit adds to this striking reveal; Mylene is not meant to be dancing the night away or planning for her future glitzy career. Love is not what is at stake here as it tends to be in Baz Luhrmann projects, and for Mylene all that matters is singing. This isn't the case for Zeke who refuses to claim ownership of a poem he wrote for school and share his talent with a wider audience. Instead he is all about the grand romantic gestures, but he makes the mistake of not recognizing his own self worth and lyrical skills.
Instead he focuses on some superficial aspects and his outfit is just as important for Zeke and getting into Inferno—the club where Mylene is trying to strike it hot with her demo tape—involves some heavy duty clothing decisions. Zeke's friend Ra-Ra hammers how important this is as he needs to get "Dressed to kill" and that means raiding the closets of the adult men in their lives. A jacket and boots matter; Converse just aren't going to cut it in this venue.
Zeke still looks young, particularly with the precious and much fought over Misty Holloway record clutched under his arm and pleading with the doorman with a fist full of money does nothing to get him in. Luckily there is another way, and The Get Down gets its very own standout romantic dance number that stops this first episode from completely sagging under the weight of its length.
There is something a little Des'ree "Kissing You" about this sequence evoking Romeo + Juliet and the fancy dress ball wooing via fish tanks and elevators (with a dash of Paul Rudd hamming it up while dressed as an astronaut)—a film that turns 20 this year and one that has been on my mind a lot of late because of nineties nostalgia. And a quick side note into my personal Baz Luhrmann's Romeo + Juliet feelings as being 14 when this movie came out meant I was crushing just as hard on Claire Danes (because of all things Angela Chase) as I was on Leo. Style wise it had an impact including the angel wings I longed to have (mine ended up looking more Hole esque), dramatic beret wearing desires and on a recent trip back to my parents' house I cleared out my teen clothes but made sure I kept the Hawaiian shirt I bought because of this movie.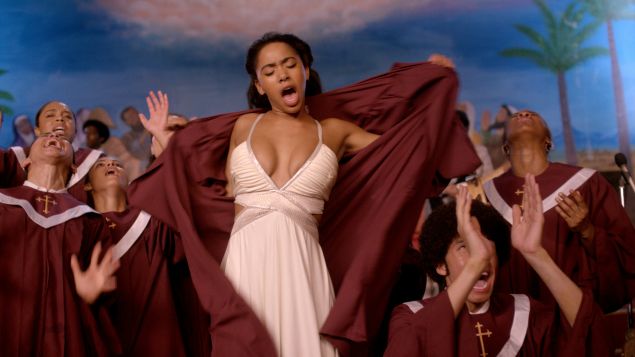 This is an entirely different scenario even if it ticks the Luhrmann dance number boxes as Zeke and Mylene already have an intimate relationship in part through music and because Zeke is head over heels in teen love with her. The staircase that delivered Mylene's dramatic entrance in the shimmering to perfection dress is also the place for heartbreak and a wakeup call. The near death experience and grand gesture might be enough for some, but Mylene has big dreams that stretch beyond this neighborhood and to her Zeke is a reminder of where they are and not where she wants to be. The outfit Zeke wears is that of a man, and yet all Mylene sees when she looks at Zeke is a boy, a boy who doesn't want to embrace his talent or plan his future. It doesn't matter that he has the words to explain how he feels, because his actions speak far louder than those. It isn't enough, and at this time, Zeke is not who or what Mylene is after.
Mylene's dream is to escape this neighborhood, and her voice is her vehicle to disco stardom. Her parents have very different ideas, and when she gets home, she discovers that her sneaking-out plan has been rumbled. She is greeted with a sheet to cover up her risqué dress and a violent attack from her father who wants to beat the evil out of her. Not exactly the most pious of responses. Mylene won't be silenced, and she later sings as the sun rises on the fire escape dressed in a simple white nightdress. Fame beckons, and disco queens like Donna Summer and fashion icon Bianca Jagger are still very present in Mylene's mind.
Costume designer Jeriana San Juan worked closely with Catherine Martin—Baz Luhrmann's regular costume designer and wife—to create the look of The Get Down with Halston being one of the go to brands used to recreate the disco scene. The gown Herizen Guardiola wears as Mylene in this first episode is a knockout, and San Juan talked to WWD about the origin of this piece explaining, "It was a white sequined dress, it very much had some wear-and-tear and was almost to shreds, but I loved the design of it and when Herizen tried it on, it looked divine. So with a few little tweaks we copied the design in a jersey."
As we know from talking to The Americans costume designer Katie Irish you can't always get exact vintage, but costume designers will always strive for the nearest thing. San Juan has previously worked on The Americans, and her experience in pulling vintage stock has come in very handy here.
It isn't just Mylene that stands out in her disco attire as her friends Regina and Yolanda look just as daringly creative in turquoise thigh baring sparkly creations and gold revealing jumpsuits. For all the narrative and structure messiness of this first episode you can't falter the look of the project, and this is what keeps me interested in all things Baz Luhrmann; from his highest of highs to the projects that are more miss than hit, he sure does know how to create a decadent party sequence. Sequins are a must and what era better suited to sparkle than disco. And no matter how much her parents try to stop her, Mylene is going to shine. Can Zeke catch up and prove his love goes deeper than words he can't currently back up?
Emma Fraser is the creator of TV Ate My Wardrobe and spends most of her time writing about TV, fashion and costuming; Abbi and Ilana's Broad City style, the wigs on The Americans and Mindy Lahiri's pajamas are just as vital as talking about '90s, '00s teen shows. Emma has a MA in film and television, and she probably holds Angela Chase responsible for this path. You can find her on Twitter @frazbelina.