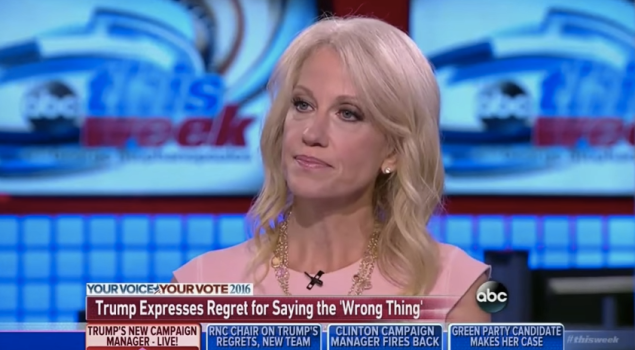 If Donald Trump refuses to debate Hillary Clinton three times this fall, perhaps the Republicans and the Democrats could produce an appealing undercard of campaign managers: a 90-minute, pay-per-view argument between Kellyanne Conway for the red side Robbie Mook for the blues.
Both are accomplished spin doctors who can out-talk most talk-show hosts while firing out talking points, as they demonstrated Sunday on the current-affairs shows. Mook went heavy on innuendo on behalf of Clinton during This Week with George Stephanopoulos on ABC.
"The hand of the Kremlin has been at work," Mook said. "It is clear that they are supporting Donald Trump."
His conclusion must have been cobbled together from several bits of evidence. One is Trump's frequently voiced admiration for the Russian President, Vladimir Putin, whose political foes are ending up dead at an accelerating pace, according to The New York Times.
Another might be the financial ties between Paul Manafort and Ukrainian politicians friendly to Russia, another Times revelation that preceded Manafort's abrupt resignation last week as Trump's second campaign manager.
And then there was the hacking and subsequent leaking of emails from the Democratic National Committee, believed to be the work of Russians at least allied with their government. Mook said Trump needs to explain how much the Kremlin is at the core of his campaign. And there's more, he said.
"There is a web of financial interests that have not been disclosed," Mook said, "and there are real questions being raised about whether Donald Trump is just a puppet for the Kremlin in this race."
Stephanopoulos sounded surprised.
"You're saying Donald Trump is a puppet for the Kremlin?" he asked.
"Well, real questions are being raised about that," said Mook, who added that Trump has been "parroting Vladimir Putin" and talking about taking the United States out of NATO, a move that might invite Russian aggression beyond the recent annexation of Crimea from Ukraine.
Mook said Trump should disclose all of his financial ties to Russia and tell whether his advisers are meeting with the Kremlin. And that's not all.
"Donald Trump needs to release his taxes," Mook said. "He needs to explain his financial ties with Russia." Later, Mook said "countries like China" have financial leverage over Trump, who does business with their bankers.
As for the debates, Trump has insisted two of three should be moved because they conflict with early-season pro football games. The debates are scheduled for Monday, Sept. 26; Tuesday, Oct. 4; and Sunday, Oct. 9.
"The dates are the dates," Mook said. "The debates are the debates. These rules and these dates were set a long time ago. Let's just get on with it. Nobody's ever argued over the rules. This is typical Donald Trump. I don't know if he's afraid to debate."
Conway, promoted this week to fill Manafort's role, told Stephanopoulos in a different segment that the campaign was discussing the debates and preparing for them. She was asked about Trump's expression of "regret" last week for some of the things he's said on the campaign trail for more than a year.
STEPHANOPOLOUS: "Is Donald Trump sorry for what he said about the (Gold Star) Khan family? Is he sorry for what he said about John McCain? Is he sorry for what he said about Judge Curiel?"
CONWAY: "He's said that he regrets causing personal pain to those who feel it based on the things that he has said."
She also said "this is exactly what people love. They love humility. They love accessibility. They love authenticity." Yes, she was talking about Trump. She said it with a straight face. And she praised his "outreach" to the African American community, where his support has polled as little as one or two percent.
She didn't seem too concerned that Trump's vision for blacks was offered during rallies last week before mostly white supporters in the suburbs of Milwaukee and Lansing, Mich.
"He's bringing the case right to communities of color in Michigan," Conway said. "I live in a white community. I'm white. I was very moved by his comments."
Among Trump's comments to gain black support were:
"You're living in poverty. Your schools are no good. You have no jobs. Fifty-eight percent of your youth is unemployed. What the hell do you have to lose?" And: "The African-American community has been taken for granted for decades by the Democratic party. We reject the bigotry of Hillary Clinton, which panders to and talks down to communities of color and sees them only as voters."
Both campaign execs also appeared on CNN's State of the Union, where Dana Bash subbed for Jake Tapper. She asked Conway about how she said in the past that Clinton "could not stand up to a cheating husband. So how in the world would she stand up to North Korea and some of our enemies around the globe?"
BASH: "Were you suggesting that someone who reconciles with a cheating spouse is weak?"
CONWAY: "No."
And what about the "deportation forces" Trump threatened to use on undocumented residents?
"To be determined," Conway said.
'This is a man who talked about punching Michael Bloomberg in the face.'
Bash asked her about the help being given to Trump by Roger Ailes, who was fired this summer as emperor of Fox News after a sexual harassment lawsuit by Gretchen Carlson prompted many allegations of sexual pressure by Ailes against many women.
BASH: "So, just to be clear, is Roger Ailes actively advising Donald Trump at this point?"
CONWAY: "He has no formal or informal role with the campaign . . . Roger Ailes is a genius when it comes to television."
Mook also told Bash that Clinton is preparing for the debates. When Bash asked who would play the role of Trump in rehearsals, Mook replied: "It's very hard to find someone to mimic the reckless temperament and the hateful instincts and the divisive instincts of Donald Trump."
Hand me the remote . . .
FACE THE NATION Sen. Jeff Sessions visited host John Dickerson to again voice support for Trump who met, Sessions said, with Hispanic leaders last week. Asked about his threat to deport 11 million undocumented residents—many of them Hispanic—Sessions said "He's wrestling with that."
Two other guests were Michael Kranish and Marc Fisher, authors of the new book Trump Revealed. Fisher said of Trump: "When he succeeds, it's all about Trump, the magic, the brand . . . When he fails, it's the system is rigged, it's other people's fault . . . People don't get paid. He stiffed a number of venders and contractors."
On the pundit panel, Jennifer Jacobs of Bloomberg noted the change in Trump last week under Conway.
"The code words we were hearing this week were things like 'Love each other,' 'regret' and 'unity,'" Jacobs said. "So he's changing his tone."
She added that Trump will be "showing up in some odd places, I'm told" for the rest of the campaign.
Dickerson seemed intrigued.
"Odd places like what?" he said. "Like Canada?"
Ezra Klein wasn't impressed by talk that Trump might ease his stand on immigration, his defining issue.
"It seems to me to be a strange pivot to make in your messaging when your argument becomes 'If you do not like my position on immigration, well, the good news is you also can't trust me,'" Klein said.
Dickerson also introduced a Frank Luntz focus group, the kind seen in previous years only on Fox.
As always, a couple dozen regular citizens sat on a rising platform and spoke bluntly. Several said they liked Trump at first but have backed away.
"He's become outrageous," said a woman in glasses and a purple blouse. "He speaks without thinking."
A bearded man said "He's been running as a 12-year-old and changing his positions every news cycle."
A fellow in a golf shirt said Trump "says things that are crazy . . . Is this the kind of person I want to handle the nuclear codes? No way."
FOX NEWS SUNDAY Subbing for host Chris Wallace was Shannon Bream, who managed to work a Trump ad into the first five minutes while talking with former New York City Mayor Rudy Giuliani, a Trump surrogate.
"In Hillary Clinton's America, the system stays rigged against Americans," the voice in the ad said above sad, slow piano notes. "Syrian refugees flood in. Illegal immigrants, convicted of committing crimes, get to stay, collecting Social Security benefits, skipping the line. Our border's open. It's more of the same but worse."
Over the voice, the video showed cops arresting bad guys and dozens of people riding on top of a train. With this, the sound track offered a brief, startling train whistle.
Bream suggested the commercial used "scare tactics" but Giuliani brought his own.
"They are going to hide terrorists with them," Giuliani said of Syrian refugees.
Then this exchange.
GIULIANI: "The Clinton campaign has no campaign. She hardly appeared this week. I don't know where she was."
BREAM: "Then why is she doing so well in the polls?
GIULIANI (pause): "Why?"
BREAM: "It's working for her."
People who support her, Giuliani said, should read a right-wing column in the New York Post because "She has an entire media empire that constantly demonizes Donald Trump."
But when Giuliani said Clinton may be suffering from various mysterious illnesses, Bream cut in with "Her campaign and a number of people defending her saying there is nothing factual to the claims about her health and that's speculation at best."
Giuliani was undeterred, urging people to search the internet for videos supporting his allegations. He also said that if he were still a U.S. Attorney "I would probably indict the Clinton Foundation as a racketeering enterprise."
When Bream pushed back by saying the Foundation is not under investigation and calls itself clear and transparent, Giuliani replied: "That's the biggest bunch of garbage I have ever heard. They are, I believe, under investigation. There was a leak of that just the other day."
STATE OF THE UNION Louisiana's Democratic Governor John Bel Edwards spoke of the flooding in Baton Rouge and of his conversation about it with President Obama. The president didn't want to come last week, the governor said, because it diverts too many first responders to security duty around the president. Obama will be there Tuesday.
On the pundit panel, Symone Sanders—who was press secretary for Bernie Sanders—was not impressed by Trump's "outreach" to African-Americans.
"A little bit of rhetoric from Donald Trump is not going to erase what we already know about him," she said.
Sanders, who is black, added that Trump has turned down speaking invitations from the NAACP, the Urban League and black and Hispanic journalists.
"It's not only disingenuous but downright insulting the way in which Donald Trump has chosen to do this—quote-unquote—outreach," she said, adding that Trump thinks all black Americans are poor.
Gove. Martin O'Malley of Maryland scorned Trump's appeal to blacks to return to the party of Lincoln.
"Donald Trump's immigrant-bashing and racist rhetoric could make Lincoln roll over in his grave," he said to fellow panelist Corey Lewandowski, Trump's first campaign manager, who has landed as a Trump-supporting commentator at CNN.
"I don't think that was really outreach," O'Malley said of Trump's racial initiative. "It was the reinforcement of a stereotype about black people."
Which brings us to a race joke the late Muhammad Ali loved to tell.
Q: "What did Lincoln say after he was drunk for four days?"
A: "I freed the WHO?"
THIS WEEK Speaking of race relations was Jill Stein, presidential candidate of the Green party, who told Stephanopoulos the nation needs a "truth and reconciliation" commission to heal racial wounds.
She referred to "This ongoing climate of fear and racism which, in many ways, has been a continuous line since the institution of slavery, lynchings, Jim Crow and so on into the mass-incarceration and the epidemic of police violence."
As for climate change, she predicted more "fires, flooding, heat waves." Of popular anger among the losers in the feast-or-famine economy, she said "People are being thrown under the bus and they're tired of a rigged political system and they don't like the two choices" (for president).
"People have been told for quite a while 'Vote against who you're scared of,'" she said. "Democracy needs a moral compass . . . it's been a race to the bottom."
RELIABLE SOURCES Brian Stelter led his CNN show about the media by interviewing Ken Stern and Kurt Bardella about Trump's week and particularly about Trump's hiring of Stephen Bannon from Breitbart. Stern wrote a perceptive piece for Vanity Fair about Bannon and Bardella is a former spokesman for Breitbart.
Stern said Bannon, the new "chief executive officer" of the Trump campaign, is "a fascinating character . . . hitting tropes and stories that get his audience going in very vitriolic ways."
Bardella said Breitbart is "the de facto super-pac of Donald Trump. They've been the rapid-response arm of the Trump campaign."
When Stelter suggested "you're saying it's even farther to the right than Fox News, Bardella replied: "Oh, my gosh! They make Fox News look like MSNBC."
Stern, the former CEO of NPR said of Breitbart "They hate Fox News. They hate the Republican establishment."
Stelter asked Stern "Ken, do you think it's a problem for the Trump campaign to have Ailes's name keep coming up, given the controversy, including the general harassment allegations against Ailes?"
Stern replied "That's probably the least of the challenges of the Trump campaign."
MEDIA BUZZ On Fox News, one guest of Howard Kurtz was Leslie Marshall, a liberal radio talk show host who was not convinced by Trump's "regrets" statement of last week. Her complaints included "No actual, specific apology" and no specifics as to whom he had offended and what he feels remorse or regret about.
"This is a man who talked about punching Michael Bloomberg in the face," she said of Trump. "This is a man who cared about himself after the Orlando terrorist attacks."
More than a week late, Kurtz got around to the rumors in right-wing circles about Clinton's health that appeared on Fox News Channel. He showed a clip of Sean Hannity presenting short film clips of her stumbling or showing unusual head movements. Hannity has wondered aloud if there might be something wrong with her brain.
Krystal Ball, another panelist, said: "It's absolutely irresponsible for outlets to be pushing this when there is absolutely no proof that there's any issue here. The pictures are taken out of context. There's just no 'there' there."
She said she doesn't love Clinton but will probably vote for her. She returned to the health rumors, spread on extreme right-wing web sites and no legitimate "news" operation, unless a viewer considers Hannity to be that.
"This just doesn't make any sense," Ball said. "There is nothing to it and I think it's disgusting that outlets would mislead their viewers."
Disclosure: Donald Trump is the father-in-law of Jared Kushner, the publisher of Observer Media.