"I'm not being enigmatic," Elvis Costello said the other night at St. Francis College in Brooklyn, as he took off his trademark dark-framed glasses and slipped on shades. "The lights are just bright."
"We could turn off the lights…" responded actress Mary-Louise Parker.
On cue, the auditorium darkened. When Mary-Louise Parker asks you to do something, you do it.
Parker and Costello were in Brooklyn on July 26 to shed light on the craft of memoir writing. Parker's book, a collection of hypothetical "thank you notes" written to men from her past, present and future entitled Dear Mr. You, was released in paperback in June, while Costello published his 674-page autobiography, Unfaithful Music and Disappearing Ink, last October to acclaim. "Most rock autobiographies," wrote Dwight Garner in The New York Times, "seem tossed off and phoned in: tour souvenirs. Not this one."
The pair had closely read each other's work; the actress quoted passages back to Costello, surprising the songwriter who "never anticipated anybody would read it." Why anyone would want to is beyond him: "It's been hard enough to live this life without anybody else having to live it, too."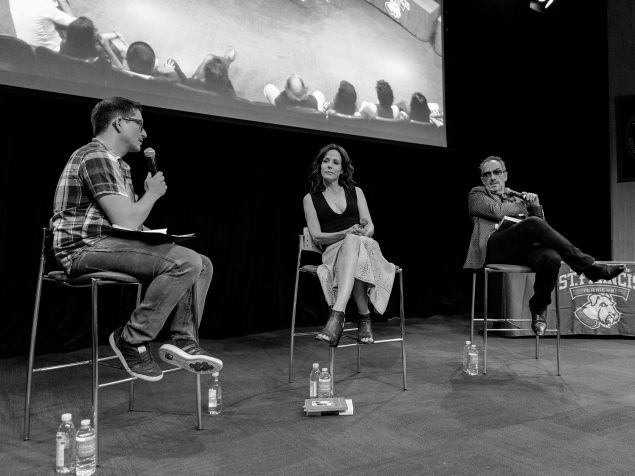 The self-effacing Costello, who sat on the stage folded over, arms and legs crossed, angled away from Parker and moderator Jason Gots (creator of the Big Think podcast), praised Dear Mr. You, describing it as "unstinting in its intimacy, both emotional and physical." He cited Parker's letter "Dear Oyster Picker," which frames her father's death as an appreciation of the farmer who grew what ended up being his last meal, as encompassing "a whole book's worth" of emotion and scope.
Parker noted that she doesn't believe in endings. "Definitive punctuation is completely overrated," she said, her dark eyes darting around the room. "The moments were cracked open–they weren't hatched completely." And framing the book as letters allowed her to not really write about herself—instead, she's "just the device."
Indeed, Parker insisted her book isn't even a memoir. "If it were, it would be a pretty crappy one," she told the Observer in a phone call after the event, saying that the real story of her life would include more women in it, not to mention accounts of her acting career. "I hated that it was called [memoir], because that's really all an actress would be expected to write. But you can't really put it on the table at Barnes and Noble with the sign 'Epistolaries.' "
A rose by any other name. If Parker chooses, Dear Mr. You could someday serve the same purpose for which Costello plans on using Unfaithful Music and Disappearing Ink: "I'm glad I've got it all down there because one day, when I can't remember any of it, I'll be glad that someone can read it to me.
"Hopefully," he added, "somebody kind—and wearing a nice nurse's uniform."