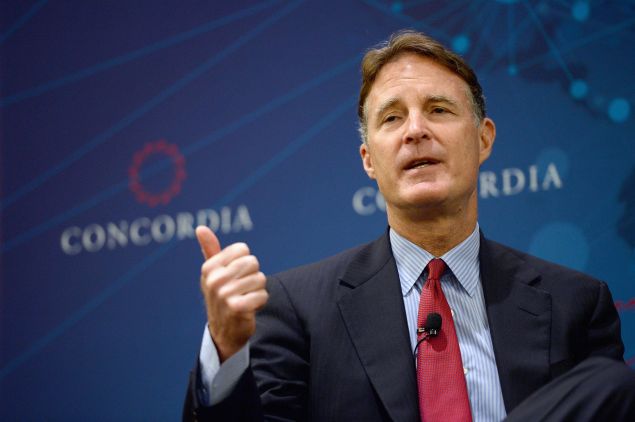 ---
Evan Bayh is an anomaly. He is a Democrat who won statewide office in the reliably-Red state of Indiana four times; twice as governor, and twice as a United States senator. In 2010, he was a popular and highly-regarded senator poised for election to a third term, and frequently mentioned as a serious contender for national office after the Obama years—but he walked away from the office office, disgusted with the kindergarten-like partisanship in Washington against which he had consistently railed. The privileged son of a father who himself served as United States senator, he has somehow retained the small town politeness and quiet reserve imparted by his Midwestern heritage.
Bayh refused to join the leftward tilt of much of his Democratic party, particularly on issues of foreign policy and national security, and was a Fox News contributor for over five years after leaving the Senate in 2011. Now Bayh's decision to re-enter political life and run for an open Senate seat has been greeted with widespread support among Hoosiers. According to a recent Monmouth University poll, while Indiana voters favor Donald Trump over Hillary Clinton by 11 points, they favor Bayh over his GOP opponent, U.S. Representative Todd Young, by seven.  
He is also the rare politician of national stature who has repeatedly, forcefully admonished both his colleagues and American citizens for harming the Republic with their hyper-partisanship.  
"The most ideologically devoted elements in both parties must accept that not every compromise is a sign of betrayal or an indication of moral lassitude," he wrote in in a 2010 New York Times Op-Ed explaining why he was getting out of politics. "When too many of our citizens take an all-or-nothing approach, we should not be surprised when nothing is the result."
Bayh is an astute analyst of how each party's fundraising apparatuses are firmly controlled by hardliners, who brook no departure from maximalist orthodoxy of the most bitterly partisan variety. People who are quite prepared to make those disposed to try to find middle ground with the "other side" pay with their political careers, if necessary. All the key fundraisers have to do is threaten to take the knees off those who have the temerity to stray toward the political middle by withholding campaign cash, and, if need be, recruiting and funding primary challengers. "The money tends to reward the uncompromising," Bayh told the Observer. "And the loudest voices are the most extreme."  
"It's the primary that decides who the winners are," says Bayh, citing what befell his friend and former colleague, fellow Indiana Sen. Richard Lugar. Lugar, a moderate Republican who was the virtual model of a statesman—respected by senators on both sides of the aisle—was defeated by over 20 percent in a Republican primary by his Tea Party challenger in 2012, despite supporting Republican positions on the major issues.
"[Lugar] didn't vote with Obama on any of the major legislation associated with him," says Bayh. "Not the Affordable Care Act. Not the economic recovery legislation [of 2009]. It was the minor heresies that did him in. The older members look at that and are afraid. They're afraid to work with the other side."
In the Senate, Bayh was not shy about staking out a centrist position that stood apart in a national Democratic party filled with its share of primary voters who have seem to remember only half of Barry Goldwater's infamous credo that extremism is no vice and moderation no virtue. Bayh founded the Moderate Dems Working Group, a notably small caucus of moderate Democratic senators whose stated goal was "to craft common sense solutions to urgent national problems."
He was an early proponent of sanctions on Iran, introducing legislation back in 2006. The next year he supported the bipartisan Kyl-Lieberman Amendment which called for enhanced penalties for the country. He was joined in his support by then-Sen. Hillary Clinton, who was derided by then-candidate Barack Obama for taking a tough position on Iran which, according to Obama, was simply "Bush-lite."  
"To deny … [Iran's] virulent anti-Semitism, their sponsorship of terrorism, their search for a nuclear weapon, ought to be a wake-up call to every American," Bayh said [then, I assume], daring to take issue with the growing slice of the Democratic party that regards even acknowledging foreign threats, let alone confronting them, as So Yesterday. "Appeasement won't work."
A youthful 60, Bayh is exasperated—or as exasperated as a well-mannered Midwesterner will permit himself to seem—at how a willingness to compromise has fallen out of favor not only in Washington, but throughout American civic society. "The genius of America is that we're all different," he says. "The Constitution itself was a compromise." Asked if the partisan vitriol in the nation's capital has gotten worse over the last 20 years or if it just seems that way, Bayh answers quickly. "It's gotten way worse. And it's gotten even worse since I left."
When Bayh left the Senate in 2011, several of his Republican colleagues made a point of crediting him for his willingness to chart an independent course. "What I will remember most about Evan Bayh is the civility and bipartisanship he has shown me," said Tennessee Republican Lamar Alexander. "You could always find him in the political center looking for a compromise agreement that would benefit everyone involved," said Wyoming Sen. Michael Enzi. "I have always thought he would agree that it is better to get half of the loaf rather than none at all—especially when the achievable half is the part that is needed the most."
After he left the Senate, Bayh joined former Republican Utah Gov. Jon Huntsman and former Independent Sen. Joseph Lieberman as the Democratic co-chair of No Labels, a Washington, D.C. based organization that describes itself as "a national movement of Democrats, Republicans and Independent voters dedicated to a new politics of problem solving," which is "focused on building a durable bipartisan bloc in Congress."
No Labels has set its sights on bringing members of Congress together to address four specific policy goals: creating 25 million new jobs by 2026, securing Social Security and Medicare for the next 75 years, balancing the federal budget by 2030 and making America energy-independent by 2024. They have thus far signed up 80 House and Senate members, and have taken on the problem of partisan toxicity with determination leavened by good cheer. "We can't let party affiliation be the enemy of productivity and progress," says Margaret Kimbrell, its executive director.
With both major presidential nominees encumbered by stratospheric unfavorability ratings, and the political discourse marred by vitriol that has never seemed more juvenile, it isn't clear what "the morning after" this November's election looks like for those who, like Bayh and Maine's Sen. Susan Collins, feel strongly about replanting seeds of bipartisan cooperation in a capital that resembles a political war zone. The pattern has been ever-escalating partisanship, with those presently in power administering pay-back for the previous round of pay-back.  
'Members need to ask themselves if they want to work in a body that has a 15 percent approval rating.'
Bayh, who has not exactly fallen off the proverbial turnip truck—and knows more than enough to be skeptical—sees two issues on which Democrats and Republicans might be brought together in the near term.
The first is college affordability, an issue that has long been dear to Bayh. As governor, Bayh created the 21st Century Scholars Program, which provides students full-time tuition scholarships in exchange for remaining alcohol, drug and crime-free, as well as maintaining a 2.5 grade point average. It is a fitting testament to the goodwill Bayh has built across the political divide that the present Republican Governor of Indiana, Mike Pence, issued an Executive Order not long before becoming Donald Trump's running mate naming this successful program after Bayh.
"Thanks to the vision of former Governor Evan Bayh, more than 25 years ago," Pence said, "tens of thousands of Hoosier students have taken advantage of the 21st Century Scholars Program as a way of achieving their goal of going to college."  
The second issue is reducing the corporate tax rate. Bayh is convinced that habitual Republican support for reducing tax rates can be married to Democrats' concern for bringing jobs back into the United States, and repairing crumbling infrastructure. He believes that a portion of some $1 trillion in potential revenue that has fled overseas can be retrieved if corporate tax rates can be reduced.  
"Members need to get up in the morning and look in the mirror and ask themselves if they want to work in a body that has a 15 percent approval rating," says Bayh. He still holds out hope that, post-election, a core of like-minded senators and representatives from both parties can establish a critical mass to pull center-ward politicians who recognize that the descent into a permanent partisan abyss is awful for the country.
His own propensity for building friendships with colleagues from across the spectrum is helpful. "On the House side you have a very thoughtful, principled speaker, a good human being, and honest," he says. "I know that because I remember getting a phone call from a member of the House from Wisconsin some years ago. It was Paul Ryan, saying 'maybe we can work together.'"
"This is a season for governing," says Bayh. "It's not because I place faith in politicians. It's just that the public has had enough." One part energized by six years in the private sector, and one part disgusted by the status quo, Evan Bayh is ready to return to public life.  
Jeff Robbins served as Chief Counsel to the Democratic Senators on the United States Senate Permanent Subcommittee on Investigations. Twice appointed as a United States Delegate to the United Nations Human Rights Commission under President Clinton, he is an attorney in Boston. Follow him on twitter: @jeffreysrobbins