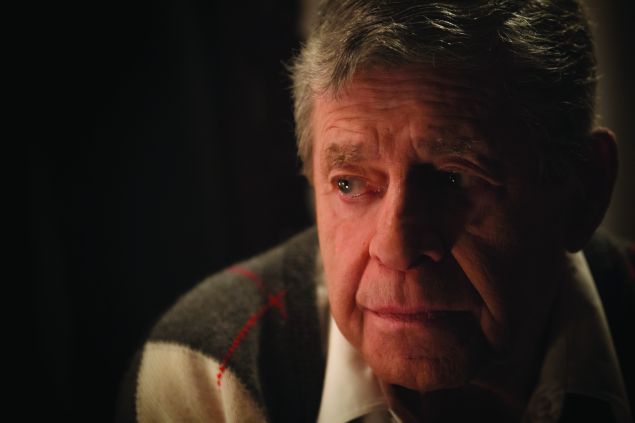 The vulgar, overbearing style of the phenomenon called Jerry Lewis has never appealed to me, but hidden in the rafters of his broad, obnoxious brand of comic violence has also been a lurking sensitivity waiting to get out. He's played a few dramatic roles before, including Martin Scorsese's The King of Comedy (1982) and the most eagerly awaited film of his career, which he has never allowed the world to see—an epic of controversy called The Day the Clown Cried (1972) in which he played a clown in Auschwitz who lured little children into the gas chamber. I'd pay real money to see that one. Meanwhile, his wide, varied palette has never been more evident than in Max Rose, a tender showcase for a different kind of Jerry Lewis that utilizes the strengths and frailties of a 90-year-old show business survivor as few films have ever done.
---

MAX ROSE ★★★
(3/4 stars)

Written and directed by: Daniel Noah
Starring: Jerry Lewis, Kerry Bishe and Kevin Pollak
Running time: 83 min.

---
Bulbous and stooped, his touching portrayal of the challenges of old age is beyond expectation. With grainy eyes staring blankly into space, his tongue protruding slightly to show fatigue, Max Rose, a once-famous jazz pianist, is in the December of his years. At 87, after 65 years of marriage, his beloved wife Eva has died, leaving him lost, bewildered, angry and rudderless. Shown in flashbacks, Eva (the elegant, patrician Claire Bloom) was a life partner who gave him life support. Now, struggling with even the most common of household tasks, he can scarcely open a can without her. His estranged son Chris (Kevin Pollak) and loving granddaughter Annie (Kerry Bishé) try to help but meet constant rejection from the cantankerous Max, a psychological portrait of an octogenarian in despair. As the days painfully dwindle, like irritating raindrops on tin, Max gives up on life and moves reluctantly into an assisted living facility where he bonds with another resident (Mort Sahl) and a social worker (Illeana Douglas) tries to interest him in meaningless activities. Then one day, everything changes. While sorting through the mementos his wife left behind, he finds a gift from another man she had hidden since 1959, and it unhinges him. Was Eva unfaithful and their marriage a sham? To keep his mind and body moving, Max tracks down her secret lover, who turns out to be not a rival but just another old man, this one in the terminal stages of emphysema (a wrenching performance by an unrecognizable Dean Stockwell), and Max faces the reality of life vs. death, redemption vs. surrender and acceptance vs. defeat. The ending has elements of schmaltz that I predict will induce mixed reactions.
Max Rose was completed three years ago and unveiled at the 2013 Cannes Film Festival to a scathing critical reception. Variety labeled it "excruciating." Although far from what I'd call an unqualified artistic triumph, I must disagree with such a harsh assessment. (The film has now been completely recut and is being released in an entirely new version that is different from the one that was shown in Cannes.) Movies about senior citizens usually spell box-office calamity, but I like the way this one treats the fear of aging and life's inevitable third act with the dignity it deserves. First-time writer-director Daniel Noah lacks the experience necessary to flesh out three-dimensional personalities in less than an hour and a half, but I like the sympathetic way he treats his characters (well played by a uniformly polished cast) without excessive sentimentality. I also applaud the lack of bug-eyed grotesqueness that typifies Jerry Lewis films in general and admire the way he uses his own loss of hearing, eyesight and dexterity to such good advantage. Maybe not a historic achievement but a gentle reminder that age has its advantages at the movies.