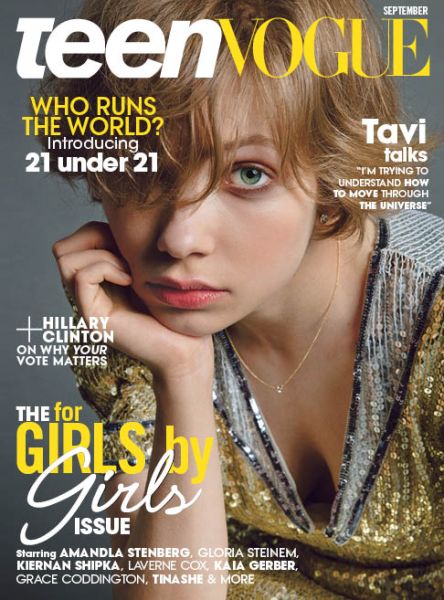 Start your weekend informed with a dispatch on the top fashion news of the moment…

Cool teens only: The new team behind Teen Vogue has stepped out to talk about their new product–and how they plan on getting teens to buy their magazine. Editor Elaine Welteroth, digital editorial director Phillip Picardi and creative director Marie Suter selected Tavi Gevinson for the mag's September cover; within the pages she is interviewed and styled by Grace Coddington. via Business of Fashion.
Fast money: Fast fashion is turning out to be very profitable for the CEOs that own these affordable clothing companies. Stefan Persson, chairman of H&M is the richest person in Sweden, with $20.2 billion and Tadashi Yanai, founder of Fast Retailing Co., holds the same title in Japan, to the tune of $17.1 billion. via Quartz.
Cover gal: This season there's a ubiquitous cover star and it's not a top model or A-list celebrity, it's Balenciaga. The range, designed by Vetements' Demna Gvasalia, has graced the cover of Elle Hong Kong, China's Vogue Me, Vogue UK and Glamour. via Fashionista.
Offline: Everlane, the previously online-only boutique, has set down roots in San Francisco. This is in spite of the company saying that they will never open a brick and mortar shop. Naturally, the design is very minimal, with plenty of crisp white walls and quite a bit of wood detailing. via Racked.
Move over Kylie: Pat McGrath is the latest makeup sensation to debut a lip kit. The makeup artist's version, however, is chock full of sparkles and glitter. Mark your calendars for August 30 at noon, when it drops on McGrath's site. via Vogue.