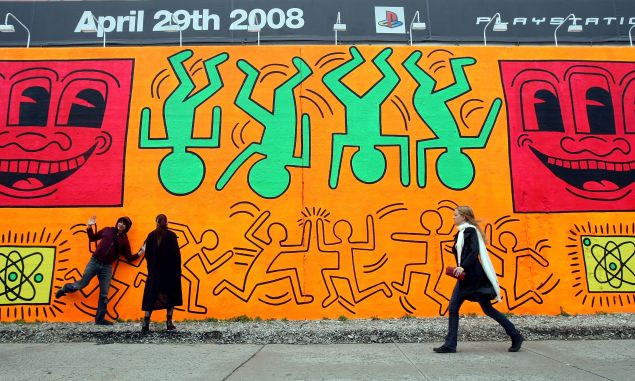 Fate of a Keith Haring mural in Morningside Heights building unclear as tenants are forced to vacate. Haring painted the mural between 1983 and 1984, when the building was leased by a Catholic youth group. Today, the building is owned by the local Roman Catholic Church of the Ascension, which asked rent stabilized tenants to vacate by August 1 due to "financial problems." According to residents, developers have been seen visiting the property.
The art world has been plagued with a wave of vandalism by curious people who can't help themselves from touching. Art viewing 101 often includes the disclaimer "do not touch the art." But apparently, some art lovers have forgotten that rule, which has resulted in a slew of disastrous incidents wherein museum visitors have damaged and destroyed priceless artworks.
A secret group of designers are making art for scientists at the Jet Propulsion Laboratory. A group of designers with backgrounds in film special effects, anthropology and illustration are helping scientists to visualize the surface of faraway planets, designs for spacesuits and artworks based on data collected from space. It sounds like they have the coolest jobs ever.
Do more billionaires mean more art buyers? There are more billionaires in the world than ever before, according to the latest census taken by Wealth-X. And since billionaires have an affinity for buying art, art market blogger Marion Maneker wonders what this means for the global art market.
New clues discovered in Belize shine light on mysterious Mayan "snake dynasty." Archaeologists have found the largest royal tomb to date among Mayan ruins in Belize that contain hieroglyphic panels with mentions of a "snake dynasty" that may have been in power 1,300 years ago. The tomb, which is noted for being architecturally unusual compared with other Mayan burial chambers from the same era, contained beads, ceramic pots and human and animal remains.