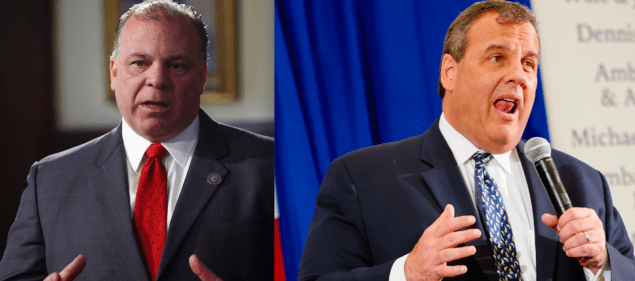 With the standoff between Governor Chris Christie the Democratic majority in the legislature showing no signs of progress on funding New Jersey's Transportation Trust Fund, the rancor between Chrisite and State Senate President Steve Sweeney (D-3) is coming to a head.
As Sweeney faces pressure from one of the state's most influential public unions and Christie fields criticism for his executive order halting all non-emergency repairs, the TTF has become the biggest stumbling block for both men's political future.
Sweeney told reporters this week that he believes Christie is holding up the process until he can secure a place in Republican presidential nominee Donald Trump's cabinet. Christie could be holding out for an Attorney General nod.
"I actually think the governor's going to wait until after the presidential election to do something, because he's still auditioning for Donald Trump's cabinet and signing any kind of tax increase or being overridden on a tax increase won't be popular in his party," Sweeney said.
Christie said in a State House press conference the next day that he expects a compromise to come soon — and one that meets his long-held criteria of "tax fairness."
"People have to get in a room and negotiate, and everybody is going to have to give a little. That's the way it always works. So this is no different and no more critical or no bigger crisis  than other things we've dealt with before over time," he continued. "I'm the first governor in 27 years who  has said they're willing to entertain a gas tax.
"He needed something to say yesterday and he said it," Christie said of Sweeney. "That's fine."
Christie favors a plan that would offset a 23-cent per gallon gas tax hike with cuts to the sales tax, while Sweeney and his allies in both houses are pushing for a plan that would phase out the estate tax instead. Christie's plan could cost the state as much as $1.9 billion by 2022, while Sweeney's would cost about half as much.
Sweeney has said that the price tag for the sales tax cut would make his own proposal to constitutionally require quarterly payments into the state's underfunded public pension system impossible. Though the Senate President had planned to put that constitutional amendment to voters on this year's ballot, the stalemate with Christie over the TTF could push it back.
Weighing his own gubernatorial run for 2017, Sweeney has reason to try and distance himself from Christie, with whom he has had to negotiate on public pension cuts at his own peril. Sweeney's support from the NJEA, one of state Democrats biggest sources of campaign cash, could be in danger if he does not successfully reach a compromise that minimizes the hit to the state budget and opens the door for the pension amendment.
The NJEA has already told various county Democratic organizations that it will withhold campaign contributions until the pension amendment goes to a vote in the Senate. Sweeney was booed at the end of Monday's Senate session, when he declined to post the bill.
"There's no way in the world I'm going to put a hole in the budget," Sweeney said after that session. "I would rather take the hollering from them than totally screw the next administration, no matter who it is. You would destroy the budget of the state of New Jersey. You would be cutting education funding. Forget trying to pay for the pensions, you couldn't pay for them."
Christie, for his part, rejected the notion that his stance on the gas tax has anything to do with his aspirations within the Trump campaign, where he is already the leader of the candidate's transition team. He cited his support for the sales tax plan, which passed in the Assembly with the support of Speaker Vince Prieto (D-32) before the Speaker pivoted back to supporting the estate tax phase-out.
Increased economic activity, Christie argued, would make up for the losses in sales tax revenue.
"If the Senator would have passed it in his chamber, I would have signed it," Christie said. "This has nothing to do with national politics because if it did, I wouldn't have said that I was for that one.
"As I've said for two years, any package that I sign will represent tax fairness to the people of New Jersey. And if it doesn't, I won't sign it."