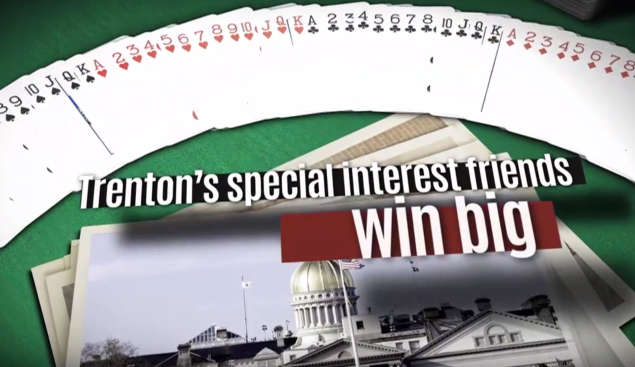 The public campaign over North Jersey casinos is beginning in earnest. Ads from groups for and against expanding casino gaming into North Jersey start airing this month in the run-up to a November ballot question, when voters will decide whether to amend the state constitution and allow two new casinos outside of Atlantic City.
Ads from "Our Turn NJ," a group backed by Reebok sneaker magnate Paul Fireman and Meadowlands Racetrack owner Jeff Gural began airing earlier this month, calling for New Jersey to recapture its market share from states like Pennsylvania and Connecticut. Atlantic City, once an outsize earner for the state, lost its monopoly when neighboring states opened casinos in the mid-aughts.
"New York and Pennsylvania have stolen billions of our gaming revenue, robbing us of dollars to fund programs like Meals-on-Wheels and the property tax freeze," the ad's voiceover says.
Fireman has proposed a $4 billion casino of his own in Jersey City if the amendment passes. Though a bidding process will follow if voters move to allow the new locations, Jersey City and the Meadowlands have been rumored early favorites.
This week an opposing group fronted by Bill Cortese, former regional political director for Governor Chris Christie's reelection campaign, announced that it will air its own ads starting August 15. The first ad from "Trenton's Bad Bet" criticizes that uncertainty over where the new casinos will be.
"Trenton politicians want to risk putting two casinos in North Jersey," its voiceover says. "From property tax hikes to lost pensions, these guys have broken promise after promise to us. Now, the politicians are stacking the deck so their rich, special interest friends win big while refusing to tell hardworking Jersey families whose backyard these casinos could end up in."
The Newark-based group has aligned itself with the "No North Jersey Casinos Coalition," a group with political support from Atlantic City politicians like State Assemblyman Vince Mazzeo (D-2). The pro-expansion side includes influential Democrats like State Senate President Steve Sweeney (D-3), Senate Majority Leader Loretta Weinberg (D-37) and Senator Paul Sarlo (D-36).
Ratings agency Moody's has predicted that if the amendment passes, more casino closures in Atlantic City are all but guaranteed. The Trump Taj Mahal announced last month that it will be closing its doors after Labor Day, the city's fifth shuttered casino since 2014.