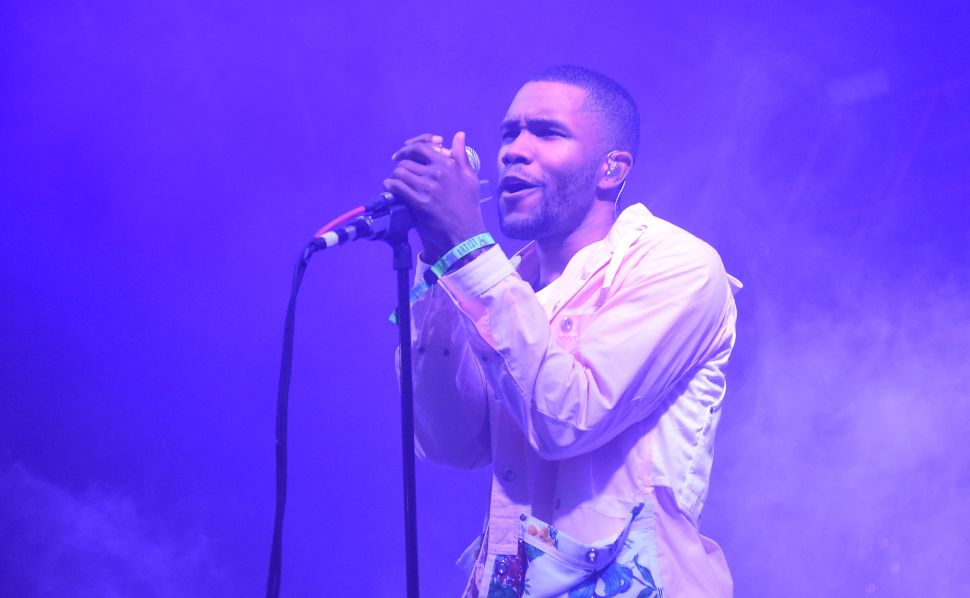 Hip hop artist Frank Ocean promised he'd release his highly anticipated sophomore album by the end of July. When the clock struck 12 AM yesterday, bringing us into August without the new tracks, empty-handed fans who have been patiently awaiting the follow-up to his Grammy-winning 2012 debut Channel Orange were ready to call him out. But while #FrankOcean was one of the top trending topics on Twitter and Facebook all day yesterday, one place was completely absent of jokes: Wikipedia.
Other than the fact that fans really are excited for his new music, this is a big deal because this isn't the first time he's set and missed a July release date for his new album, said to be titled Boys Don't Cry. In April 2015, Ocean said the album would drop July of that year. When it didn't, fans who realized the album was late decided to troll Ocean on his own Wikipedia page.
They changed his name: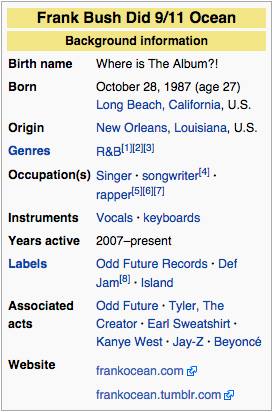 And also called him out in the "Career" section of the page:

In the wee hours of the night on August 1, Ocean released a somewhat mysterious video depicting a person working behind two large workbenches in a mostly empty warehouse. The video now has us thinking he's still working on the new album and that he will, yet again, keep everyone waiting.
But will his Wikipedia page get trolled again? Not so far, since his page was apparently set to semi-private, meaning only moderators can make edits on the page (this has since been reversed). As Wikipedia vandalism has become popular as a way to joke about current events, Wikipedia moderators have been implementing this editing restriction on occasion.
But in general, admins shutting off editing abilities for users is a rare, last resort. And in only exceptionally rare cases, an article will be protected preemptively if it is likely to be vandalized, Wikipedia spokesperson Samantha Lien told the Observer. We don't yet know if that's the case with Frank Ocean's page, and his album is now said to be due this Friday.
"Wikipedia is open by design, and the Wikipedia community aims to keep as many articles open for public editing as possible. The vast majority of vandalism is reversed by volunteer editors within minutes," she added.
SEE ALSO: Artificial Intelligence Toward a Kinder, Gentler Wikipedia
Just over a week ago, moderators set Taylor Swift's page to semi-private after vandals filled it with jokes about the singer's feud with with Kanye West and Kim Kardashian. One changed her name to "Taylor 'People Will Side With Me If I Sue Kanye, Won't They' Allison Swift." Another user added an alias field to the background information box and wrote in "Regina George."
After New York Mets star pitcher Noah Syndergaard was ejected from a game in late May, his page saw a bit of vandalism as well. His title was changed to "Salt," and someone wrote that he's in the Chase Utley fan club. Last year, when rapper Ja Rule tweeted that his listed height in Wikipedia was off by three inches, jokesters began editing his page with short jokes. We could go on and on with examples of people using Wikipedia edits to make jokes and express their disapproval of the turnouts of events such as sports games and award ceremonies. There are even pages dedicated to tracking the most vandalized pages and funny bits of vandalism on the site. This is a natural result of an open-source encyclopedia, and while these instances of vandalism make headlines and pages being set to semi-private may seem extreme, it's not usually a big deal to admins.
"One of Wikipedia's fundamental principles is 'assume good faith,'" Lien said. "The vast majority of editors operate in accordance with this principle, and have developed policies and guidelines to serve as checks and balances. For every inspired vandalism edit, there are many that are not."